USA Today bestselling author Roxanne Snopek writes contemporary romance with true-to-life characters in places you'd like to live in. And usually dogs, too. And chocolate, too.
For more about Roxanne, go here. For more about her books, go here.
Love at the Chocolate Shop Series
12 books by six talented authors equals a year of love and chocolate.
2017 starts off with The Chocolate Cure!
No more chocolate! No more meddling! No more men!
New Year's resolutions are great. Announcing them in a crowded bar, with a chocolate martini in her hand? Not Maddie Cash's finest moment. It's time this new realtor got serious about her life and this time, she means it.
But when hospital volunteering lands her at the bedside of bruised and battered Mick Meyer, who has no knowledge of Maddie's reputation – and no memory of the kiss he begged from her during that long, pain-filled night, her best-laid plans are put in jeopardy. It's not just his sweet tooth that's tempting her.
The hunky bush pilot with the concussion has an old family property to unload. Making this sale could be Maddie's professional salvation. But when Mick turns on the charm, she's in danger of forgetting all her best intentions… on chocolate… on meddling… and especially on men.
Find The Chocolate Cure (Love at the Chocolate Shop Book 4)
at:


Want to make the treat featured in THE CHOCOLATE CURE? Find the recipe here!
Check out the other books in the series: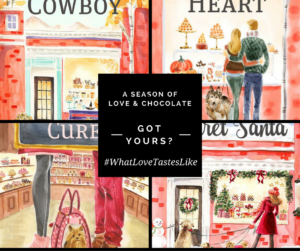 October 2016: Melt My Heart, Cowboy (Love at the Chocolate Shop Book 1)
by CJ Carmichael
November 2016: A Thankful Heart
by Melissa McClone
December 2016: Montana Secret Santa (Love at the Chocolate Shop Book 3)
by Debra Salonen
January 2017: The Chocolate Cure (Love at the Chocolate Shop Book 4)
by Roxanne Snopek 🙂
February 2017: The Valentine Quest (Love at the Chocolate Shop Book 5)
by Melissa McClone
March 2017: Charmed by Chocolate (Love at the Chocolate Shop Book 6)
by Steena Holmes
With more to come! Sign up for our Love at the Chocolate Shop newsletter to get all the latest news! And be sure to visit our Facebook page as well. We've almost always got a contest or giveaway going on and we're usually talking about chocolate, too!
---
Join us March 1-31
The Romance Reviews is celebrating their 6th anniversary as the to-go site for romance readers, with a massive party. The grand prize is a $50 Amazon gift card from The Romance Reviews, but there are individual prizes from the more than 350 participating authors (including me!) so be sure to play along!
**
Roxanne's USA Today Bestselling THREE RIVER RANCH series, now has a fresh new look:
**
Read all the books in Roxanne's MONTANA HOME series.

Also available at:
---