USA Today bestselling author Roxanne Snopek writes contemporary romance with true-to-life characters in places you'd like to live in. And usually dogs, too. And chocolate, too.
**
For more about Roxanne, go here. For more about her books, go here.
**
Love at the Chocolate Shop Series
12 books by six talented authors equals a year of love and chocolate, launching October, 2016 with Melt My Heart, Cowboy (Love at the Chocolate Shop Book 1)
by C.J. Carmichael.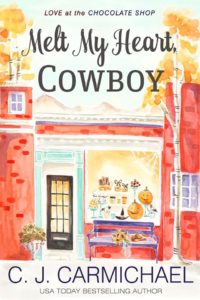 Who is the handsome cowboy who comes into small town Marietta's chocolate shop every week to buy a box of chocolates? More importantly…who is he buying the chocolates for? These are the questions sales clerk Rosie Linn asks herself as she waits for her sadly neglected childhood home to sell so she can pursue an exciting new career in L.A.
Rosie finds out the answers the day rugged ranch hand Brant Willingham introduces himself and asks for her help in managing the care of his younger sister. Brant's mother has recently died, leaving him the sole guardian of eighteen-year-old Sara Maria–who has been a puzzle to Brant ever since she began exhibiting signs of autism at age two.
Rosie and Brant come up with a plan. She'll help with his sister if he handles repairs and a new paint job for her old house. It seems the perfect solution, but a new dilemma is created when the couple start spending time together. Brant discovers he doesn't want Rosie to sell and leave, and Rosie fears she will have to choose between love and her dreams.
**

November's release is A Thankful Heart, by Melissa McClone
December's release is Montana Secret Santa by Debra Salonen.
And 2017 starts off with January's release by Roxanne Snopek, The Chocolate Cure!
No more chocolate! No more meddling! No more men!
New Year's resolutions are great. Announcing them in a crowded bar, with a chocolate martini in her hand? Not Maddie Cash's finest moment. It's time this new realtor got serious about her life and this time, she means it.
But when hospital volunteering lands her at the bedside of bruised and battered Mick Meyer, who has no knowledge of Maddie's reputation – and no memory of the kiss he begged from her during that long, pain-filled night, her best-laid plans are put in jeopardy. It's not just his sweet tooth that's tempting her.
The hunky bush pilot with the concussion has an old family property to unload. Making this sale could be Maddie's professional salvation. But when Mick turns on the charm, she's in danger of forgetting all her best intentions… on chocolate… on meddling… and especially on men.
**
Roxanne's USA Today Bestselling THREE RIVER RANCH series, now has a fresh new look:
**
Read all the books in Roxanne's MONTANA HOME series.

Also available at:
---