USA Today bestselling author Roxanne Snopek writes contemporary romance with true-to-life characters in places you'd like to live in. And usually dogs, too. And sometimes chocolate, too.
For more about Roxanne, go here. For more about her books, go here.
Coming November 28 to a bookstore near you:
The spectacular scenery and craggy beaches draw tourists to the small Oregon town of Sunset Bay. But Sanctuary Ranch offers a different kind of experience: a refuge for people—and animals—desperate for a new beginning . . .
Haylee Hansen has made a career out of caring for and training the dogs and horses on her aunt's ranch. Part halfway house, part work camp, it also gives troubled kids and adults the tough love they so desperately need. Haylee should know. She was her aunt's first success story. But now her turbulent past is about to show up on her doorstep . . .
After thirteen years running a level one emergency room in Portland, Aiden McCall arrives in Sunset Bay a broken man. Anger and anxiety have nearly taken over his life—and could sabotage his new job at the local hospital. Until someone proposes an unconventional solution: a therapy dog.
Haylee has seen her share of damaged people, but no one like Aiden. As she tries to match him with the perfect dog, he'll help her to see that no one has a perfect life. And that opening yourself up to love is the only way to heal your soul . . .
---
Reviewers love Sunset Bay Sanctuary!
"…everything I look for in a novel…intensely likeable characters… personal and emotional healing, a beautiful setting, some loving soul-searching, and… romance." Anne Marie B, NetGalley, 5 Stars
"…a sweet, touching story of loss and redemption…once I started it, I couldn't put it down. Can't wait to see who's next to find love on Sanctuary Ranch…" -Trish S, NetGalley, 5 Stars
"… masterful, empathetic portrayal…Sunset Bay Sanctuary is everything you want in a cozy small-town romance…"- RT Book Reviews, 4 Stars
---
Available for pre-order at the Kindle store: Sunset Bay Sanctuary (A Sunset Bay Novel)
In paperback: Sunset Bay Sanctuary (A Sunset Bay Novel)
At Kobo: Sunset Bay Sanctuary
At the Apple iBooks Store: Sunset Bay Sanctuary – Roxanne Snopek
---
12 books by six talented authors equals a year of love and chocolate.
All 12 stories have a scrumptious recipe attached to them, one that the characters used in the book. And as gifts for our readers, we've got gorgeous collectible cards for you! If you'd like a collectible recipe card featuring the recipes in my books, just subscribe to my newsletter!
Oct/16: Melt My Heart, Cowboy (Love at the Chocolate Shop Book 1)
by CJ Carmichael
Nov/16: A Thankful Heart (Love at the Chocolate Shop Book 2)
by Melissa McClone
Dec/16: Montana Secret Santa (Love at the Chocolate Shop Book 3)
by Debra Salonen
Jan/17: The Chocolate Cure (Love at the Chocolate Shop Book 4)
by Roxanne Snopek 🙂
Feb/17: The Valentine Quest (Love at the Chocolate Shop Book 5)
by Melissa McClone
Mar/17: Charmed by Chocolate (Love at the Chocolate Shop Book 6)
by Steena Holmes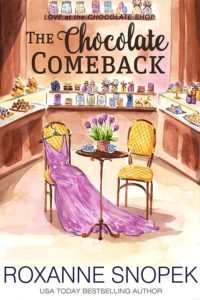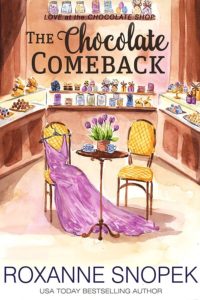 Apr/17: The Chocolate Comeback (Love at the Chocolate Shop Book 7)
by Roxanne Snopek 🙂
May/17: The Chocolate Touch (Love at the Chocolate Shop Book 8)
by Melissa McClone
Jun/17: Sweet Home Cowboy (Love at the Chocolate Shop Book 9)
by Marin Thomas
Jul/17: Sweet Summer's Kiss (Love at the Chocolate Shop Book 10)
by Debra Salonen
Aug/17: Captured by Chocolate (Love at the Chocolate Shop Book 11)
by Steena Holmes
Sep/17: Sweet Dreams Baby (Love at the Chocolate Shop Book 12)
by CJ Carmichael
---