Some of you know we recently traveled to China. It was an amazing trip, but I'll spare you the blow-by-blow because we've all lived through slide shows of Uncle Morris's trip to Wisconsin as a kid.
But I will relate one story.
If you're… delicate… you may want to give this one a miss. Otherwise, here goes:
Everyone, it seems, is curious about the bathroom situation in China. So yes, we saw squat toilets. Yes, we used squat toilets, yes, we remembered to bring our own TP and yes we managed just fine. I'm also pleased to report that Western "potty" toilets were available in many places. Not the smaller tourist spots, mind you, so, ahem, scheduling is important.
Ah yes, scheduling. You'll understand me when I say that sitting in an airplane, traveling across time zones, eating different foods at different times, being sleep deprived and experiencing bathroom anxiety can all play havoc with a person's system. Schedules get disrupted. Sometimes schedules come to a complete halt. You getting me?
Now, we'd brought with us a small arsenal of pharmaceuticals, prepared for pain, sprains, coughs, congestion, motion sickness, dry eye, crowd anxiety, what have you. We assumed the worst-case scenario would be an explosive case of food poisoning.
Wrong. In fact, after several days of progressive… sluggishness… I would have welcomed a little salmonella. I finally admitted my distress to one of our travel companions. He's a doctor. I'll call him Dave.
"Dave," I said. "I have one goal today. It's the same goal I had yesterday and the day before and the day before that. Can you help me?"
"Sure." He handed me a packet. "Take this."
"What is it?" I asked.
"It's the stuff you take before a colonoscopy. Drink it before bed. It'll put you right."
Those of you who've had colonoscopies know where this is going.
"Dave," I said. "It's bad enough in the privacy of your own home. But while traveling? IN THE LAND OF SQUAT TOILETS?"
"Just take a little," he said.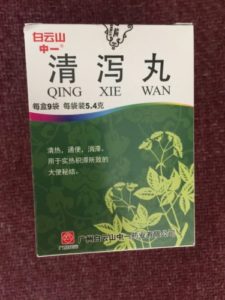 Which reminded me of when I went for pregnancy ultrasounds and they were running late and I'd drunk eighteen gallons of water that morning and the nurse, upon seeing my distress, gave me a little medicine cup and said, "Pee out a few tablespoons."
Except so very much worse.
Declining medical advice, my husband and I took to the streets of Beijing, looking for a convenience store. Surely there'd be some good old Ex-Lax out there somewhere, we thought.
Nope. We ended up in an herbal pharmacy, staffed by people who spoke zero English. We typed the word "constipation" into our English-Chinese translation app and the clerk understood immediately. She sold us a package that looked like this:
With instructions that look like this:
I was using a fabulous little app called Pleca, which works thusly: you hold your phone over the words you need translated and BOOM, you get the English version.
Decoding the translation requires a little effort, because the characters have meanings that depend upon the characters before and after them, so they could mean many things. Here's a partial snapshot of the box, as translated by Pleca:
My favorite part is the description, in small letters that you probably can't see:
"… for real hot product delay due to consumer lag…"
It's a lyrical language, isn't it?
The box contained eight packets filled with tiny red beads.
"Do I eat them?" I asked my husband. "Do I smoke them? Make tea from them?"
"I don't care," he said. "We have a two-hour drive to the Great Wall in the morning. This ends now."
So, I dumped them into a glass of water, shot it back like wormy mezcal, then lay down on the floor next to the bathroom and waited for them to work.
They did not.
But two hours later, as I was imagining the Chinese herbalists enjoying my method acting, and rethinking the colonoscopy prep idea, my dear husband, who'd happened onto a fresh fruit stand, saved the day by plying me with fructose and fiber. Consumer lag ended shortly thereafter and life returned to normal.
Life isn't a box of chocolates, my friend. It's a very large bag of cherries.
♥
For bonus material, including giveaways, sign up for my newsletter.
I'm delighted to announce my latest release, THE CHOCOLATE COMEBACK, part of the Love at the Chocolate Shop multi-author series by Tule Publishing. This is a fish-out-of-water story about a flighty, failed fashion model named DeeDee, a conservative businessman named Isaac and his younger brother, Mark, who has Down syndrome.
This story has struck a chord with readers, who have this to say: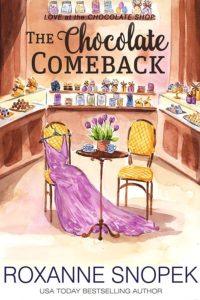 How often does a romance make you cry, make you laugh out loud, make you fall in love with someone? Every real romance does just that, and this story did it for me. These characters are flawed, funny and poignant. Mark Litton is refreshingly real, and the joy that comes with his challenges is rarely written so authentically. I was cheering by the end!"
…a delightful story, filled with humor, love and turmoil as Mark inadvertently brings Isaac and DeeDee together."
…an engaging, uplifting romance that… tackled such a heavy topic – developmental disabilities – and didn't sugarcoat the reality of it. We saw both angles, that of the family member and that of an outsider with zero experience joining that family… made me want to be a better person."
…a beautiful enriching story…"
…exciting, entertaining, and well-written…"
I'm blushing… and thrilled at the response. I hope you enjoy it, too.
We're Treating Readers to a Spring Fling!
with a Mega Gift Card Giveaway April 2-24
and Facebook Hop April 21-24
Enter for the chance to win:
$1250 in Amazon Gift Cards
Kindle Fire
Amazon Echo Dot
Sponsored by the 77 authors listed below
Constance Phillips • Debbie White • Tamara Lush • Nancy Segovia • Helen Smith • Stella Marie Alden • Alyson Hale • Shirley Hailstock • Dena Garson • Ava Bradley • Tamara Ferguson • Lynda Haviland • Eva Chase • Ashlee Price • Allyson R Abbott • Phoebe Rose • Ysa Arcangel • Tee Garner • Jennifer Allis Provost • Rachel Woods • Amelia James • Jacqueline Diamond • Marsha A. Moore • Siera London • Emily Leigh • Aileen Harkwood • Jenna Barwin • Tara Lain • Christa Paige • Cynthia A Clement • Marie Booth • Hope Welsh • Sarah Fischer • Marie Johnston • Anne Renwick • Brea Viragh • Gayle Parness • Trish McCallan • Aubrey Wynne • JD Monroe • Sharon Kay • Elizabeth Rose • H. D. Thomson • Amy Brent • Caitlyn Blue • Margo Bond Collins • Bokerah Brumley • Felicia Beasley • Amy L Gale • Olivia Wildenstein • Tracie E. Christian • Patricia M Jackson • Kristy Tate • Astrid Arditi • Lisa Mondello • Cassie Alexander • Lori L. Robinett • Amanda Uhl • Melissa Belle • Josie Riviera • Layla Messner • Bree Dahlia • Cherie Claire • Barbara Barrett • M. Black • Lizbeth Selvig • Cailin Briste • Mia Ford • Bambi Lynn • Roxanne Snopek • Stacy Gold • Alex Gordon • Kristine Smith • Marianna Baker • Greta Boris • Oliver Chase • Allison Gatta
One entry signs you up to each of our newsletters. You can also earn extra entries by signing up for our newsletters early, before the giveaway ends on April 24 (don't worry, you won't be double subscribed).
Be sure to also join us for our Facebook Hop April 21-24, when we will have 77 gift cards for you to enter to win. That's a gift card at every stop! Plus a bonus giveaway for the winner's choice of an Amazon Echo Dot or Kindle Fire. For more info, visit the Hop website