CONTEST OVER: Congratulations to MICHELLE HARLAN, who won the book!
But I'm always happy to hear from readers, so feel free to keep the comments coming, people.
***
My next release from Entangled Publishing comes out May 12 and features a hero who knows his wine, his beer, his food and living the good
 life. Because I set THE MILLIONAIRE DADDY PROJECT in Vancouver, BC, I chose to showcase BC wines! From now to May 8 I'm hoping to pique reader interest in this story, and for your help, one of you will win a copy of this gorgeous coffee-table book by John Schreiner called British Columbia Wine Country.
What's THE MILLIONAIRE DADDY PROJECT about, you ask? A wealthy urban restaurateur's life is turned upside down when he discovers he's got a four-year old daughter he never knew existed. Dane Bergman is forced to rely on his uber-competent executive assistant Pamela, who the kid adores on sight. Little Dani's first response to her new father? She takes one glowering look, crosses her arms and announces, "I don't have a daddy!"
But things change when Dane takes his daughter – and Pam, in the role of reluctant nanny – to his gorgeous West Coast island hideaway, for some hands-on tutoring in parenting. It's a month of learning for each of them as boundaries get blurred, interactions turn into relationships and Dane discovers that Pam's lessons on caring for a little girl have opened his eyes to so much more.
What do you think? Will you help me spread share this with other potential readers?
It's simple to enter: using the Rafflecopter link below, show me THE MILLIONAIRE DADDY on your Goodreads shelf, visit me on Facebook, comment on this post (or on Facebook) and/or *Tweet a message about this contest.* Nothing to buy, no hoops to jump through, just waving the flag with me, right? And I love you for it! <3
Enter here and good luck!
* Does writing tweets give you hives? Here are a few suggestions:
Is TMDP on your Goodreads shelf? WHY NOT? http://gvwy.io/tl1buol #newrelease @RoxanneSnopek http://bit.ly/loveTMDP
Cheers! Help @RoxanneSnopek celebrate her #newrelease 4 a chance 2 #win a gorgeous #wine book http://gvwy.io/tl1buol @pentwineinfo
Heaven is: kids out, @Tantaluswine in! Celebrate #newrelease #newdaddy #romance by @RoxanneSnopek 4 chance 2 #win http://gvwy.io/tl1buol
Preorder @RoxanneSnopek's #newrelease for a chance to #win http://bit.ly/loveTMDP http://gvwy.io/tl1buol @BCWineLover
Thanks again, my reading-buddy wine-appreciating friends!
The Authors in Bloom blog hop is now ended – Congratulations to Alisha who won the $10 Amazon gift card from my contest! Hop over to Dianne Venetta's page to check out the other winners and get great garden tips.
Thanks to all who entered and shared their lovely garden comments! I had a wonderful day in the dirt: today, herb garden. Next, cherry tomatoes. How about you?
Hey lovely readers, we know you love books… do you also love gardening? Springtime? Food? How about winning prizes? Then read on, my friends.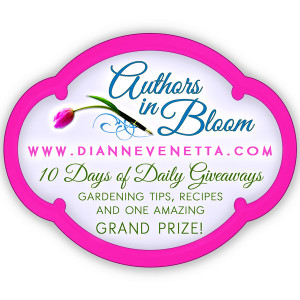 I'm participating in a cool contest you might want to enter. Here's how it works. Read my post. (You're doing it right now!) Then pop onto the Rafflecopter widget below and follow the instructions. I'm giving away a $10 Amazon gift card to one lucky participant!
And then – this is very important, so pay attention! – move on to the next author blog. If you visit EACH and EVERY author-hop, you'll be eligible to win the grand prize: AN E-READER OF YOUR CHOICE (up to $200 value) or second prize: a $25 gift card to the e-book retailer of your choice. Not to mention all the cool stuff the individual authors are giving away. Sounds cool, huh? Contest is open April 8-17, so you've got lots of time to enter. Good luck!
Roxanne's Gardening Tip: for a dry, sunny area where you want low-maintenance but high impact, plant Basket-of-Gold (aurinia). Here in the Lower Mainland of BC, it returns year after year and self-seeds.
I started years ago with a couple of ugly little rooted twigs that a friend gave me. She looked at me seriously and said, "You won't believe what these will turn into." Now I've got aurinia blooming all over this difficult, rocky area of my yard.
Each year I plant a few more sprigs in new places and each spring, I've got fresh spots of color! As you can see, they can get quite large, too. I love how they drip and drape over the edge of the rock wall.
This hardy perennial is also fragrant. It blooms for a couple of weeks in spring, then has a second, smaller bloom in summer.