The dog lay in the back of the chain-link run, his head on his paws, his eyes deep and soulful. And hopeless. He was bigger than she expected. Dirtier. Stinkier. Sadder.
"Oh, my," Lily said. "What's his name?"
"Valentine," Ariel replied. "He was a flea-market puppy, purchased last year as a Valentine's Day gift by a guy for his girlfriend. She
dumped them both by spring, and Valentine's been bouncing around since then."
Lily raised her eyebrows. "He looks a bit like Marley, from the movie. Can't we call him that instead?"
"Sorry," Ariel said, not sounding sorry at all. "Every new owner has tried to change his name. It's the only one he knows. I think everyone expects him to be like the movie dog. Then they get him home and find out how energetic he is. He doesn't listen, they say. He destroys their furniture. They can't walk him. He runs away. He jumps on the kids."
Lily's heart ached. "And with each new home, he gets worse."
"Underneath that dirty, matted coat is an adorable personality just waiting to be released by the right person."
Lily and the dog surveyed each other. The tilt of his head and his half-cocked ears suggested that Ariel was right. It's just that there was so much of him. And so much mud.
Lily bit the inside of her cheek. He needed so much. Would she be equal to the task? "Keep in mind, I'm no Cesar Millan. I'm more… See Spot Run."
"You'll be fine," Ariel assured her. "A little basic obedience. You know, sit, down, off, heel, maybe a couple of tricks. Oh, and get him used to grooming. He enjoys rolling in stuff. A bath and a good brushing and he'll be gorgeous."
Not likely. But he had that heart-tugging quality in spades. "You haven't had much luck, have you, boy?" she murmured. "No one's ever even gotten to know you."
She knew what it was like to strike out, over and over again. And be overlooked.
Copyright c 2019 by Roxanne Snopek
Want to curl up with a read that will warm you inside and out? I've got just the book!
When an unwanted Valentine's Day present is dumped at the shelter, volunteer Lily decides to foster the poor dog herself. A little attention is all he needs to blossom into a loving pet, ready for his forever home. Plus, helping an unloved animal will distract her from her own love life. Win, win. Right? Wrong. Valentine needs more than a makeover if he's going to be adopted. He destroys her home, hates to be groomed and when he behaves better for a perfect stranger than he does her, Lily swallows her pride and begs that perfect stranger for help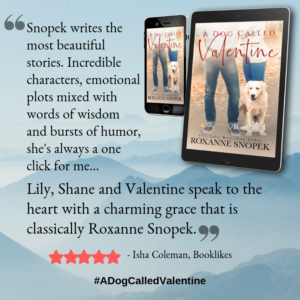 After losing his canine partner in a horrific moment that upended his future, sexy and stoic Shane turns to remodeling his grandmother's home. No more law enforcement career, no more dogs, no more risks. But it's hard to ignore the misunderstood mutt at the park and his well-intentioned, but clueless, handler. Shane reluctantly agrees to give her a few tips and tricks, but that's all. He won't care. He won't get invested. And once Valentine finds his new home, life can go back to normal.
But there's a new normal in town and, suddenly, Valentine's Day will never be the same.
Available in digital and paperback at Amazon: A Dog Called Valentine
There's nothing like escaping to warmer climes during the deep, dark days of winter. Alas, we took holidays in November, so any escape I manage now will come through the pages of a book. The Escape to New Zealand series by Rosalind James has been entertaining me recently, mostly because the audio versions are narrated by the talented Claire Bocking. Her ability to do a Kiwi accent is amazing!
The are 12 books in the series, at least, and it's available in a few combinations as well, I believe. These two were my favorites. I highly recommend the audio books!
Audie nominee, Best Romance Audiobook, 2015
Everyone needs to be rescued sometimes. 
Everyone but Hannah Montgomery, that is. She just needs a vacation. Three weeks in New Zealand to sort out her life, figure out what she wants, seems just right. Oh, and to relax. She should definitely put that on the agenda. She certainly isn't looking for a sexy fling with a professional rugby player, no matter how attractive he is. Hannah doesn't do casual. But maybe just this once …
As much as he's shared with Hannah, Drew Callahan has kept one very big secret: that he's the captain of the All Blacks, New Zealand's international rugby team, not to mention the best-known rugby player on earth. And learning the truth, now that she's back home again, has made Hannah warier than ever. Drew knows that she's right for him. But how can he convince her to let down her guard enough to explore what they could have together?
Just This Once: Escape to New Zealand Book One
For teacher Jenna McKnight, nothing spells "heartbreak" like finding her husband with somebody else–in her bed. It's clearly time to reinvent herself. A new body, a new city, and a new job later, she's done just that. The beautiful Auckland villa isn't really her home, though. Finn Douglas and his kids aren't really her family, however much she wishes they were. And playing house can be a dangerous game.
Rugby star Finn Douglas is just looking for a temporary nanny and housekeeper. Not a girlfriend, and definitely not a wife. He can't resist Jenna's cooking, it's true. Who knew he'd have so much trouble resisting her? He wants to do what's right for his kids. But waiting is so hard …
Just For Now (Escape to New Zealand Book 3)
And here's the box-set containing the first three books, including Just Good Friends (Escape to New Zealand Book 2)
I never imagined I'd be interested in reading (listening) to stories about rugby players but the New Zealand setting, the Maori culture and the steamy stories surprised me. Now, if I ever visit, I'll be sure to go when the All Blacks are playing!
The second volume contains books 4-6 and looks great, too.