Authors in Bloom
Hey lovely readers, we know you love books… do you also love gardening? Springtime? Food? How about winning prizes? Then read on, my friends.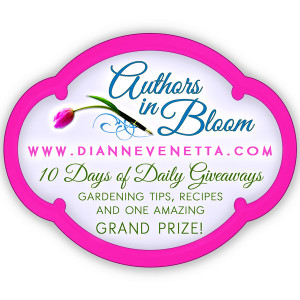 I'm participating in a cool contest you might want to enter. Here's how it works. Read my post. (You're doing it right now!) Then pop onto the Rafflecopter widget below and follow the instructions. I'm giving away a $10 Amazon gift card to one lucky participant!
And then – this is very important, so pay attention! – move on to the next author blog. If you visit EACH and EVERY author-hop, you'll be eligible to win the grand prize: AN E-READER OF YOUR CHOICE (up to $200 value) or second prize: a $25 gift card to the e-book retailer of your choice. Not to mention all the cool stuff the individual authors are giving away. Sounds cool, huh? Contest is open April 8-17, so you've got lots of time to enter. Good luck!
Roxanne's Gardening Tip: for a dry, sunny area where you want low-maintenance but high impact, plant Basket-of-Gold (aurinia). Here in the Lower Mainland of BC, it returns year after year and self-seeds.
I started years ago with a couple of ugly little rooted twigs that a friend gave me. She looked at me seriously and said, "You won't believe what these will turn into." Now I've got aurinia blooming all over this difficult, rocky area of my yard.
Each year I plant a few more sprigs in new places and each spring, I've got fresh spots of color! As you can see, they can get quite large, too. I love how they drip and drape over the edge of the rock wall.
This hardy perennial is also fragrant. It blooms for a couple of weeks in spring, then has a second, smaller bloom in summer.