I'm in the home stretch of The Cowboy's Lost Family for Tule Publishing and as always, the experience is a combination of excitement (it's going to be so great!!) and abject terror (I will never un-knot this mess, what was I thinking, sob, grovel, check Facebook.)
The Creative Process
There is no Dark Night of the Soul for my characters until I feel it as their creator. There is no resolution for them until there is resolution for me. And the satisfying ending they reach will be nothing to the triumph I'll feel upon writing THE END.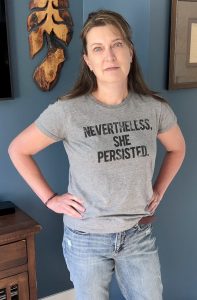 This is an important series for me. (Now I feel disloyal to the others!) I try to access some truth in myself for all my books, but in this one, I find myself digging deeper. I'm exploring subjects that have a lot of emotion attached to them.
The Search for Identity
These three books (though I may have to go begging for a fourth to tell it fully) are about adoptees searching for identity. But they're also about the backstory, what it's like for the mothers and fathers forced by circumstances to relinquish their children. About the grandparents who were part of that decision. About the micro-culture that determined social rules—and the cost of breaking them. The stories of the lost Malones of Grand, Montana, are about fear, pain, shame, regret… and also about discovery, joy, forgiveness and love.
Speaking the Truth
All authors work to tell the truth about human experience. Romance authors work to tell the truth specifically about the experiences of women. Our genre is about women discovering what they want, and then taking action to get it. It's about courage in a world where many women's voices still remain secondary. Where they're told (directly or indirectly) that they should sit down and let someone else decide what's best for them.
So, here's me, getting into the final push of this book, taking courage from someone who refused to sit down and shut up, because Nevertheless she persisted. She believed in the power of her words. I believe in mine. I believe in yours. Whatever you're struggling with today, reader, persist.

ME, in Concert
Being a beginner at 37, was I strong enough to fail?
This is from an essay I wrote on parenting for the July 2002 issue of Reader's Digest. What a crazy time of life… three homeschooled daughters, part-time admin/vet tech work at our veterinary hospital plus getting my writing career going. Also, an average of 2.5 pets per capita in our house. Five people. Do that math.
I'd forgotten how hard it was to keep at something while having more failures than successes.
It was a marvellous time of life. Part of me misses being a young mother. A bigger part of me is so grateful for the memories, and that I'm in another stage of life I love just as much.
The main message? Don't be afraid to fail. There's more to be learned from failures, and continued trials, from practice, practice, practice, followed by that one magical success… than there is from easy success. (At least, that's what I hear. Easy success hasn't been my journey.)
So have a great day, my friends. Try something new. Tell me about your wonderful, spectacular, life-affirming fails. Repeat. And when that glorious, elusive success arrives, shout it to the mountaintops!
Original essay: copyright © Roxanne Snopek 2002
Photo credit: copyright © Chick Rice 2002
All Rights Reserved