So, I got my hair cut today. I've worn it long for quite some time now – usually in a ponytail or clip – and I'm a little tired of it. I tend to chicken out when it comes to major change, so I figured I'd just get a trim and color touch up. If it ain't broke, don't fix it, right?
So it occurred to me it might be time for a change. But what? A purple streak? An asymmetrical layered bob? A pixie cut? The possibilities are endless.
I've tried a few different styles over the years and my three very fashionable daughters have provided much helpful feedback. "Don't ever do that again, Mom," is a favorite comment, when looking through old photos. "I love your hair exactly as it is," my husband reminds me regularly. Very sweet, except for the glint of fear in his eye.
Change can be scary – but it can be great, too.
My publisher is currently re-covering all the books in my first contemporary romance series, THREE RIVER RANCH. Two of the books are keeping the original art, but updating the look. And three of them have received total make-overs. And let me say, I love them all! What do you think? Which one's your favorite?
As far as my hair goes, this is where I landed.
Today at Tote Bags 'n Blogs, I'm sharing one fitness tip and one recipe. (Just in case, I'll post it here too.) How great is that, being that it's the first week in January and we're all focused on starting the new year off right, and aren't yet depressed because we ended up eating the last of the Christmas fudge instead of throwing it out, like we told ourselves we would?
Anyway, I've promised myself for the past several years that I'd get more exercise, particularly yoga, which you'd think would be easy, because I love yoga and there are so many ways it's good for us. Unfortunately, going to yoga class involves leaving the house, a barrier many work-at-home-borderline-kleenex-box-slipper-recluses may recognize. Writing works the mind, but it's trash on the body. Yoga keeps me limber enough to create worlds like my latest Sunset Bay Sanctuary series. 🙂
But recently I discovered a great way to bring the yoga class to me, via apps! Whoo-HOO! All you need is a quiet spot with a mat or carpet, and your favorite device. You get the soothing voice of an instructor, pictures of someone in the postures and voila, you just follow the instructions to bliss and great abs. Or so I tell myself.
Here are the three I've found:
Down Dog has options for your level of experience, the kind of music you want and the length of practice. I've done it several times already and really like it. I'm using the free version so far, but there's also a monthly membership I might upgrade to, if I get bored.
I've also downloaded Yoga Studio. Billed as "The #1 yoga app for iPhone" this one has many more options, making it more customizable to your own needs. As it's only $3.99, I downloaded it but haven't tried it yet. Early days.
There's also All-In Yoga. As I love to have options, I downloaded the free version of this one on my phone too, because, why not, it's free. I haven't played around with this yet, to say whether or not I like it.
So far, my "do more yoga this year" resolution is going great, thanks to these apps. (You'll notice I kept my resolution fairly vague. It's the key to success.)
As for the recipe, it's called 5 Minute Magic Green Sauce and it comes from Lindsay of Pinch of Yum, to whom I'm eternally grateful. This stuff is amazing.
It's basically a pistachio-avocado pesto. Lindsay says she could eat it every day for the rest of her life and I GET IT. It's delicious! I've made two batches in less than a week. It's fantastic in salads, or as a dip for crackers or vegetables, or straight from the spoon. I'm eating it on toast for breakfast, right now, in fact. Here's the recipe:
5 MINUTE MAGIC GREEN SAUCE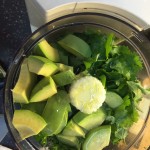 INGREDIENTS:
1 avocado
1 cup packed parsley and cilantro leaves (combined)
1 jalapeno, ribs and seeds removed
2 cloves garlic
Juice of one lime (or two – get lots of limey goodness in there!)

½ cup water
½ cup olive oil
1 teaspoon salt
½ cup shelled pistachios
INSTRUCTIONS:
Pulse all ingredients – except pistachios – in a food processor until incorporated.
Add pistachios and pulse until mostly smooth (depends on what consistency you want.)
Serve as a dip, spread or sauce – or add additional water or oil to thin the sauce for use as a dressing or a
marinade.
Lindsay adds that you can sub walnuts or almonds for the pistachios and it'll work, but she doesn't think the taste is quite as good. I *LOVE* the pistachio version; those babies are expensive but worth it for this stuff. (I suspect pine nuts would also work but I have no data to back this up at the moment.)
I mixed this Magic Green Sauce with cooked farro, spinach and halved cherry tomatoes for a hearty and delicious salad. You could use quinoa or couscous, probably and it would be just as good.
I'm with Lindsay on this: it's AWESOMELY YUMMY!
Anyone else have current favorite recipes or fitness tips to share? I'd love to hear from you!
From MACLEANS, April 26, 2015, by Emma Teitel:
When American filmmaker Laurie Kahn set out to make Love Between the Covers, a documentary about the women who read and write romance novels, she was struck by how often she heard the same story. It wasn't a tale of beefy bodice rippers or love at first sight; it was a story about snobs. "I can't tell you how many people I interviewed," says Kahn, "who told me that people will walk up to them on a beach and say, 'Why do you read that trash?' " Apparently, where lovers of romance novels go, contempt follows. Sometimes it's subtle contempt—a raised eyebrow from a colleague, or a snarky comment from a friend (usually the kind of person who claims to read Harper'son a beach vacation). Other times it's more overt, even potentially damaging. When Mary Bly (pen name Eloisa James), an academic and New York Times bestselling author, began writing romance, she was advised to keep her fiction writing secret or risk not making tenure at the university where she worked.
For some reason, argues Kahn, perhaps because its subjects are female, romance novels are perceived as fundamentally silly, when other popular "genre fiction"—namely, fiction by and for men—is not. "Nobody," she says, would walk up to "a man reading Stephen King, or a mystery or sci-fi novel" and scoff. And she's right: Stephen King may write circles around romance novelist Nora Roberts, but mystery-thriller buffs James Patterson and Dean Koontz most certainly do not. Yet Roberts is the butt of jokes—a universal default example of "bad writing," while her equally schlocky male contemporaries get a free pass.
Read the full article at: Why romance novelists are the rock stars of the literary world.