I'm delighted to announce my latest release, THE CHOCOLATE COMEBACK, part of the Love at the Chocolate Shop multi-author series by Tule Publishing. This is a fish-out-of-water story about a flighty, failed fashion model named DeeDee, a conservative businessman named Isaac and his younger brother, Mark, who has Down syndrome.
This story has struck a chord with readers, who have this to say: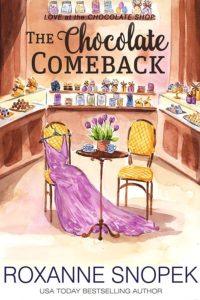 How often does a romance make you cry, make you laugh out loud, make you fall in love with someone? Every real romance does just that, and this story did it for me. These characters are flawed, funny and poignant. Mark Litton is refreshingly real, and the joy that comes with his challenges is rarely written so authentically. I was cheering by the end!"
…a delightful story, filled with humor, love and turmoil as Mark inadvertently brings Isaac and DeeDee together."
…an engaging, uplifting romance that… tackled such a heavy topic – developmental disabilities – and didn't sugarcoat the reality of it. We saw both angles, that of the family member and that of an outsider with zero experience joining that family… made me want to be a better person."
…a beautiful enriching story…"
…exciting, entertaining, and well-written…"
I'm blushing… and thrilled at the response. I hope you enjoy it, too.
We're Treating Readers to a Spring Fling!
with a Mega Gift Card Giveaway April 2-24
and Facebook Hop April 21-24
Enter for the chance to win:
$1250 in Amazon Gift Cards
Kindle Fire
Amazon Echo Dot
Sponsored by the 77 authors listed below
Constance Phillips • Debbie White • Tamara Lush • Nancy Segovia • Helen Smith • Stella Marie Alden • Alyson Hale • Shirley Hailstock • Dena Garson • Ava Bradley • Tamara Ferguson • Lynda Haviland • Eva Chase • Ashlee Price • Allyson R Abbott • Phoebe Rose • Ysa Arcangel • Tee Garner • Jennifer Allis Provost • Rachel Woods • Amelia James • Jacqueline Diamond • Marsha A. Moore • Siera London • Emily Leigh • Aileen Harkwood • Jenna Barwin • Tara Lain • Christa Paige • Cynthia A Clement • Marie Booth • Hope Welsh • Sarah Fischer • Marie Johnston • Anne Renwick • Brea Viragh • Gayle Parness • Trish McCallan • Aubrey Wynne • JD Monroe • Sharon Kay • Elizabeth Rose • H. D. Thomson • Amy Brent • Caitlyn Blue • Margo Bond Collins • Bokerah Brumley • Felicia Beasley • Amy L Gale • Olivia Wildenstein • Tracie E. Christian • Patricia M Jackson • Kristy Tate • Astrid Arditi • Lisa Mondello • Cassie Alexander • Lori L. Robinett • Amanda Uhl • Melissa Belle • Josie Riviera • Layla Messner • Bree Dahlia • Cherie Claire • Barbara Barrett • M. Black • Lizbeth Selvig • Cailin Briste • Mia Ford • Bambi Lynn • Roxanne Snopek • Stacy Gold • Alex Gordon • Kristine Smith • Marianna Baker • Greta Boris • Oliver Chase • Allison Gatta
One entry signs you up to each of our newsletters. You can also earn extra entries by signing up for our newsletters early, before the giveaway ends on April 24 (don't worry, you won't be double subscribed).
Be sure to also join us for our Facebook Hop April 21-24, when we will have 77 gift cards for you to enter to win. That's a gift card at every stop! Plus a bonus giveaway for the winner's choice of an Amazon Echo Dot or Kindle Fire. For more info, visit the Hop website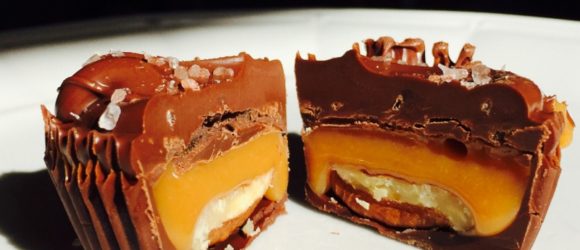 Maddie Cash, the beloved heroine of my latest book, THE CHOCOLATE CURE, adores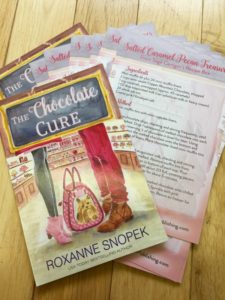 these delicious bite-sized treats. Each book in the Love at the Chocolate Shop series features a special treat, and as a gift to our readers, we've got recipe cards to go along with them! We give them away regularly on our Facebook page, so please visit us there.
In the meantime, here's the recipe for Maddie's irresistible treat. Enjoy!
Salted Caramel Pecan Treasures
You'll need:
Mini-muffin tin plus 24 mini-muffin liners
2 cups semi-sweet chocolate chips
1 cup caramels, unwrapped (approx. 45 caramels)
1.5 tablespoons evaporated milk (can substitute milk or heavy cream)
24 whole pecans
Coarse pink Himalayan salt
Fill mini-muffin tins with mini-cupcake liners.
Microwave chocolate chips, checking and stirring frequently, until smoothly melted
Drop 1 tablespoon of melted chocolate into each cupcake liner, reserving ¼ of chocolate in bowl for later. Using pastry brush, paint the melted chocolate onto the bottom and about 2/3 up sides of liners.
Place chocolate-lined mini-muffin tins in freezer.
Microwave caramels and evaporated milk, checking and stirring frequently, until smoothly melted.
Remove muffin tins from freezer. Place one whole pecan in bottom of each cup.
Pour caramel into chocolate cups until about 2/3 full, covering pecans completely.
Return tins to freezer for about 5 minutes.
Use pastry brush to paint remaining melted chocolate onto chilled cups, completely covering the caramel. Sprinkle with pink Himalayan salt while chocolate is still warm.
Return to freezer for about 30 minutes.
Enjoy!