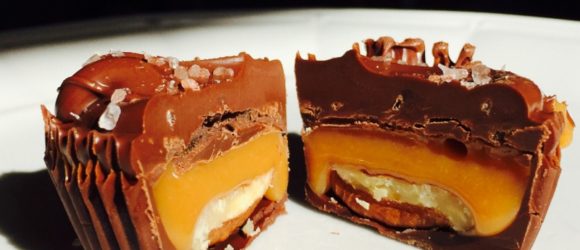 Maddie Cash, the beloved heroine of my latest book, THE CHOCOLATE CURE, adores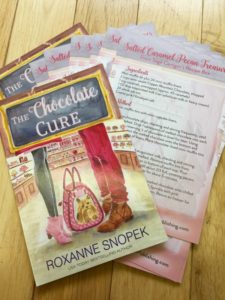 these delicious bite-sized treats. Each book in the Love at the Chocolate Shop series features a special treat, and as a gift to our readers, we've got recipe cards to go along with them! We give them away regularly on our Facebook page, so please visit us there.
In the meantime, here's the recipe for Maddie's irresistible treat. Enjoy!
Salted Caramel Pecan Treasures
You'll need:
Mini-muffin tin plus 24 mini-muffin liners
2 cups semi-sweet chocolate chips
1 cup caramels, unwrapped (approx. 45 caramels)
1.5 tablespoons evaporated milk (can substitute milk or heavy cream)
24 whole pecans
Coarse pink Himalayan salt
Fill mini-muffin tins with mini-cupcake liners.
Microwave chocolate chips, checking and stirring frequently, until smoothly melted
Drop 1 tablespoon of melted chocolate into each cupcake liner, reserving ¼ of chocolate in bowl for later. Using pastry brush, paint the melted chocolate onto the bottom and about 2/3 up sides of liners.
Place chocolate-lined mini-muffin tins in freezer.
Microwave caramels and evaporated milk, checking and stirring frequently, until smoothly melted.
Remove muffin tins from freezer. Place one whole pecan in bottom of each cup.
Pour caramel into chocolate cups until about 2/3 full, covering pecans completely.
Return tins to freezer for about 5 minutes.
Use pastry brush to paint remaining melted chocolate onto chilled cups, completely covering the caramel. Sprinkle with pink Himalayan salt while chocolate is still warm.
Return to freezer for about 30 minutes.
Enjoy!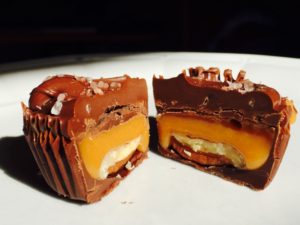 As many of you already know, our 13-year old miniature poodle Myshkin slipped on the icy steps last week and came up lame. Not just a little lame, but three-legged, no toe-touching, time-won't-heal-this-owie lame. We were pretty sure it was a ruptured cruciate ligament, which for best healing, requires surgery. Especially in an old dog.
Worrisome but okay, we'll do what we have to. He's our boy.
Here's the bit I didn't post about last week. When we did the work-up to make sure Myshkin was healthy enough for surgery, x-rays showed a suspicious mass in his abdomen. My husband, also known as Dr. Ray of Ellwood Park Animal Hospital, naturally errs on the side of caution when it comes to our own pets (wise man that he is) and referred him for ultrasound. We agreed that, if Myshkin's got a malignancy, we wouldn't put him through knee surgery.
But oh, that would have been so awful. Our sweet boy.
I know I have to be prepared.
He's a 13-year old dog, after all. I'm not totally delusional. But still… he's a healthy, fit old dog… active…happy… loved… and turns out I'm not as prepared as I thought…
So yesterday, we went to our fantastic referral center, Boundary Bay Veterinary Specialty Hospital where the lovely, kind and very thorough radiologist Dr. Alex Bratton proclaimed Myshi to be in excellent health, no tumors, just some weird anatomy that warranted investigation but is not what we feared. Thank you Dr. Alex!
Then, with about ten minutes notice, surgeon Dr. Geoff Hutchinson – same doc that put Gemma back together after tangling with the coyote last winter- adjusted his schedule to get Myshi in THE SAME DAY, to fix the knee. Dr. Geoff added an extra procedure to his already fully-booked day, and we're so very grateful for his kindness and generosity!
Then, it turns out that the vet tech assisting Dr. Geoff in surgery that day was a young woman did her practicum and first few months of practice with us! I was very sad to lose Jenna as a staff member because she's excellent at her job… but I couldn't blame her for taking a position at a referral center. I'd have done the same thing at her age. And then she ends up caring for my dog! 🙂 Thank you, Jenna! Boundary Bay overlaps with the Animal Emergency Clinic of the Fraser Valley and we're endlessly grateful to everyone, from reception staff to the technicians and assistants to the doctors. You guys are the best!
The surgery went well – Dr. Geoff found that Myshi had torn his meniscus as well as his cruciate. (If you're gonna wreck it, wreck it good, I suppose.) Myshi's home now, sleeping the sleep of the well-medicated. He'll be confined to crate/closet for the next week at least, and we'll be carrying him up and down stairs, but we expect him to return to full mobility.
Our sweet boy isn't heading for the rainbow bridge yet and we'll be cherishing every day he has left.
On a pragmatic note, may I put in a plug for pet health insurance? You might think that, with a veterinarian as a husband, vet bills are not an issue for us. That's mostly true. However, we carry health insurance on our dogs exactly for situations like this, where complicated conditions require diagnostics, treatments or surgery by board-certified veterinary specialists. These highly trained elite professionals are worth every penny – but those pennies still add up. Insurance means we don't have to make a difficult decision about a beloved family member for financial reasons.
We use PetSecure, "Canada's Pet Insurance" but there are many companies, with many tiers of coverage. Ask your veterinarian for a recommendation. (I get no kick-back for this, in case you were wondering. I just know that it prevents a lot of heartache and stress.)
Please, don't wait until it's too late. Take it from me, these things happen without warning.
THE CHOCOLATE CURE is now available! And wow, are we celebrating!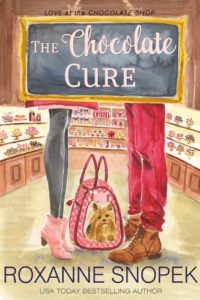 Tomorrow's launch party has tons of awesome prizes… I'm so excited to show you!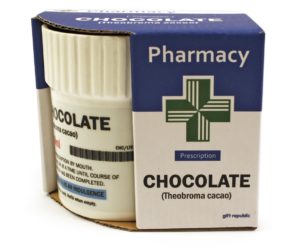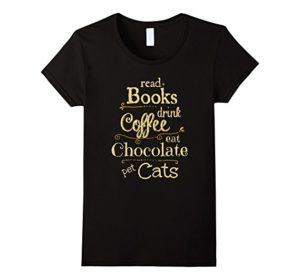 This is a sample of what's up for grabs. You definitely want to join us tomorrow, Thursday January 5, 7-8:30 Eastern (4-5:30 Pacific) Hope to see you there because… this is #WhatLoveTastesLike!!!
There's also a prize package with a Tule Publishing tote bag containing all sorts of goodies. Which one are you hoping to win?
The cat-lover t-shirt?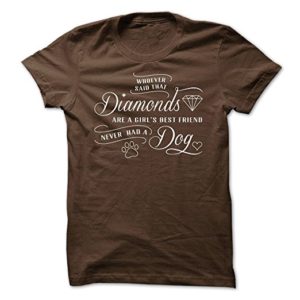 The dog-lover t-shirt?
Or the cool chocolate-pill-vial mug? (That's my favorite!)