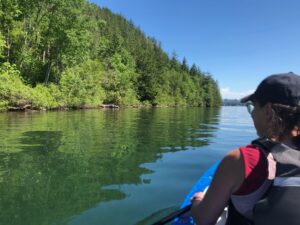 Our first time kayaking this season! It was chilly to start, but ended up being a perfect morning. See how placid the water is?
To our surprise, we weren't even sore afterward. We'll definitely be doing this more often!
Includes all four e-books in the Wild Sky Romance series:
Volume 1: Montana Dawn
Volume 2: Wild Sky Redemption
Volume 3: Wild Sky Treasure
Volume 4: Wild Sky Healing
Wild Sky Redemption: Just released in paperback from Amazon!
"…epic and endearing… pick up this one. You won't regret it." – Cary Morton, Amazon
"…a heart-wrenching but amazing feel-good read that's hard to put down." -The Romance Reviews
"Ranches + Romance = Montanan Approved! Loved it!" -RhiReading
Montana Dawn: Also available in paperback from Amazon!
"… a fresh voice that will appeal to fans of Mallery, Higgins and Gibson…" -BW, NetGalley
"Ms. Snopek's style is wonderful and so easy to read…" -HarlequinJunkie
"…. thoroughly enjoyable… strong, warm characters who come to life on the page." 
-NYT & USA TODAY Bestselling Author RaeAnne Thayne
Today's Love Note:
My Love Note for today goes out to Shari Drehs Bartholomew who I can only call a SUPER-READER. She's one of my earliest fans, and while she has a long career as a Registered Nurse, her real passion is reading.
Shari knows as much or more about this genre as anyone and she's earned that knowledge by not just how much she reads, but by how she connects with authors. Shari participates in on-line author events, she's a thoughtful and consistent reviewer, and here's the kicker: she spends her vacation time traveling to various author and reader events, collecting autographed copies, and even giving gifts to her favourite authors.
I was lucky enough to meet Shari in person at the 2018 Romance Writers of America conference in Denver, Colorado, where she surprised me with coasters laminated with two of my book covers! (I put these in a Safe Place for the move… and haven't unearthed them yet, or I'd show you, <headdesk>)
And it wasn't just me; she made gifts like this for all her favourite authors, carrying them around with her until she had a chance to present them personally.
Thank you, Shari, for being a sister book-lover. I'm so glad I got to share a hug with you in person and can't wait to see you again!
The Covers Shari Chose:
These two books fit into my Montana Home series, as well as the Love at the Chocolate Shop series. You can see why she chose them, right? I think they're the prettiest covers of all my books.
That's it for me, my friend. Until the next Love Note from the Lake… stay well and happy reading!
-Roxanne
roxanne@roxannesnopek.ca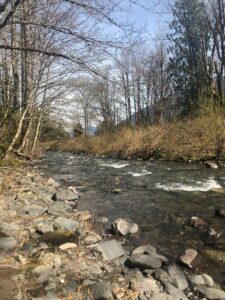 Isn't this lovely?
It's called Frost Creek and runs near enough to our back yard that we can hear it in the evenings. Luna and I walk here pretty much every day. Hopefully by next month's newsletter, everything will be a lot greener!
Sunset Bay Sanctuary $0.99 SALE
"Fans of… Susan Wiggs and Debbie Macomber will find that Sunset Bay hits the spot." –Booklist
~~~~~~~~~~~~~~~~~~~~~~~~~~~~~~~~~~~~~~~~~~~
The spectacular scenery and craggy beaches draw tourists to the small Oregon town of Sunset Bay. But Sanctuary Ranch offers a different kind of experience: a refuge for people—and animals—desperate for a new beginning . . .
~~~~~~~~~~~~~~~~~~~~~~~~~~~~~~~~~~~~~~~~~~~~~
My publisher told me about the sale, but I have no idea how long it will last, so don't delay!
Montana Dawn $0.99 SALE
To turn the embattled family ranch into a mustang sanctuary, Carson needs a miracle. He's got no time for an unexpected renter that sees too much.
Rory senses Carson's pain but she's got her own secrets.
Her unique ability with animals fascinates him. But he won't be distracted. Then she makes an offer he can't refuse…
~~~~~~~~~~~~~~~~~~~~~~~~~~~
"… a tale rich with off the charts sizzling chemistry, intense emotions, and endearing characters…" – Eileen Wells, Amazon
Vivian Award Finalist!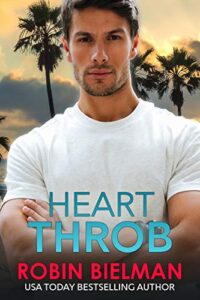 My Love Note for today goes out to Robin Bielman. Many of you already know Robin as the USA Today bestselling and award-winning author of contemporary romance. But did you know she recently finalled in the Vivian, Romance Writers of America's top writing award? Her book HEARTTHROB, (Tule Publishing), is shortlisted in the Contemporary Mid-Length category.
Robin is one of the first friends I made in this industry. We both published our first romance novels in the same imprint of the same publisher, in the same year and connected online through the process. Then we met in person at a publishing retreat in Las Vegas.
Here's us, about to enter the Goretorium, a "horror" show on the Las Vegas strip. We screamed, we laughed, we stumbled through the dark, laughing and screaming…
Robin is up for anything, one of the funnest, sunniest people I've ever met, always with a kind word of encouragement. Her books are wonderful – no surprise, given her talent and work ethic. I'm so happy for her and HEARTTHROB!
Q: What do you get more of, when you give it away?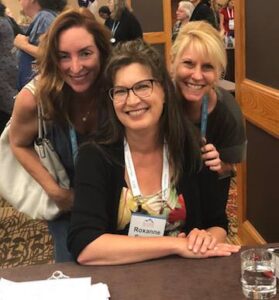 A: Love, of course. Joy. Happiness.
Who's made a difference in your life? It doesn't have to be big. Maybe it's the check-out person at the grocery store who always has a smile for you, even behind the mask, or the friend who only posts flattering pictures of you on Instagram, even though she's got them all and more importantly, she's not afraid to use them.
Next time you see them, tell them. Be specific. I promise, it'll make you both feel like a million bucks. Then, if you want, hop over to my Facebook Group and share the experience. Maybe you'll inspire someone, and then they'll inspire someone… and together we make our world a better place.
Finally, here's Robin and another pal, Samanthe Beck, giving me moral support at my first big signing… when the publisher forgot to order my books. (Don't worry, they made it up to me, and the support I got from other authors was epic. <3)

Happy Spring and welcome to the latest Love Note from the Lake! Although spring is officially here, the temperature in my neck of the woods isn't quite agreeing. But I've got irises and rhubarb peeking through the ground, so that makes it real! What signs are you seeing?
Granny Love
I got to spend time with this little darling recently and oh, my heart! She's going to be two soon – how can that be?? She and I spent some time making stone soup in her little kitchen, then adjusting flavours, and taste-testing inside her princess castle. I've had some great meals lately… but this one was simply the best. 🙂
As some of you know, I've embarked on the Simon Fraser University Editing Certificate Program. Don't worry, I'm NOT quitting writing – I've got lots of stories on my to-do list. But I wanted to add to my skill set and I really enjoy working on stories with other authors. Since I was already doing it, sort of, I decided I might as well learn to do it, properly.
If you want to learn more about Roxanne's World, ask to join my private Facebook reader group. I love our little book loving community!
Today's Love Note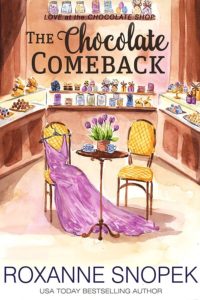 Today's Love Note goes out to William Harris, a reader I've gotten to know since writing for Tule Publishing. Lots of people think that men don't read romance. Well, William proves that smart men absolutely do. He has been an enormous champion for authors, so much so that he now moderates a Facebook Fan group called Main St. Marietta. Readers of my Tule books will recognize Marietta as a lovely, fictitious town that many of us wish we could visit In Real Life.
Since retiring, William has returned to student life, aiming to complete his history degree next year, which impresses the heck out of me. Despite his workload, he still has time to read, review, moderate and send encouraging messages to his favourite authors. I'm SO LUCKY to be one of them. Every author needs their Ideal Reader when they're creating, to counteract that pesky inner critic.  William, you're mine. One day when we meet in person, I've got a big hug for you.
As an example of his kindness, William reminded me that today is World Down syndrome day, which reminded me of Mark, in The Chocolate Comeback, the character with DS who brings the hero and heroine together. Today on the Main St. Marietta page, William is celebrating me and several other Tule authors who include developmentally disabled characters in their books. I simply love that Tule allows us to write these "bigger" stories… and that readers like William appreciate them.
Thank you, William, for being my Ideal Reader. And just an all-round fine person.
Fresh air, wide open skies, new love
The first four full-length books in my Wild Sky series are now all out! Originally titled Three River Ranch, each book in this series has been updated and re-edited, and received a gorgeous new cover. If you've been with me for a while, you might recall these stories.
If you're a newer reader and have missed these, I urge you to give them a try; set in Montana with wild mustangs, service dogs, babies, wounded heroes, these books are dear to my heart. They launched my career, put me on bestseller lists and connected me to many, many wonderful and kind readers – like YOU! I'm glad to see them alive again and hope you'll give them a warm welcome.
Until the next Love Note from the Lake… stay well and happy reading!