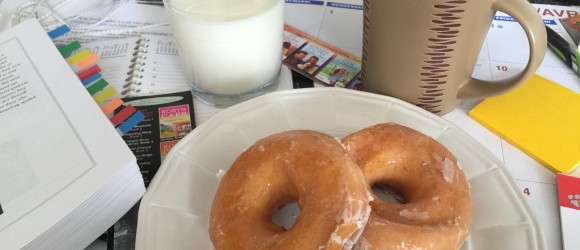 So yesterday afternoon, while I was diligently working away at my desk, out of the corner of my eye I saw a group of young people walk past my window. Before the Krispy Kreme FUNdraiser banner had fully registered in my brain, I was out of my chair, grabbing for my purse. Kids! Selling food! For a Good Cause! Surely I had some cash here somewhere.
I yanked open the door before they even rang the bell. Poor guys. Assaulted on the front porch by an unwashed writer who hadn't eaten all day and several dogs determined to protect her, from what, they knew not.
I didn't even hear what they were raising funds for. All I heard was "$10 for a dozen" which is exactly what I had.
I b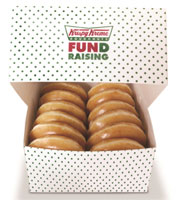 rought the box into the kitchen and opened the lid. Twelve of them, round, glistening and golden like the sun.
And then there were ten.
As I licked the glaze off my fingers, it occurred to me that I might be in trouble. It was very quiet in the house. D3, the only one of our chicks still in the nest, was napping off final exam stress in her room. Hubby was still at work and currently on a health-and-fitness kick, which meant he was unlikely to help out anyway.
So. It was just me and them.
I'd like to mention that I'm not even a huge Krispy Kreme fan. Sour-cream glazed from Tim Horton's are my true favorites. Nevertheless, my-oh-my did these hit the spot.
By evening, we were down to seven, then six, then four. I can't say how it all went down, only that D3 raised quite the clamor upon her reanimation and immediately set about catching up. When hubby got home from work, he and I went for a walk, which allowed him to bend his dietary rules. Since I walked too, I also partook. (The walk probably burned off calories equivalent to two bites, but never mind that.)
Then the Vancouver Canucks got knocked out of the playoffs, so I needed some comfort. There were two and a half donuts left in the box. Who leaves a half-donut just sitting there?? Not me, I'll tell you that.
When I got up this morning, the last two were still there, old, lonely but still decent looking.
Naturally I identified with them and felt they deserved a dignified end to their stay with us.
It may not have been my best decision to date. I feel enough shame to keep me from doing this again for a good, long time. But not so much that I won't share the story, or remember it with pleasure.
Which, when it comes to shame, is the perfect amount.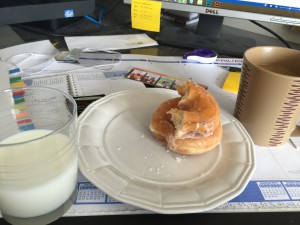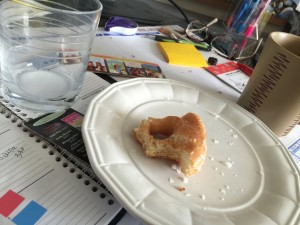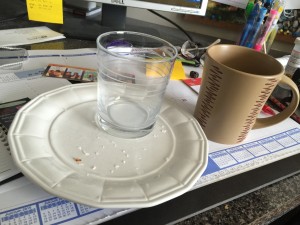 CONTEST OVER: Congratulations to MICHELLE HARLAN, who won the book!
But I'm always happy to hear from readers, so feel free to keep the comments coming, people.
***
My next release from Entangled Publishing comes out May 12 and features a hero who knows his wine, his beer, his food and living the good
 life. Because I set THE MILLIONAIRE DADDY PROJECT in Vancouver, BC, I chose to showcase BC wines! From now to May 8 I'm hoping to pique reader interest in this story, and for your help, one of you will win a copy of this gorgeous coffee-table book by John Schreiner called British Columbia Wine Country.
What's THE MILLIONAIRE DADDY PROJECT about, you ask? A wealthy urban restaurateur's life is turned upside down when he discovers he's got a four-year old daughter he never knew existed. Dane Bergman is forced to rely on his uber-competent executive assistant Pamela, who the kid adores on sight. Little Dani's first response to her new father? She takes one glowering look, crosses her arms and announces, "I don't have a daddy!"
But things change when Dane takes his daughter – and Pam, in the role of reluctant nanny – to his gorgeous West Coast island hideaway, for some hands-on tutoring in parenting. It's a month of learning for each of them as boundaries get blurred, interactions turn into relationships and Dane discovers that Pam's lessons on caring for a little girl have opened his eyes to so much more.
What do you think? Will you help me spread share this with other potential readers?
It's simple to enter: using the Rafflecopter link below, show me THE MILLIONAIRE DADDY on your Goodreads shelf, visit me on Facebook, comment on this post (or on Facebook) and/or *Tweet a message about this contest.* Nothing to buy, no hoops to jump through, just waving the flag with me, right? And I love you for it! <3
Enter here and good luck!
* Does writing tweets give you hives? Here are a few suggestions:
Is TMDP on your Goodreads shelf? WHY NOT? http://gvwy.io/tl1buol #newrelease @RoxanneSnopek http://bit.ly/loveTMDP
Cheers! Help @RoxanneSnopek celebrate her #newrelease 4 a chance 2 #win a gorgeous #wine book http://gvwy.io/tl1buol @pentwineinfo
Heaven is: kids out, @Tantaluswine in! Celebrate #newrelease #newdaddy #romance by @RoxanneSnopek 4 chance 2 #win http://gvwy.io/tl1buol
Preorder @RoxanneSnopek's #newrelease for a chance to #win http://bit.ly/loveTMDP http://gvwy.io/tl1buol @BCWineLover
Thanks again, my reading-buddy wine-appreciating friends!
The Authors in Bloom blog hop is now ended – Congratulations to Alisha who won the $10 Amazon gift card from my contest! Hop over to Dianne Venetta's page to check out the other winners and get great garden tips.
Thanks to all who entered and shared their lovely garden comments! I had a wonderful day in the dirt: today, herb garden. Next, cherry tomatoes. How about you?