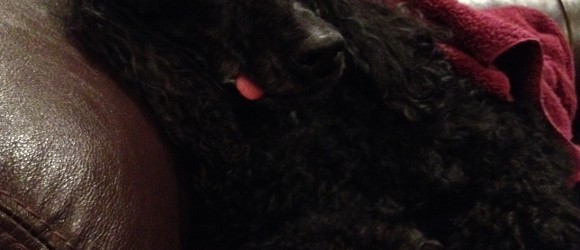 So as some of you know, on Friday we discovered an enormous anal gland abscess in poor Myshkin. So, down to Ellwood Park Animal Hospital to have it lanced, cleaned out, and a drain inserted by Dr. Ray, aka Dear Hubby, aka Dad. (The downside of being a vet: your own pets get to see you as The Guy With The Sharp Thing) But drugs are very good and poor, poor Myshi came home stoned, with his butt-end snugly wrapped in a towel which will henceforth belong to him.
For those of you pet-free people, let me give you more ammo for remaining pet-free: anal gland juice smells like a skunk-diarrhea cocktail left out in the sun to ferment. We dearly love our boy but that is not a lap-friendly smell. Not something you want curled up beside you at night. So the poor boy's been relegated to a crate, which he actually loves, though he loves nothing right now. Nothing. At. All.
See? He won't even look at me.
His misery is complicated by the fact that he's intelligent enough to be super-easily stressed by life events. Fireworks, for example, mean that the house is burning down and safety may only be found by returning to the nearest uterus. So having a baboon-butt with two extra holes and a hunk of latex flapping out of it hasn't done him any favors, stress-wise. And it's obviously very, very painful. Dr. Dad took the drain out last night, but the canine appreciation has been slow in coming.
Unfortunately, he also has a history of pancreatitis, which tends to flare up when he stops eating, which he does when, say, when Mom goes away for more than eight hours (She's dead! I knew it!) or someone lights a candle in the bath (Cordite! Hellfire!)
So, yes, now his belly is painful too, and he's nauseated, which means we have to give his antibiotics by injection, rather than pills. So the two people he trusts most in his life are poking holes in him, prodding at delicate areas, then locking him away like a leper because, come on, dogs can smell. He knows he's hideous.
Life as he knows it is over.
He'll feel much better tomorrow.
Have you ever found yourself in a situation you were completely unprepared for? Have you had to watch your life's work disappear in front of your eyes, taking your hopes and dreams with it? Have you ever seen the disgusting stuff that comes out of old, rusty pipes? Then you have an idea how Melinda and Austin Sweet feel at the start of A SWEET MONTANA CHRISTMAS.
Since I live in a comfortable, modern home, I can safely see the "romance and adventure" of living in a renovation project.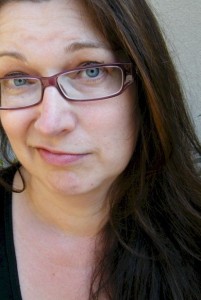 Would I want to do it? Hm. Let's just say, I bring my own pillow with me when I travel. Not quite as adaptable as I once was.
Fortunately, my characters find they have more resilience than they thought. And that perhaps the dreams they once had don't fit them as they once did.
And that a love they feared gone is still there, just waiting for a Christmas miracle!
This book follows
FINDING HOME
as the second of a set of linked stories in a series called THIS OLD HOUSE. Because it's set in Marietta, Montana, it's also part of the Montana Born Christmas series. But don't worry about where it "fits." All these books are worlds unto themselves, plus part of the bigger world that is Marietta, Montana.
I want to go there. This is how I do it.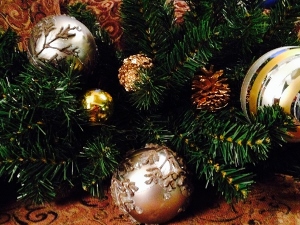 I'm happy to announce that A SWEET MONTANA CHRISTMAS is now available! For today and probably tomorrow, it's $0.99 but it goes to the regular price of $2.99 after that.
Just sayin'.
If you happen to read it, would you consider writing a brief Amazon review? Or giving it some stars on Goodreads? It makes a huge difference and it's really good karma, too.