I'm delighted to announce that the latest book in my This Old House series is now available!
The Cowboy Next Door is the story of Eric, a former rodeo champion, older-and-now-wiser, who meets a sassy-lass single mom Leda who's reinventing herself and doesn't need anyone telling her how to do it.
But Leda… well, let's be honest. Her judgment track-record is nothing to write home about and everyone can use a hand, from time to time, right?
Eric is really, really nice. And generous. And gorgeous. A dab hand with both babies and horses. Oh, and the dogs adore him.
He's also a white knight looking for a distressed damsel, and Leda wilts for no man.
This novella is on sale for 0.99 right now, so it's the perfect time to get your copy. If you're already a fan of Montana Born Books, welcome back to Marietta, Montana and thank you for reading! If you're new to my work, welcome here, make yourself at home and let me know what you think!
I love hearing from readers!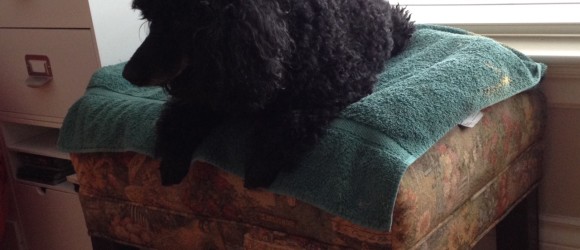 I'm happy to report that my poor doggy is feeling better. He's trying to hide it, though. He's deeply conflicted and seems to want to pretend he's not here, as any attention from us ends up (in his mind) with a needle, a pill being shoved down his throat or a finger poking his behind. He seems to forget about those eggs I scrambled for him yesterday.
He's not entirely rational.
However, since he's now going up and downstairs at his usual pace (I had to carry him for awhile. Yes, it was pathetic.) and willing to snooze in his usual post by the window (I've got the bedroom door closed, so he can't get to his Crate of Denial), I believe things are on the up-and-up. Now, if only we can get him eating actual dog food again.
I've had to start facing the difficult fact that, at age 11, Myshkin is well into his senior years. A Miniature Poodle, he's sturdy and strong, a great example of the breed. He's also super masculine, nothing frou-frou about him. (Except the neuroses, but I'm not one to judge.) I always told Dear Hubby that it was his job to make sure Myshi lives forever, or at least until 20. Toothless, blind, wheelchair, diapers, I don't care.
It's not so funny anymore. And I don't want him to be toothless, blind, in a wheelchair and wearing diapers. No one wants that. I won't let him live in misery. I don't even want to think about that. Not yet.
Three years ago, we lost three of our four cats within a four-month span. It was horrible. I haven't written about it because, well, it was horrible. Mylos, our 14-year old orange tabby male shorthair, had been diabetic for several years, though we managed to get him into remission twice. He was a wonderful, cooperative old boy, but once he developed painful complications, we had to make the decision.
Tabitha, our oldest daughter's 16-year old silver-grey tabby female shorthair, lived with kidney failure for a long time, despite being difficult to treat. Graceful, with an incredibly luxurious coat, she was a dignified, rail-thin old lady, who would have simply faded away. We tortured ourselves about her; she wasn't in pain, exactly, but eventually we had to make the humane choice.
Sophie, my favorite (Not really. But sort of.) was our middle daughter's bombshell calico/tortoiseshell longhair. Healthy, perky, sociable, her death was the worst. One day, with no warning, she became unable to walk. X-rays revealed an enormous abdominal mass, impossible to remove surgically. As the youngest (we think, she came to us as a young adult) we were completely unprepared, and the loss hit hard.
Now we have Bryan (he came with the name), our youngest daughter's big, tough orange tabby who doesn't miss the rest of them at all, and is pleased to have us all to himself. At 14, his health is pretty good, but still. He's 14.
It's a fact of my personality that I tend to hold onto things. You know, old magazines, children, grudges, stuff like that. It's not easy for me to let go, even when it would be better for all if I did. I blame my Scorpioness. Also, my brain.
And I hate that in this stage of my life, loss could strike at any time. And not just my pets. I'm thinking of putting my mother in bubble-wrap and giving my dad an "I'm Fine is Probably a Lie" forehead tattoo. I'm just glad they're near enough for me to intervene when they decide to fall off sidewalks and explode their organs. I'll refrain from including photos. But I've got them, parents. Remember that.
Love is sharpened by the awareness of loss. I hate that, but I must accept it.
Now it's time to check my dog's bum. Thank you for your time.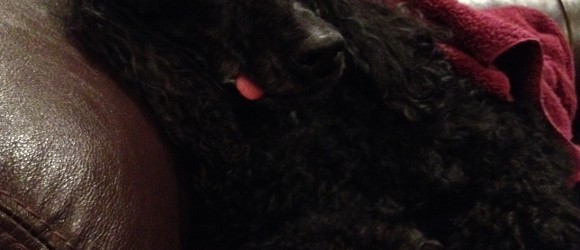 So as some of you know, on Friday we discovered an enormous anal gland abscess in poor Myshkin. So, down to Ellwood Park Animal Hospital to have it lanced, cleaned out, and a drain inserted by Dr. Ray, aka Dear Hubby, aka Dad. (The downside of being a vet: your own pets get to see you as The Guy With The Sharp Thing) But drugs are very good and poor, poor Myshi came home stoned, with his butt-end snugly wrapped in a towel which will henceforth belong to him.
For those of you pet-free people, let me give you more ammo for remaining pet-free: anal gland juice smells like a skunk-diarrhea cocktail left out in the sun to ferment. We dearly love our boy but that is not a lap-friendly smell. Not something you want curled up beside you at night. So the poor boy's been relegated to a crate, which he actually loves, though he loves nothing right now. Nothing. At. All.
See? He won't even look at me.
His misery is complicated by the fact that he's intelligent enough to be super-easily stressed by life events. Fireworks, for example, mean that the house is burning down and safety may only be found by returning to the nearest uterus. So having a baboon-butt with two extra holes and a hunk of latex flapping out of it hasn't done him any favors, stress-wise. And it's obviously very, very painful. Dr. Dad took the drain out last night, but the canine appreciation has been slow in coming.
Unfortunately, he also has a history of pancreatitis, which tends to flare up when he stops eating, which he does when, say, when Mom goes away for more than eight hours (She's dead! I knew it!) or someone lights a candle in the bath (Cordite! Hellfire!)
So, yes, now his belly is painful too, and he's nauseated, which means we have to give his antibiotics by injection, rather than pills. So the two people he trusts most in his life are poking holes in him, prodding at delicate areas, then locking him away like a leper because, come on, dogs can smell. He knows he's hideous.
Life as he knows it is over.
He'll feel much better tomorrow.