I've got a psychological thriller book recommendation for you! I met the author, Linwood Barclay, at a writers conference years ago. I was brand new but he was already making a name for himself in the crime-fiction world, and a nice guy, as well. He's continued to build his craft and his name and when I saw this book on sale, I immediately downloaded it.
I love psychological thrillers and suspense. Although I haven't read it yet, sounds like it's all there in A Noise Downstairs:
The New York Times bestselling author of No Time for Goodbye returns with a haunting psychological thriller that blends the twists and turns of Gillian Flynn with the driving suspense of Harlan Coben, in which a man is troubled by odd sounds for which there is no rational explanation.

College professor Paul Davis is a normal guy with a normal life. Until, driving along a deserted road late one night, he surprises a murderer disposing of a couple of bodies. That's when Paul's "normal" existence is turned upside down. After nearly losing his own life in that encounter, he finds himself battling PTSD, depression, and severe problems at work. His wife, Charlotte, desperate to cheer him up, brings home a vintage typewriter—complete with ink ribbons and heavy round keys—to encourage him to get started on that novel he's always intended to write.

However, the typewriter itself is a problem. Paul swears it's possessed and types by itself at night. But only Paul can hear the noise coming from downstairs; Charlotte doesn't hear a thing. And she worries he's going off the rails.

Paul believes the typewriter is somehow connected to the murderer he discovered nearly a year ago. The killer had made his victims type apologies to him before ending their lives. Has another sick twist of fate entwined his life with the killer—could this be the same machine? Increasingly tormented but determined to discover the truth and confront his nightmare, Paul begins investigating the deaths himself.

But that may not be the best thing to do. Maybe Paul should just take the typewriter back to where his wife found it. Maybe he should stop asking questions and simply walk away while he can. . . .
Right now, the Kindle version is on sale for $1.99.
I'm guessing the lost sleep will cost me a bit more… but will be worth it.
🙂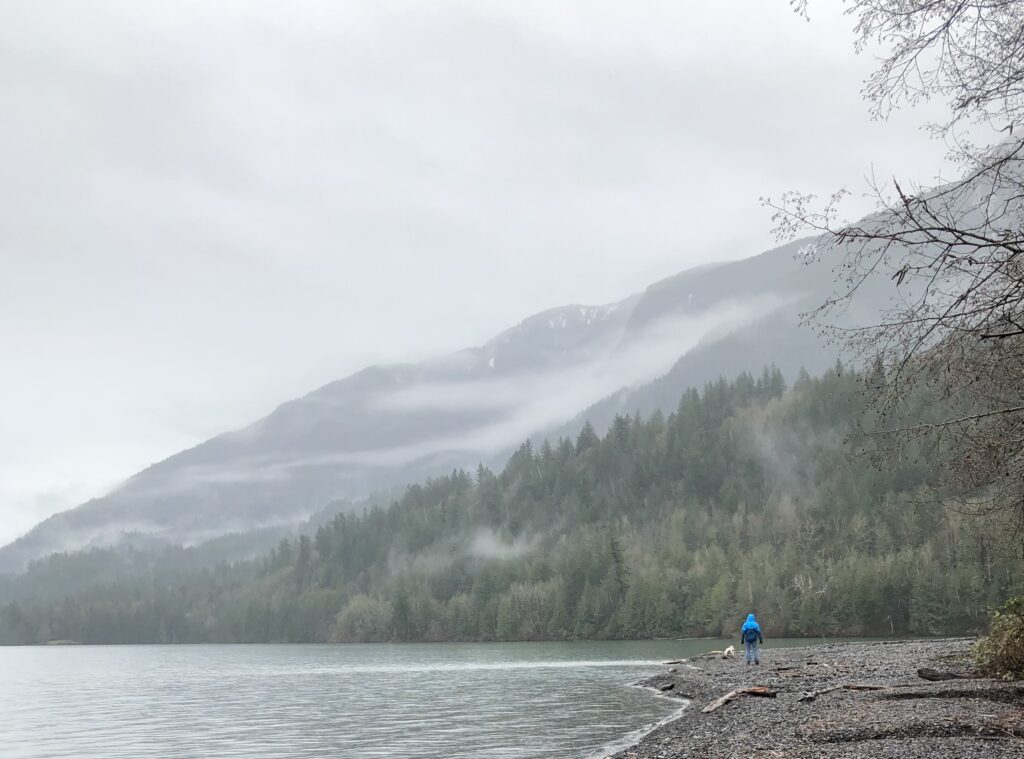 If you wonder what I've been up to lately, this photo might explain it. Walking around the lake with Ray and Luna is a never-ending joy
The people in our new community are wonderful, too. My new next-door neighbor Ruth, in fact, is the inspiration for this newsletter. I love Ruth. She appreciates people and isn't afraid to shout that from the rooftops.
Ruth is also a phenomenal cook and frequently asks us to "help her" by tasting her mushroom risotto, or double-crunch chicken, or blueberry coffee cake. We do her this favor because that's what friends are for.
On her Facebook page, Ruth posts beautiful Loves Notes highlighting the important people in her life. Even though I don't know most of these people, reading them always brings a smile to my face.
So, with a nod to Ruth, that's what my revamped newsletter is about. Love Notes. Reminding people – YOU – what you mean to me and why.
I'll also update you a bit on my life and my books, but honestly, that bores me so there won't be much of it. (Also, if you want to know about that, ask to join my private Facebook reader group. I don't post much on "regular" Facebook anymore, being more of a small group kind of gal.)
Love Note #1
My very first Love Note goes out to Kim of ReadYourWrites book reviews. Kim – Kimmie to me – has been with me from my very first book. For a writer just starting out, when no one has ever read your books before, to have someone you don't know post that they LOVE it, well. That does something for a fragile writer's heart. (Kim, one day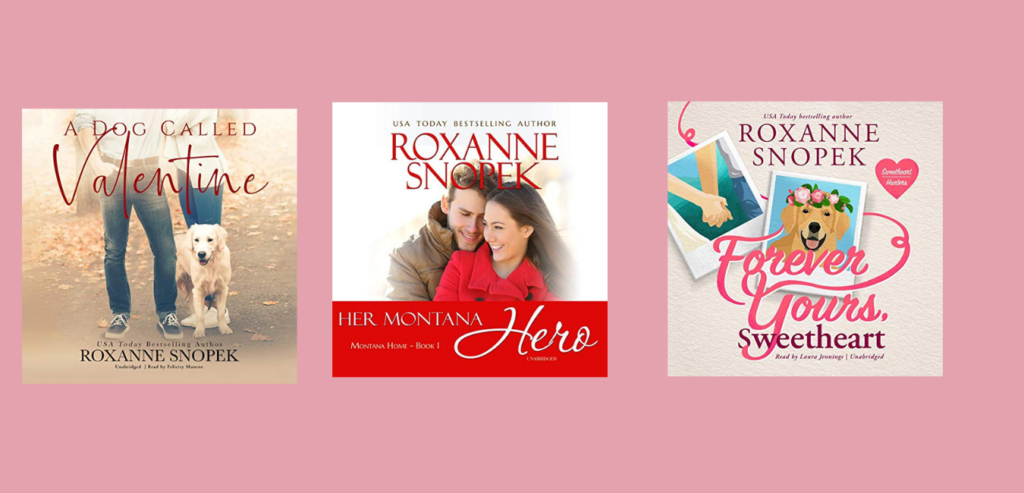 when we meet in person, I've got a big hug for you.) Kim is more than enthusiastic and kind, however; she's also unflinchingly honest, which is vital in a reviewer – and a friend. When she starts off hating a character of mine – and she's hated a few – she says it. Then she says something to the effect of "… but I read the book anyway because I knew Roxanne would make it worth my while – and she did."
Ah, Kimmie. Thank you. Thank you!
Audio Books
In other news, a year ago, Tule Publishing negotiated a fantastic deal with Blackstone Publishing for the audio editions of my books. Over the past several months, they've been produced, and are now all available.
Narrator Felicity Munroe does an amazing job with my Montana Home and Love at the Chocolate Shop books, as well as A Dog Called Valentine and was kind enough to tell me that recording my books helped keep her spirits up during those early dark days of Covid-19.
---
Three River Ranch – relaunched!
Finally, I'm excited to announce that my very first series is being relaunched! The series, originally titled Three River Ranch, has been languishing on the bottom shelf, so to speak, so we've updated and re-edited the books, given them fresh covers and new titles and they are now being released as the Wild Sky series. If you've been with me for a while, you might recall these stories.
If you're a newer reader and have missed these, I urge you to give them a try; set in Montana with wild mustangs, service dogs, babies, wounded heroes, these books are dear to my heart. They launched my career, put me on bestseller lists and connected me to many, many wonderful and kind readers – like YOU! I'm glad to see them alive again and hope you'll give them a warm welcome.
Until the next Love Note from the Lake… stay well and happy reading!
Love, Roxanne
There's a book on sale in Kindle-land today called The Subtle Art of Not Giving a F*ck: A Counterintuitive Approach to Living a Good Life
. Have you read it? As soon as I saw it was available for $2.99, I checked it out. #1 New York Times bestseller, with over 1 million copies sold. I was about to one-click. Then I read some reviews.
In this generation-defining self-help guide, a superstar blogger cuts through the crap to show us how to stop trying to be "positive" all the time so that we can truly become better, happier people.

For decades, we've been told that positive thinking is the key to a happy, rich life. "F**k positivity," Mark Manson says. "Let's be honest, shit is f**ked and we have to live with it." In his wildly popular Internet blog, Manson doesn't sugarcoat or equivocate. He tells it like it is—a dose of raw, refreshing, honest truth that is sorely lacking today. The Subtle Art of Not Giving a F**k is his antidote to the coddling, let's-all-feel-good mindset that has infected American society and spoiled a generation, rewarding them with gold medals just for showing up.

Manson makes the argument, backed both by academic research and well-timed poop jokes, that improving our lives hinges not on our ability to turn lemons into lemonade, but on learning to stomach lemons better. Human beings are flawed and limited—"not everybody can be extraordinary, there are winners and losers in society, and some of it is not fair or your fault." Manson advises us to get to know our limitations and accept them. Once we embrace our fears, faults, and uncertainties, once we stop running and avoiding and start confronting painful truths, we can begin to find the courage, perseverance, honesty, responsibility, curiosity, and forgiveness we seek.

There are only so many things we can give a f**k about so we need to figure out which ones really matter, Manson makes clear. While money is nice, caring about what you do with your life is better, because true wealth is about experience. A much-needed grab-you-by-the-shoulders-and-look-you-in-the-eye moment of real-talk, filled with entertaining stories and profane, ruthless humor, The Subtle Art of Not Giving a F**k is a refreshing slap for a generation to help them lead contented, grounded lives.
I agree with all of this and I've got no particular hangup about the F-word. Unfortunately, I'm 55, the tail end of the baby boomer generation and have absolutely not got a millenial mindset. The vagueness and lack of research citations mentioned in numerous reviews would be problematic for me. I can rarely recall hard substantiating data when expounding my own wisdom, but I do require it when paying to hear someone else expound theirs. Mark Manson might have enough wind to flap a flag, but he's not fanning the flame of my interest.
What do you think?