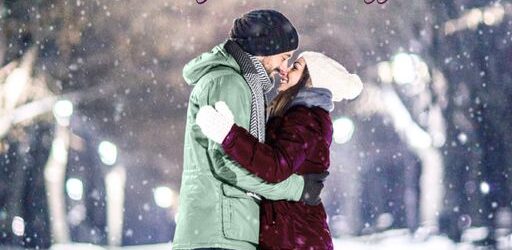 No, it's not the start of a joke. 🙂 It's the very first Christmas story I wrote, a novella titled SAVING THE SHERIFF. The hero, a sheriff, is looking after his friends' ranch during the holidays, when he discovers a woman dressed as an elf and a trailer of "reindeer" stuck in the snow. He's a bit uptight, she's a free spirit but when they get stormed in, they discover they have more in common than they thought.
It includes Mistral, the fan-favorite Labradoodle from 
THREE RIVER RANCH
, plus cameos from Zach and Des (
HIS RELUCTANT RANCHER
) and the ever-hilarious, advice-giving town mother-hen, Bliss (or Blister, as her twin sister calls her). Mangled Christmas carols, howling winds and a crackling fire turn a difficult holiday into something truly miraculous for my characters and I hope it lifts your spirits, too!
Here's a snippet for you:
"Help you?"

Frankie jumped and dropped her flashlight. Bone-deep instinct kicked in, a primal watch out, honey! Not necessarily danger…but maybe.

Two words, and oh, baby. No gruff old-timer, his voice sounded young, strong…and smoky, full of…campfire stories…and marshmallows roasted on fresh-cut branches…

She gave her head a shake. Don't be an idiot, Frankie.

He was a man with a truck.

"I'm stuck." She put on her most innocent grin and faced the headlights. She couldn't see a thing through the snow. "Can you help me out?"

Three River was supposed to be empty over Christmas. At least, the ranch's Facebook page had indicated the family was in Maui. The mustang sanctuary was well-known among animal lovers and Frankie felt certain they'd have helped her cause, if she could have asked them. So she'd taken a chance that they wouldn't mind. That in fact, they'd never know.

Yet here was a man, from what she could hear over the snarl of engines and wind. A man unexpected, in every way.

But what if he was private security? Or worse, a game warden.

Stop it! Think positively, Frankie!

Maybe, despite the little mishap with the ditch, the universe was on her side after all. Maybe this was just a kindhearted local who'd be delighted to help out a damsel in distress.

The man stepped out, leaving the engine running and the driver's door standing open. This time she caught a glimpse of a cowboy hat and beneath it, a stubbled jawline. Broad shoulders. And tall. He held up a much better flashlight than the one she had, shining it high, scanning the truck, the listing trailer. Then scanning her. The beam of light traveled over her body, up and down, leaving no inch untouched. Warmth rose to her cheeks, prickly in the winter air.

"Wanna tell me who you are and what you're doing here?" He cleared his throat and she thought she heard the glimmer of a smile. "Lost on your way to work?"

"Ha-ha." She sighed and stamped her feet, aching with cold now that she was standing still. "Yes, I'm wearing an elf costume. Can you pull me out or what?"

He walked up to the trailer and shone the beam inside. He moved smoothly, deliberately—like a hunter she thought, her breath quickening.

"That option disappeared about six inches ago, I'd say." The man knocked his fist against the side of the truck, the metal echoing hollowly, and then he moved the light off her and aimed it out into the empty field. "Red LeClair, Lutherton sheriff and currently in charge of this icy little slice of heaven. Wanna tell me what's going on out here? Ma'am?"

Sheriff! Universe: home run, Frankie: out.

Frankie followed his light where it dissolved in the darkness, watched it catch on low shrubs and rocks sticking up through the snow. She swept a gloved hand over her cheek and bit her lip. She'd expected the animals to bound off into the sunset the second she opened the trailer, but it hadn't happened like that. They'd wandered off to the nearest wooded area, but that's as far as they'd gone. At least the snow was coming down so hard and fast their hoofprints were nearly covered already. But would they find the food set out for the mustangs? They wouldn't last long in this weather.

Go! Run! She urged them silently. Had she been too late? Were they already too habituated to humans? This was the perfect location for them. Perfect!

As his light moved, she could see the gleam of eyes, still watching from the woods. Darn!

"What this looks like," he said, clicking off his light and crossing his arms, "is trespassing. For starters.""Look," she said, eager to draw his attention back. "I'm sure this looks a little…odd—"

She swallowed. "Technically, you might have a point. But I can explain."

"How about we start with your license and registration, please. Ma'am."

And that's when Frankie began to suspect the universe wasn't just having a little fun at her expense, but was in fact a PMSing

hag. She rummaged through the glove box until she found the crumpled insurance papers belonging to Conrad Toole, the man who owned the truck and the dilapidated roadside Christmas display she'd been part of. Until tonight, when she'd liberated the five young elk he'd been parading as reindeer.

She could see how this might appear sketchy.
My story A SWEET MONTANA CHRISTMAS is about a couple with more than their share of burdens. They've lost their way in life, and with each other and although their love remains, they don't know how to find their way back. They find themselves starting over on a derelict honey farm in Montana. I loved writing this book so much!
One of my favorite scenes in this story is when Austin, the husband, attempts to wash his wife's hair. The hot-water tank is out of commission and the facilities are, shall we say, rustic. But he wants so badly to make Melinda less miserable and so he does this clumsy, thoughtful thing that ends up being a bit of a mess. Those are, I think, the most romantic gestures; not the ones that work perfectly, but the ones that involve risk, the chance of failure, of being laughed at.
**
Austin set the aluminum tub on the butcher-block table in the kitchen.

"Come here," he said.

Melinda looked at him with caution, but he could feel excitement, thrumming like a field, around her like a field.

Fear and temptation.

She stepped up to him and he handed her a towel.

He wanted to unzip that thick hoodie and pull it off. To lift up the shirt beneath, little by little, revealing her creamy torso by inches, until he could see the lower swelling of her breasts.

"Eyes up, big guy."

He jumped. "Sorry." He laughed shakily. "Habit."

He gestured to the chair. "Sit. Put this around your neck. I'd ask you to take off your top, but…"

To his surprise, she slipped out of her hoodie. Underneath, she wore a tank top and it was fantastically obvious that she was braless.

Her breasts looked larger, the nipples pink and straining through the thin fabric.

He adjusted his pants. This was going to be harder than he thought, pun intended.

"Are you going to wash my hair, Austin?"

She asked it in a smoky voice that might have come straight out of an old western saloon. Low and slow and smooth as honey.

"I am." He helped her lean back and draped her hair into the small tub. "Comfortable?"

"I'm okay."

He scooped a bowlful of water and poured it over her head, being careful not to get any in her eyes.

She groaned, deep in her throat, a sound that sent more blood rushing southward, a sound he'd only heard when she was in his arms, sweaty, sated and limp with pleasure.

He stroked her hair, lifting it and continuing to pour, getting every bit saturated.

Then he squirted a handful of shampoo and began massaging it into her head. He'd never done this before and water splashed onto the table.

A bit of foam dripped onto her throat, then slid slowly toward the neckline of her tank top. She lifted her hand and caught it, without looking. The sight of her fingers, caressing her skin, so close to those rosy nipples…

"Ow!"

The towel beneath her neck slipped, allowing the sharp edge of the tub to bite into her skin.

"Damn, sorry, baby," he said. He tried to tug it up but his soapy hands slipped. He bumped the tub with his elbow and suds splashed onto the table.

Way harder than he expected. In every way.

Suddenly he was aware of Mel, giggling. She put her hand to her mouth, trying to hide it, to let him carry on.

Then she grasped the back of her head and sat up, dragging the towel with it, laughing freely.

He felt like an idiot. Washing a woman's hair was supposed to be a sensual thing, not a comedy show.

She leaned forward, laughing with her whole body now, and he felt the humor tickle him, too.

"That," she said, between gasps, "was the single best shampoo… I've ever had."

"Liar," he said. But her joy unlocked something inside him and before he knew it, the two of them were bracing themselves against each other, bent over at the waist, howling, while water dripped onto the floor and Mel's still-soapy hair sagged onto her shoulders.

"We're going to have to heat more water," said Mel, when she got her voice back. "I need a rinse."

Her face was flushed and her now mostly-transparent tank top had slipped off one shoulder. Dark hair, red lips, those pink nipples. She looked like a strawberry sundae, with chocolate drizzle and whipped cream on top and yeah, he wanted to eat her up.

"There's enough hot water," he said, taking her hand, "to do this properly."
Hello readers!
Some great grabs for you today. Hope you find something you like here!
**
The talented Jill Shalvis has gathered all my catnip into one book in this one. Blended families, women-friendships, SISTERS, grief and recovery, a few quirky characters, including an adorable dog and an irascible cat, plus her trademark humor made this an unputdownable read for me. I hope you think so too! (Looks like it's back to regular price of $7.99 – but totally worth it!)
After losing her sister in a devastating car accident, chef Quinn Weller is finally getting her life back on track. She appears to have it all: a loving family, a dream job in one of L.A.'s hottest eateries, and a gorgeous boyfriend dying to slip an engagement ring on her finger. So why does she feel so empty, like she's looking for a missing piece she can't find?
The answer comes when a lawyer tracks down Quinn and reveals a bombshell secret and a mysterious inheritance that only she can claim. This shocking revelation washes over Quinn like a tidal wave. Her whole life has been a lie.
On impulse, Quinn gives up her job, home, and boyfriend. She heads up the coast to the small hometown of Wildstone, California, which is just a few hours north, but feels worlds apart from Los Angeles. Though she doesn't quite fit in right away, she can't help but be drawn to the town's simple pleasures…and the handsome, dark-haired stranger who offers friendship with no questions asked.
As Quinn settles into Wildstone, she discovers there's another surprise in store for her. The inheritance isn't a house or money, but rather something earthshattering, something that will make her question everything she thought she knew about herself, about her family. Now with a world of possibilities opening up to Quinn, she must decide if this new life is the one she was always meant to have—and the one that could finally give her the fulfillment she's searched so long for.
Buy it on Amazon here: Lost and Found Sisters
**
Here's a sale item for you: I grabbed it on sale for $0.99 and it's waiting on my Kindle right now. Jeannie Moon's latest book looks great and it's still on sale so move fast!
 Mia DeAngelis knew it was time to make a change. Wanting to provide a better life for herself and her ten-year-old nephew, Ben, she took a chance and moved to the small town of Compass Cove. Now, the college librarian is adapting to a new job, a new town, and living with her feisty seventy-eight-year-old grandmother. Mia is determined to make it all work, hoping the coastal hamlet gives both her and Ben the sense of community, family and belonging they both want so much.
Adam Miller, a retired NFL quarterback, has come back to Compass Cove to start over after an injury puts an end to his high-octane life. Settling into the small town routine proves to be a challenge, but his job coaching at Jennings College gives him a sense of purpose, while keeping him connected to the game he loves.
There couldn't be two people more different, yet the minute they meet, friends and family have no doubt they belong together. Now if Mia and Adam can only get out or their own way and embrace a little home town magic, they can find the happy ever after they both crave…
"A warm and lovely comfort read that will make you fall in love–not only with Mia and Adam, the endearing leads, but with the town of Comfort Cove!" — Virginia Kantra, New York Times Best Selling Author
Buy it on Amazon here: Then Came You (Compass Cove Book 1)
**
And lastly, if I haven't already recommended it, this book by BIG LITTLE LIES author Liane Moriarty really tickled my fancy. Now, I've loved everything I've read by Ms. Moriarty so far, so that wasn't a stretch. But it's always nice to have my expectations met and exceeded. 🙂 Also, it's priced at $2.99 so go, run, get it now. 
 A "sharp and funny romantic tale" (O, the Oprah Magazine) from the #1 New York Times bestselling author of Big Little Lies.
Ellen O'Farrell is a professional hypnotherapist who works out of the eccentric beachfront home she inherited from her grandparents. It's a nice life, except for her tumultuous relationship history. She's stoic about it, but at this point, Ellen wouldn't mind a lasting one. When she meets Patrick, she's optimistic. He's attractive, single, employed, and best of all, he seems to like her back. Then comes that dreaded moment: He thinks they should have a talk.
Braced for the worst, Ellen is pleasantly surprised. It turns out that Patrick's ex-girlfriend is stalking him. Ellen thinks, Actually, that's kind of interesting. She's dating someone worth stalking. She's intrigued by the woman's motives. In fact, she'd even love to meet her.
Ellen doesn't know it, but she already has.
Buy it on Amazon here: The Hypnotist's Love Story