Want to curl up with a read that will warm you inside and out? I've got just the book!
When an unwanted Valentine's Day present is dumped at the shelter, volunteer Lily decides to foster the poor dog herself. A little attention is all he needs to blossom into a loving pet, ready for his forever home. Plus, helping an unloved animal will distract her from her own love life. Win, win. Right? Wrong. Valentine needs more than a makeover if he's going to be adopted. He destroys her home, hates to be groomed and when he behaves better for a perfect stranger than he does her, Lily swallows her pride and begs that perfect stranger for help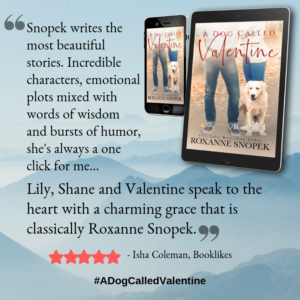 After losing his canine partner in a horrific moment that upended his future, sexy and stoic Shane turns to remodeling his grandmother's home. No more law enforcement career, no more dogs, no more risks. But it's hard to ignore the misunderstood mutt at the park and his well-intentioned, but clueless, handler. Shane reluctantly agrees to give her a few tips and tricks, but that's all. He won't care. He won't get invested. And once Valentine finds his new home, life can go back to normal.
But there's a new normal in town and, suddenly, Valentine's Day will never be the same.
Available in digital and paperback at Amazon: A Dog Called Valentine
There's nothing like escaping to warmer climes during the deep, dark days of winter. Alas, we took holidays in November, so any escape I manage now will come through the pages of a book. The Escape to New Zealand series by Rosalind James has been entertaining me recently, mostly because the audio versions are narrated by the talented Claire Bocking. Her ability to do a Kiwi accent is amazing!
The are 12 books in the series, at least, and it's available in a few combinations as well, I believe. These two were my favorites. I highly recommend the audio books!
Audie nominee, Best Romance Audiobook, 2015
Everyone needs to be rescued sometimes. 
Everyone but Hannah Montgomery, that is. She just needs a vacation. Three weeks in New Zealand to sort out her life, figure out what she wants, seems just right. Oh, and to relax. She should definitely put that on the agenda. She certainly isn't looking for a sexy fling with a professional rugby player, no matter how attractive he is. Hannah doesn't do casual. But maybe just this once …
As much as he's shared with Hannah, Drew Callahan has kept one very big secret: that he's the captain of the All Blacks, New Zealand's international rugby team, not to mention the best-known rugby player on earth. And learning the truth, now that she's back home again, has made Hannah warier than ever. Drew knows that she's right for him. But how can he convince her to let down her guard enough to explore what they could have together?
Just This Once: Escape to New Zealand Book One
For teacher Jenna McKnight, nothing spells "heartbreak" like finding her husband with somebody else–in her bed. It's clearly time to reinvent herself. A new body, a new city, and a new job later, she's done just that. The beautiful Auckland villa isn't really her home, though. Finn Douglas and his kids aren't really her family, however much she wishes they were. And playing house can be a dangerous game.
Rugby star Finn Douglas is just looking for a temporary nanny and housekeeper. Not a girlfriend, and definitely not a wife. He can't resist Jenna's cooking, it's true. Who knew he'd have so much trouble resisting her? He wants to do what's right for his kids. But waiting is so hard …
Just For Now (Escape to New Zealand Book 3)
And here's the box-set containing the first three books, including Just Good Friends (Escape to New Zealand Book 2)
I never imagined I'd be interested in reading (listening) to stories about rugby players but the New Zealand setting, the Maori culture and the steamy stories surprised me. Now, if I ever visit, I'll be sure to go when the All Blacks are playing!
The second volume contains books 4-6 and looks great, too.
I joined the Goodreads Reading Challenge this year and set myself a goal to read 200 books. Actually, I clicked that number accidentally, then looked at it, shrugged and thought, "Maybe," and left it. It probably won't happen. Or, more likely, I'll read them but forget to record them. But now I want to try.
Anyway, I want to tell you about the winners I've landed on so far this year. The first, by a landslide, is The Humans: A Novel
 by Matt Haig. It's weird and wacky and entirely hilarious. It's also profoundly moving, perceptive and thought-provoking. Read it.


When an extra-terrestrial visitor arrives on Earth, his first impressions of the human species are less than positive. Taking the form of Professor Andrew Martin, a prominent mathematician at Cambridge University, the visitor is eager to complete the gruesome task assigned him and hurry home to his own utopian planet, where everyone is omniscient and immortal.
He is disgusted by the way humans look, what they eat, their capacity for murder and war, and is equally baffled by the concepts of love and family. But as time goes on, he starts to realize there may be more to this strange species than he had thought. Disguised as Martin, he drinks wine, reads poetry, develops an ear for rock music, and a taste for peanut butter. Slowly, unexpectedly, he forges bonds with Martin's family. He begins to see hope and beauty in the humans' imperfection, and begins to question the very mission that brought him there.
Praised by The New York Times as a "novelist of great seriousness and talent," author Matt Haig delivers an unlikely story about human nature and the joy found in the messiness of life on Earth. The Humans is a funny, compulsively readable tale that playfully and movingly explores the ultimate subject—ourselves.
The Orphan's Tale: A Novel
 by Pam Jenoff. A very interesting WWII story, set against the unusual backdrop of the circus world.
A powerful novel of friendship set in a traveling circus during World War II, The Orphan's Tale introduces two extraordinary women and their harrowing stories of sacrifice and survival 
Sixteen-year-old Noa has been cast out in disgrace after becoming pregnant by a Nazi soldier and being forced to give up her baby. She lives above a small rail station, which she cleans in order to earn her keep… When Noa discovers a boxcar containing dozens of Jewish infants bound for a concentration camp, she is reminded of the child that was taken from her. And in a moment that will change the course of her life, she snatches one of the babies and flees into the snowy night.
Noa finds refuge with a German circus, but she must learn the flying trapeze act so she can blend in undetected, spurning the resentment of the lead aerialist, Astrid. At first rivals, Noa and Astrid soon forge a powerful bond. But as the facade that protects them proves increasingly tenuous, Noa and Astrid must decide whether their friendship is enough to save one another—or if the secrets that burn between them will destroy everything.
Waiting On You (The Blue Heron Series)
 by Kristan Higgins. This a comfort re-read for me. The whole series just makes me happy, which I often need this time of year. So, thank you, Ms. Higgins!
Is your first love worth a second chance…? 
Colleen O'Rourke is in love with love…just not when it comes to herself. Most nights, she can be found behind the bar at the Manningsport, New York, tavern she owns with her twin brother, doling out romantic advice to the lovelorn, mixing martinis and staying more or less happily single. See, ten years ago, Lucas Campbell broke her heart…an experience Colleen doesn't want to have again, thanks. Since then, she's been happy with a fling here and there, some elite-level flirting and playing matchmaker to her friends.
But a family emergency has brought Lucas back to town, handsome as ever and still the only man who's ever been able to crack her defenses. Seems like maybe they've got some unfinished business waiting for them—but to find out, Colleen has to let her guard down, or risk losing a second chance with the only man she's ever loved.
I'm adding this one too, even though I finished it last year. It's on sale right now and a tremendous read. Erotic Stories for Punjabi Widows: A Novel
 by Balli Kaur Jaswal is a "lively, sexy, and thought-provoking East-meets-West story about community, friendship, and women's lives at all ages."
Every woman has a secret life . . .
Nikki lives in cosmopolitan West London, where she tends bar at the local pub. The daughter of Indian immigrants, she's spent most of her twenty-odd years distancing herself from the traditional Sikh community of her childhood, preferring a more independent (that is, Western) life. When her father's death leaves the family financially strapped, Nikki, a law school dropout, impulsively takes a job teaching a "creative writing" course at the community center in the beating heart of London's close-knit Punjabi community.
Because of a miscommunication, the proper Sikh widows who show up are expecting to learn basic English literacy, not the art of short-story writing. When one of the widows finds a book of sexy stories in English and shares it with the class, Nikki realizes that beneath their white dupattas, her students have a wealth of fantasies and memories. Eager to liberate these modest women, she teaches them how to express their untold stories, unleashing creativity of the most unexpected—and exciting—kind.
As more women are drawn to the class, Nikki warns her students to keep their work secret from the Brotherhood, a group of highly conservative young men who have appointed themselves the community's "moral police." But when the widows' gossip offers shocking insights into the death of a young wife—a modern woman like Nikki—and some of the class erotica is shared among friends, it sparks a scandal that threatens them all.
What about you? Read anything great lately?