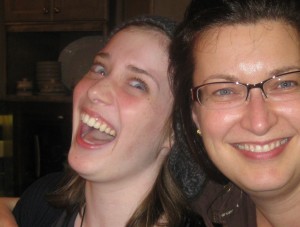 Our youngest, referred to herein as Potsticker, or Pik for brevity, shared the following joke with me this morning. (Her life is a barrel of bloody razor-blades. Just ask her.)
It's not original, so if you're the one who told it first, well, sucks to be you.
First-born child: "Mommy, why am I named Petal?"
Mommy: "Because when you were born, a petal landed on your head."
Second-born child: "Mommy, why am I named Rose?"
Mommy: "Because when you were born, a rose landed on your head."
Last-born child: "My favorite color is potato."
Mommy: "Shut the hell up, Brick!"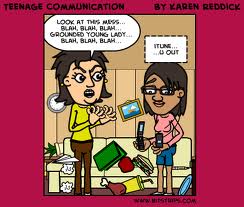 "I'm off to Lindsay's now," Pik says, on her way out the door. Nothing like a sweet summer day, and a friend with a pool.
"Keep your phone with you today, okay?" I tell her. She didn't respond to any of my texts yesterday, but she was at the lake and I figured they'd spent the day in the water.
"I will, Mom," she says with the careful deliberation one uses with the mentally disabled. "But my phone doesn't let me open your texts."
Okay, now I'm not the most tech-savvy, but even I know this doesn't make sense.
"What are you talking about?"
"I can see your texts, but my phone doesn't let me open them."
"Why not?"
"There's too many texts, I guess." It appears she's inherited her tech-savvy from me.
"Okay, your whatever-box is full. So you need to clear it out then."
"Yeah. But there's like, two-thousand of them. I don't have time."
"You still have to do it."
"I will."
"When?"
"I don't know!"
"But you'll answer me if I text you this afternoon?"
"I told you, I can't!"
"Well then why bother even taking your phone if you can't use it?"
"I can use it. I just. Can't. Open. Texts."
"So you could call me then, if you see a message from me."
"I guess."
"Awesome. Do that, then."
"Fine."
"Fine."
In a whoosh of hair and skirt, she flung open the door. "Bye," she snapped. Then, almost against her will, she added, "love you."
You have to smile. What else can you do?
This fall, when our youngest leaves for university, my husband and I will become, rather suddenly, empty-nesters. Well, I should say, our nest is empty of human offspring. Our remaining dependents now consist of one ancient, sexually-frustrated cockatiel, four elderly cats, two poodles (smart and healthy, if a little high-strung) and one Cavalier King Charles spaniel with the sweetest temperament ever. (Blank as an unpainted wall, though, our Addie.)
We're not particularly looking forward to taking over all the pet chores; however, we know it's time limited. Our two oldest cats, Tabitha and Mylos, are particularly frail.
While Tabi is holding her own, we've been treating Mylos for diabetes for several years. He's now in remission for the second time, but over Christmas, he developed pancreatitis. We didn't expect him to make it to spring, but he recovered, more or less, with antibiotics. Then he developed hyperthyroidism, and it looks like his pancreatitis is flaring up again. We've decided that we won't let him go through another episode, given his other illnesses, so as soon as we see signs of discomfort, we'll be walking him to the Rainbow Bridge.
At almost 17, he's had a long life, but it's always sad to lose an old friend.