Hello readers!
Some great grabs for you today. Hope you find something you like here!
**
The talented Jill Shalvis has gathered all my catnip into one book in this one. Blended families, women-friendships, SISTERS, grief and recovery, a few quirky characters, including an adorable dog and an irascible cat, plus her trademark humor made this an unputdownable read for me. I hope you think so too! (Looks like it's back to regular price of $7.99 – but totally worth it!)
After losing her sister in a devastating car accident, chef Quinn Weller is finally getting her life back on track. She appears to have it all: a loving family, a dream job in one of L.A.'s hottest eateries, and a gorgeous boyfriend dying to slip an engagement ring on her finger. So why does she feel so empty, like she's looking for a missing piece she can't find?
The answer comes when a lawyer tracks down Quinn and reveals a bombshell secret and a mysterious inheritance that only she can claim. This shocking revelation washes over Quinn like a tidal wave. Her whole life has been a lie.
On impulse, Quinn gives up her job, home, and boyfriend. She heads up the coast to the small hometown of Wildstone, California, which is just a few hours north, but feels worlds apart from Los Angeles. Though she doesn't quite fit in right away, she can't help but be drawn to the town's simple pleasures…and the handsome, dark-haired stranger who offers friendship with no questions asked.
As Quinn settles into Wildstone, she discovers there's another surprise in store for her. The inheritance isn't a house or money, but rather something earthshattering, something that will make her question everything she thought she knew about herself, about her family. Now with a world of possibilities opening up to Quinn, she must decide if this new life is the one she was always meant to have—and the one that could finally give her the fulfillment she's searched so long for.
Buy it on Amazon here: Lost and Found Sisters
**
Here's a sale item for you: I grabbed it on sale for $0.99 and it's waiting on my Kindle right now. Jeannie Moon's latest book looks great and it's still on sale so move fast!
 Mia DeAngelis knew it was time to make a change. Wanting to provide a better life for herself and her ten-year-old nephew, Ben, she took a chance and moved to the small town of Compass Cove. Now, the college librarian is adapting to a new job, a new town, and living with her feisty seventy-eight-year-old grandmother. Mia is determined to make it all work, hoping the coastal hamlet gives both her and Ben the sense of community, family and belonging they both want so much.
Adam Miller, a retired NFL quarterback, has come back to Compass Cove to start over after an injury puts an end to his high-octane life. Settling into the small town routine proves to be a challenge, but his job coaching at Jennings College gives him a sense of purpose, while keeping him connected to the game he loves.
There couldn't be two people more different, yet the minute they meet, friends and family have no doubt they belong together. Now if Mia and Adam can only get out or their own way and embrace a little home town magic, they can find the happy ever after they both crave…
"A warm and lovely comfort read that will make you fall in love–not only with Mia and Adam, the endearing leads, but with the town of Comfort Cove!" — Virginia Kantra, New York Times Best Selling Author
Buy it on Amazon here: Then Came You (Compass Cove Book 1)
**
And lastly, if I haven't already recommended it, this book by BIG LITTLE LIES author Liane Moriarty really tickled my fancy. Now, I've loved everything I've read by Ms. Moriarty so far, so that wasn't a stretch. But it's always nice to have my expectations met and exceeded. 🙂 Also, it's priced at $2.99 so go, run, get it now. 
 A "sharp and funny romantic tale" (O, the Oprah Magazine) from the #1 New York Times bestselling author of Big Little Lies.
Ellen O'Farrell is a professional hypnotherapist who works out of the eccentric beachfront home she inherited from her grandparents. It's a nice life, except for her tumultuous relationship history. She's stoic about it, but at this point, Ellen wouldn't mind a lasting one. When she meets Patrick, she's optimistic. He's attractive, single, employed, and best of all, he seems to like her back. Then comes that dreaded moment: He thinks they should have a talk.
Braced for the worst, Ellen is pleasantly surprised. It turns out that Patrick's ex-girlfriend is stalking him. Ellen thinks, Actually, that's kind of interesting. She's dating someone worth stalking. She's intrigued by the woman's motives. In fact, she'd even love to meet her.
Ellen doesn't know it, but she already has.
Buy it on Amazon here: The Hypnotist's Love Story
Happy Friday! As you know, I read a lot. A LOT. Here are a few of my latest favorite reads.
*

She's Not There
 by P.J. Parrish. I enjoyed this one so much, I'm listening to it on audio for a second time now.
They say it's better to battle the devil you know. But what if you don't recognize him before it's too late?
She knows her name is Amelia, but after waking up in a hospital battered and bruised with just the clothes on her back, it's all she knows. Unable to piece together her shattered memory, she's haunted by a vision: menacing faces and voices implying her nightmare is far from over.
Relying only on her wits and her will to live, Amelia becomes a fugitive from a mysterious man, and a life she can't even remember. But the past she's fleeing has no intention of letting her go.
Whiskey River Rescue
 by Justine Davis was a delightful treat! It reminded me a bit of an old L.M. Montgomery story called The Blue Castle
.  Highly recommended!
Still reeling from the unexpected sale of the land she and her horses live on, horse rescuer Kelsey Blaine is frantic when she comes home to find her possessions already boxed up and her house being bulldozed without any notice. Normally calm and kind, Kelsey becomes furious and impulsively cuts a privacy fence to confront the culprit–her mysterious neighbor, Joe.
Joe Kilcoyne is in a desperate place. He guards his secrets and hides from the world for a reason. He's the hottest topic of speculation around Whiskey River, but no one has ever dared to get close to him. That is, until fiery Kelsey comes barging straight into his life.
The last thing Joe needs is for Kelsey to breach his defenses and make him confront his past. But when her sunny, open, and determined personality collide with a haunted man with no idea how to reconnect with the world, the sparks that ignite shock them both.
Snowfall at Willow Lake (The Lakeshore Chronicles)
 by Susan Wiggs. This is a wonderful story, with motherhood issues and animals (both my catnip). Loved it!
International lawyer Sophie Bellamy has dedicated her life to helping people in war-torn countries. But when she survives a hostage situation, she remembers what matters most—the children she loves back home. Haunted by regrets, she returns to the idyllic Catskills village of Avalon on the shores of Willow Lake, determined to repair the bonds with her family.
There Sophie discovers the surprising rewards of small-town life—including an unexpected passion for Noah Shepherd, the local veterinarian. Noah has a healing touch for anything with four legs, but he's never had any luck with women—until Sophie. But Sophie's heart needs healing…and both she and Noah need a chance at happiness.
Be Mine
 by Rick Mofina, one of my favorite crime writers. I always stay up too late with Rick's books!
A personal message written in human blood is left for crime reporter Molly Wilson at the murder scene of her boyfriend, San Francisco Homicide Inspector, Cliff Hooper.
The horrific death of a revered cop shocks the San Francisco Police Department's Homicide Detail. Shaken to the core, his grieving fellow detectives go flat out to find his killer under the glare of the city's news media.
And the book I'm currently reading: My Dear One: A Novel
by Deborah Small. I started this one last night and I can see I'm going to lose a lot of sleep with it!
Disgraced, and fleeing an arranged marriage, Dianna Marshall sails on the Titanic with a childless couple who offer her sanctuary in exchange for her unborn child. But when the Titanic sinks, taking her benefactor and his fortune with it, Dianna lands on foreign shores, destitute, and facing desperate choices…
Texas rancher Jake Douglas knows heartache. He lost his wife and son and childbirth. So, when his cousin's widow washes up in New York in the company of an expectant runaway, he does the only thing his conscience will allow…
From a lush green British estate, to the windswept Texas panhandle and gritty streets of turn-of-the-20th-century New York, Dianna and Jake battle fate, family, and a society that continues to deny women independence. They also find love, love tested when Dianna is forced to choose between the life she's been raised to lead, the child she's come to love, and the man her heart desires…
*
Happy Friday – and happy reading!
I'm delighted to announce my latest release, THE CHOCOLATE COMEBACK, part of the Love at the Chocolate Shop multi-author series by Tule Publishing. This is a fish-out-of-water story about a flighty, failed fashion model named DeeDee, a conservative businessman named Isaac and his younger brother, Mark, who has Down syndrome.
This story has struck a chord with readers, who have this to say: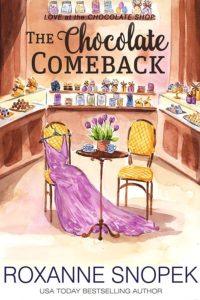 How often does a romance make you cry, make you laugh out loud, make you fall in love with someone? Every real romance does just that, and this story did it for me. These characters are flawed, funny and poignant. Mark Litton is refreshingly real, and the joy that comes with his challenges is rarely written so authentically. I was cheering by the end!"
…a delightful story, filled with humor, love and turmoil as Mark inadvertently brings Isaac and DeeDee together."
…an engaging, uplifting romance that… tackled such a heavy topic – developmental disabilities – and didn't sugarcoat the reality of it. We saw both angles, that of the family member and that of an outsider with zero experience joining that family… made me want to be a better person."
…a beautiful enriching story…"
…exciting, entertaining, and well-written…"
I'm blushing… and thrilled at the response. I hope you enjoy it, too.