Tomorrow is launch day for RESISTING THE RANCHER, the latest book in my Three River Ranch series. Here's where I'll be for the next two weeks – I'd love it if you joined me! Of course, there are prizes to be won:
#1: $25 Amazon gift card
#2 a print set of the series books so far!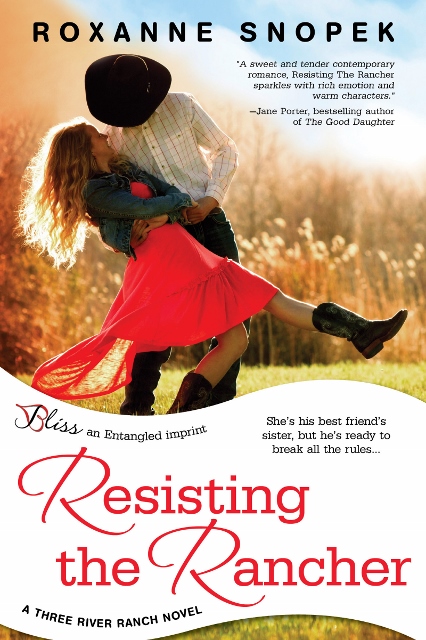 April 14
Guest blogging at What's on the Bookshelf
Book reviewed at My Devotional Thoughts
Book reviewed and Guest blogging at The La La Land of Books
Interviewed at A Writer's Sketchbook
April 15
Guest blogging at What is That Book About
Book reviewed at Read Me
April 16
Book reviewed at What I'm Reading
Interview at Romance for Every World
April 17
Book reviewed at Steamy Guys After Dark
Book reviewed at Sleep Deprived Book Lovers
April 18
Book reviewed at Rage, Sex and Teddy Bears
Book featured at Romantic Reads and Such
April 21
Featured at 3 Partners in Shopping
Reviewed at Ramblings of a Book Lunatic
Guest blogging at Reading Between the Wines
Featured at First Page to the Last
April 22
Book reviewed at Vilma Akins
April 23
Book featured at A Book Addict's Delight
April 24
Featured at RhiReading
Reviewed at Becky on Books…and Quilts
Guest blogging at Kate M. George
April 25
Reviewed and Interviewed at Read Your Writes Book Reviews
Reviewed at Book Reviews by Lexi
Featured at Cheryl's Book Nook
Reviewed at All Things Romance
Reviewed at Bibliotica
Reviewed at Smart and Savvy with Stephanie
That's right, I said FREE! Entangled Publishing has just released a sampler of all the Bliss authors published by the imprint to date! Chapter one of Three River Ranch is included – as well as a never-before-seen deleted scene.
If you've been thinking of trying out a Bliss book, but don't know where to start, this is your risk-free opportunity. Download now:
Kobo, iBooks  and add it to your Goodreads list. Already read it? Please take a moment to leave a review – and drop me a line on Facebook or Twitter. I love, love, love hearing from readers!
Happy New Year!
Here's what's ahead of me in 2014:
The fourth book in the Three River Ranch series, because, hello: cowboys! I'm also working on a couple of new ideas, including:
a)    a gritty brothers-and-dogs series, set in a small mountain town where search-and-rescue and MMA-style fighting leads each guy to the love of his life. While helping Aunt Mabel train Cupcake-the-Killer-Chihuahua.
b)    A series of novellas set in a San Francisco no-kill animal shelter, where hard hearts open and lives are saved. Plus sourdough and Pier 39.
c) A reunion/secret-baby/amnesia story that is mostly done but not submitted anywhere yet. I know, I know, it sounds cliché. It totally is. BUT. It's also plausible, with a gorgeous half-Hawaiian hero, a damaged but determined heroine, the sweetest island-child ever, and a woolly-mammoth-style service dog. And it's set on the warm, sandy beaches of Maui. Mai-tais, anyone?
As you probably know, I write romance, a genre with established reader expectations, ie: happily-ever-after endings. But mine usually involve a deep, dark undertow for my characters to overcome to earn that HEA.
Why do I write romance? I'm fascinated by relationships, the change and growth that occurs when two people struggle through to their happy ending. Plus, it's fun. Real life can be tough. Romance makes readers feel good. Sometimes that's all you want.
How does my writing process work? Mostly by sheer panic. I'm a crush-writer, a deadline-smasher, an under-the-threat-of-death kind of author. I don't write every day. However, every day I'm thinking about my books, my characters, my storyline, what makes a great grand-gesture, what kind of jeans they wear, snappy come-backs they might make… I try to write these things down, so that when the deadline approaches, it's there for me.
Thanks for joining me today! If you have questions or suggestions about upcoming books, drop me a comment. I LOVE comments!! Enjoy New Year's Eve and here's to a wonderful 2014.
-Roxanne
PS: On January 6th, visit the following authors as they discuss their processes:
Annie Seaton lives on the east coast of Australia where, besides working as a publicist and editor, she's also a writer of contemporary romance. She's been delighted to discover that readers love reading her stories as much as she loves writing them. She and her own hero of many years are living their own happily-ever-after with "Bob" the dog and two white cats. Annie relaxes in her garden or on the beach…or most likely at sunset on her deck overlooking the ocean, a chilled glass of wine in hand. She loves to meet readers on Facebook and Twitter, too.
EJ Russell holds a BA and an MFA in theater, so naturally she became a financial manager, database designer and business intelligence consultant. Now, her daily commute stays in-house, where she writes with a cat draped across her wrists and a dog attached to her hip. Her stories include gay and straight characters because her life includes gay and straight characters – as does everyone's.
Nora Snowdon has lived in New York and Toronto, where she worked in the financial market, gambling dens, environmental protection, food service industry, sold shoes and either appeared in or directed over 25 plays. Then Nora moved to the wet West coast and became a Writer of Elegant Smut. She has five novels available on-line and many others on the way. Check out her quirky romances (and read the first chapters) here! 
A special think you to Sheila Crosby, who invited me to participate in this blog-hop! Sheila is British, but lives on the island of La Palma, just off the North West coast of Africa, where she originally came to work at the astronomical observatory. Sometime during her three-year contract, she met the tall, dark, handsome local man who became her husband, and ended up staying. Lucky, or what?