As you may know, it's been the Winter of Bread here in Chez Snopek. About a month ago, I watched a NetFlix documentary series called Cooked, based on the book by Michael Pollan. In the episode called "Air" he talked about bread. Well. If you know me AT ALL, you know I have a deep and abiding love of bread. Baking it, eating it, taking pictures of it, writing about it…
Talk about counter-culture.
With everyone so carb-conscious right now, bread is taking a real beating, so this episode was particularly interesting because it was talking specifically about fermented bread, ie: sourdough.
Which is a whole 'nother story. Fermented breads, it turns out, are very different nutrition-wise. (Keep in mind, I'm talking about fully-fermented, mostly or all whole-grain breads.) The nutrients in the grain are more bio-available, the long fermentation process autolyzes the bran, making it more gut-friendly, and people with diabetes report that sourdough bread doesn't cause the spike in blood sugar that regular bread does.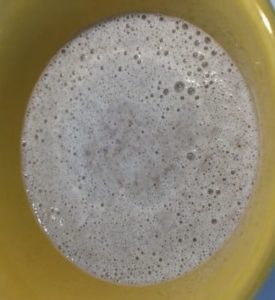 My spidey-senses were way up.
I've experimented with sourdough before. I've done the "friendship bread" thing, but those are loaded with ingredients like instant pudding and sugar, not what I'm interested in.
This, as Michael Pollan describes it, is the real thing. Whole grain flour and water, left out at room temperature to colonize with natural yeasts and bacteria from the air, until it ferments into a culture that can transform a sticky mass of flour, water and salt into those crisp, tangy, crusty, chewy loaves we all love.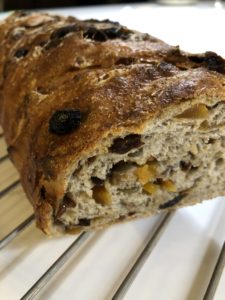 A culture. That sits on the counter.
Until it becomes this: sourdough fruit and nut bread. Yeah, baby. Now that's worth getting up in the morning for.
Then I read more. Oh, there's lots to read about sourdough. It's an Internet rabbit hole that a baker like me could get lost in for day after delicious day, and I have. Stick with me and I'll tell you about it. Or you could give one of these books a try.
I made my starter according to directions from The Il Fornaio Baking Book: Sweet and Savory Recipes from the Italian Kitchen
. The fruit bread recipe came from Artisan Sourdough Made Simple: A Beginner's Guide to Delicious Handcrafted Bread with Minimal Kneading
.
SURVIVING A LIVE-IN HOME RENOVATION PROJECT
It's the Year of Renovations, at Casa Snopek. Phase 1 was creating a small guest suite, complete with bathroom and kitchenette (sink/bar fridge/counter), which is where we're living while the rest gets done.The rest, meaning the kitchen, bathrooms, flooring, carpets, paint… really, it would have been easier to move.
Anyway. It all began in late July and won't be done until early December. Hopefully. Maybe. Don't really know.
That's a long time to be without a kitchen, folks. At first, it was fun eating take-out and fast food and checking out the local restaurants. But that's a) expensive b) dangerous for the waistline and c) tiring.
Now, I just want real food.
So I bought us an Instant Pot DUO60 6 Qt 7-in-1 Multi-Use Programmable Pressure Cooker, Slow Cooker, Rice Cooker, Steamer, Sauté, Yogurt Maker and Warmer
. I'm not exaggerating when I say that it's the best kitchen device I've ever had.
I LOVE this baby! The first day I made chicken soup – awesome – and rice pudding – the best I've ever made. This, my friends, is the way to survive a live-in home renovation project. Do you have yours yet?
Here's the .com link and the .ca link, for my Canadian friends.
!
The Summer of Renovations continues with a house purge to end all house purges. I'm so tired. It's been a long time coming, my friends.
So, my horoscope today was most encouraging: "Find comfort in your work today, Scorpio…. checking things off your list is the most rewarding activity today… Mountains that seem too daunting to climb will continue to grow bigger until you take the first step upward. Your perseverance will inspire others."
Yes, I'm tired, but I'm also energized at all the fresh space that's appearing!
Because we're moving walls in our kitchen, we're replacing and updating all our cabinets and appliances. It's a splurge, no doubt, but I set aside my bred-in-the-bone waste-not-want-not frugality in light of getting a gas cooktop – and a steam oven! Oh, the fun I will have! Plus, all our current cabinets and appliances will be going to new homes, so it's win-win.
But before that can happen, everything has to be emptied. Everything.
We're also replacing all the flooring (five cats, four dogs and three birds took a toll) so all the furniture has to be moved to the basement. Everything.
It's a purge of massive proportions.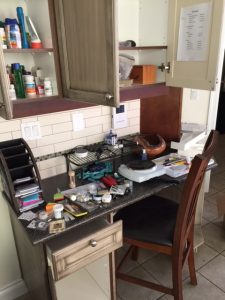 So far I've taken six carloads (I think, maybe more) to Goodwill. The phone desk and junk drawers in the kitchen are empty. The laundry room is empty. Six closets have been purged and reorganized. Today I'm clearing the pantry and china cabinet. The room over the garage is totally empty, ready to become what the builder calls a "nanny suite." One day, for real estate purposes, I'll call it that, I suppose, but for us, it's a guest suite. In this house, for now, the time of children is past.
Which is what gives this process such emotional weight, for me.
The thought of clearing this house has been a dark, shadowy mountain looming over me for the better part of a decade, since my chicks started leaving the nest. Our last one left for good a couple of years ago and letting go of her, of them, of that stage of life, gutted me in a way I did not expect. This is a family house, where we ate meals around the table, played games, cared for all those pets. Those front stairs have seen three prom dresses and one wedding dress. Here is where we finished raising them, for better or worse.
It feels like an ending. But it's also a beginning. This is where we started clumsily building the foundations of adult relationships with our daughters. This is where we started navigating our marriage as a couple now without children.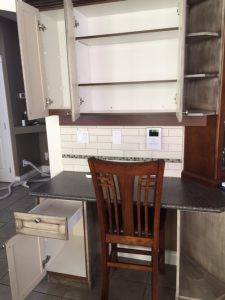 The stuff represents so much…. life. So much love. But there's so much more living and loving in store for us. Clearing away the stuff that no longer serves us now makes room for what lies ahead.
So I continue to climb the mountain, and will take comfort in checking tasks off my list today, lovingly letting go of yesterday to embrace a spacious tomorrow.
There. Does my perseverance inspire you? 🙂