SURVIVING A LIVE-IN HOME RENOVATION PROJECT
It's the Year of Renovations, at Casa Snopek. Phase 1 was creating a small guest suite, complete with bathroom and kitchenette (sink/bar fridge/counter), which is where we're living while the rest gets done.The rest, meaning the kitchen, bathrooms, flooring, carpets, paint… really, it would have been easier to move.
Anyway. It all began in late July and won't be done until early December. Hopefully. Maybe. Don't really know.
That's a long time to be without a kitchen, folks. At first, it was fun eating take-out and fast food and checking out the local restaurants. But that's a) expensive b) dangerous for the waistline and c) tiring.
Now, I just want real food.
So I bought us an Instant Pot DUO60 6 Qt 7-in-1 Multi-Use Programmable Pressure Cooker, Slow Cooker, Rice Cooker, Steamer, Sauté, Yogurt Maker and Warmer
. I'm not exaggerating when I say that it's the best kitchen device I've ever had.
I LOVE this baby! The first day I made chicken soup – awesome – and rice pudding – the best I've ever made. This, my friends, is the way to survive a live-in home renovation project. Do you have yours yet?
Here's the .com link and the .ca link, for my Canadian friends.
!
The Summer of Renovations continues with a house purge to end all house purges. I'm so tired. It's been a long time coming, my friends.
So, my horoscope today was most encouraging: "Find comfort in your work today, Scorpio…. checking things off your list is the most rewarding activity today… Mountains that seem too daunting to climb will continue to grow bigger until you take the first step upward. Your perseverance will inspire others."
Yes, I'm tired, but I'm also energized at all the fresh space that's appearing!
Because we're moving walls in our kitchen, we're replacing and updating all our cabinets and appliances. It's a splurge, no doubt, but I set aside my bred-in-the-bone waste-not-want-not frugality in light of getting a gas cooktop – and a steam oven! Oh, the fun I will have! Plus, all our current cabinets and appliances will be going to new homes, so it's win-win.
But before that can happen, everything has to be emptied. Everything.
We're also replacing all the flooring (five cats, four dogs and three birds took a toll) so all the furniture has to be moved to the basement. Everything.
It's a purge of massive proportions.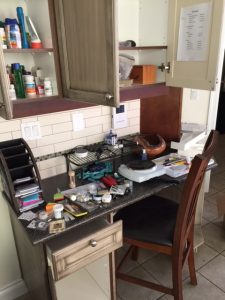 So far I've taken six carloads (I think, maybe more) to Goodwill. The phone desk and junk drawers in the kitchen are empty. The laundry room is empty. Six closets have been purged and reorganized. Today I'm clearing the pantry and china cabinet. The room over the garage is totally empty, ready to become what the builder calls a "nanny suite." One day, for real estate purposes, I'll call it that, I suppose, but for us, it's a guest suite. In this house, for now, the time of children is past.
Which is what gives this process such emotional weight, for me.
The thought of clearing this house has been a dark, shadowy mountain looming over me for the better part of a decade, since my chicks started leaving the nest. Our last one left for good a couple of years ago and letting go of her, of them, of that stage of life, gutted me in a way I did not expect. This is a family house, where we ate meals around the table, played games, cared for all those pets. Those front stairs have seen three prom dresses and one wedding dress. Here is where we finished raising them, for better or worse.
It feels like an ending. But it's also a beginning. This is where we started clumsily building the foundations of adult relationships with our daughters. This is where we started navigating our marriage as a couple now without children.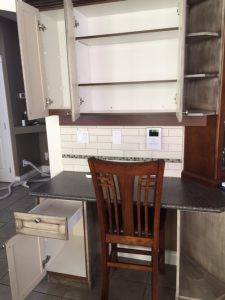 The stuff represents so much…. life. So much love. But there's so much more living and loving in store for us. Clearing away the stuff that no longer serves us now makes room for what lies ahead.
So I continue to climb the mountain, and will take comfort in checking tasks off my list today, lovingly letting go of yesterday to embrace a spacious tomorrow.
There. Does my perseverance inspire you? 🙂
Some of you know we recently traveled to China. It was an amazing trip, but I'll spare you the blow-by-blow because we've all lived through slide shows of Uncle Morris's trip to Wisconsin as a kid.
But I will relate one story.
If you're… delicate… you may want to give this one a miss. Otherwise, here goes:
Everyone, it seems, is curious about the bathroom situation in China. So yes, we saw squat toilets. Yes, we used squat toilets, yes, we remembered to bring our own TP and yes we managed just fine. I'm also pleased to report that Western "potty" toilets were available in many places. Not the smaller tourist spots, mind you, so, ahem, scheduling is important.
Ah yes, scheduling. You'll understand me when I say that sitting in an airplane, traveling across time zones, eating different foods at different times, being sleep deprived and experiencing bathroom anxiety can all play havoc with a person's system. Schedules get disrupted. Sometimes schedules come to a complete halt. You getting me?
Now, we'd brought with us a small arsenal of pharmaceuticals, prepared for pain, sprains, coughs, congestion, motion sickness, dry eye, crowd anxiety, what have you. We assumed the worst-case scenario would be an explosive case of food poisoning.
Wrong. In fact, after several days of progressive… sluggishness… I would have welcomed a little salmonella. I finally admitted my distress to one of our travel companions. He's a doctor. I'll call him Dave.
"Dave," I said. "I have one goal today. It's the same goal I had yesterday and the day before and the day before that. Can you help me?"
"Sure." He handed me a packet. "Take this."
"What is it?" I asked.
"It's the stuff you take before a colonoscopy. Drink it before bed. It'll put you right."
Those of you who've had colonoscopies know where this is going.
"Dave," I said. "It's bad enough in the privacy of your own home. But while traveling? IN THE LAND OF SQUAT TOILETS?"
"Just take a little," he said.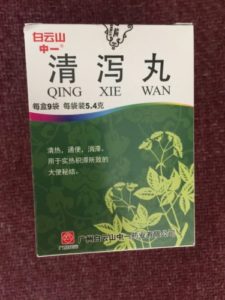 Which reminded me of when I went for pregnancy ultrasounds and they were running late and I'd drunk eighteen gallons of water that morning and the nurse, upon seeing my distress, gave me a little medicine cup and said, "Pee out a few tablespoons."
Except so very much worse.
Declining medical advice, my husband and I took to the streets of Beijing, looking for a convenience store. Surely there'd be some good old Ex-Lax out there somewhere, we thought.
Nope. We ended up in an herbal pharmacy, staffed by people who spoke zero English. We typed the word "constipation" into our English-Chinese translation app and the clerk understood immediately. She sold us a package that looked like this:
With instructions that look like this:
I was using a fabulous little app called Pleca, which works thusly: you hold your phone over the words you need translated and BOOM, you get the English version.
Decoding the translation requires a little effort, because the characters have meanings that depend upon the characters before and after them, so they could mean many things. Here's a partial snapshot of the box, as translated by Pleca:
My favorite part is the description, in small letters that you probably can't see:
"… for real hot product delay due to consumer lag…"
It's a lyrical language, isn't it?
The box contained eight packets filled with tiny red beads.
"Do I eat them?" I asked my husband. "Do I smoke them? Make tea from them?"
"I don't care," he said. "We have a two-hour drive to the Great Wall in the morning. This ends now."
So, I dumped them into a glass of water, shot it back like wormy mezcal, then lay down on the floor next to the bathroom and waited for them to work.
They did not.
But two hours later, as I was imagining the Chinese herbalists enjoying my method acting, and rethinking the colonoscopy prep idea, my dear husband, who'd happened onto a fresh fruit stand, saved the day by plying me with fructose and fiber. Consumer lag ended shortly thereafter and life returned to normal.
Life isn't a box of chocolates, my friend. It's a very large bag of cherries.
♥
For bonus material, including giveaways, sign up for my newsletter.