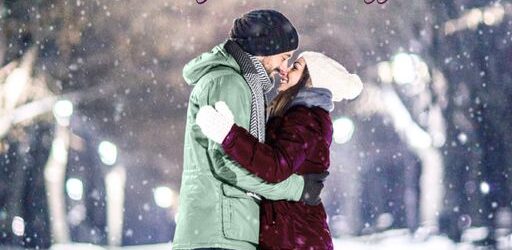 No, it's not the start of a joke. 🙂 It's the very first Christmas story I wrote, a novella titled SAVING THE SHERIFF. The hero, a sheriff, is looking after his friends' ranch during the holidays, when he discovers a woman dressed as an elf and a trailer of "reindeer" stuck in the snow. He's a bit uptight, she's a free spirit but when they get stormed in, they discover they have more in common than they thought.
It includes Mistral, the fan-favorite Labradoodle from 
THREE RIVER RANCH
, plus cameos from Zach and Des (
HIS RELUCTANT RANCHER
) and the ever-hilarious, advice-giving town mother-hen, Bliss (or Blister, as her twin sister calls her). Mangled Christmas carols, howling winds and a crackling fire turn a difficult holiday into something truly miraculous for my characters and I hope it lifts your spirits, too!
Here's a snippet for you:
"Help you?"

Frankie jumped and dropped her flashlight. Bone-deep instinct kicked in, a primal watch out, honey! Not necessarily danger…but maybe.

Two words, and oh, baby. No gruff old-timer, his voice sounded young, strong…and smoky, full of…campfire stories…and marshmallows roasted on fresh-cut branches…

She gave her head a shake. Don't be an idiot, Frankie.

He was a man with a truck.

"I'm stuck." She put on her most innocent grin and faced the headlights. She couldn't see a thing through the snow. "Can you help me out?"

Three River was supposed to be empty over Christmas. At least, the ranch's Facebook page had indicated the family was in Maui. The mustang sanctuary was well-known among animal lovers and Frankie felt certain they'd have helped her cause, if she could have asked them. So she'd taken a chance that they wouldn't mind. That in fact, they'd never know.

Yet here was a man, from what she could hear over the snarl of engines and wind. A man unexpected, in every way.

But what if he was private security? Or worse, a game warden.

Stop it! Think positively, Frankie!

Maybe, despite the little mishap with the ditch, the universe was on her side after all. Maybe this was just a kindhearted local who'd be delighted to help out a damsel in distress.

The man stepped out, leaving the engine running and the driver's door standing open. This time she caught a glimpse of a cowboy hat and beneath it, a stubbled jawline. Broad shoulders. And tall. He held up a much better flashlight than the one she had, shining it high, scanning the truck, the listing trailer. Then scanning her. The beam of light traveled over her body, up and down, leaving no inch untouched. Warmth rose to her cheeks, prickly in the winter air.

"Wanna tell me who you are and what you're doing here?" He cleared his throat and she thought she heard the glimmer of a smile. "Lost on your way to work?"

"Ha-ha." She sighed and stamped her feet, aching with cold now that she was standing still. "Yes, I'm wearing an elf costume. Can you pull me out or what?"

He walked up to the trailer and shone the beam inside. He moved smoothly, deliberately—like a hunter she thought, her breath quickening.

"That option disappeared about six inches ago, I'd say." The man knocked his fist against the side of the truck, the metal echoing hollowly, and then he moved the light off her and aimed it out into the empty field. "Red LeClair, Lutherton sheriff and currently in charge of this icy little slice of heaven. Wanna tell me what's going on out here? Ma'am?"

Sheriff! Universe: home run, Frankie: out.

Frankie followed his light where it dissolved in the darkness, watched it catch on low shrubs and rocks sticking up through the snow. She swept a gloved hand over her cheek and bit her lip. She'd expected the animals to bound off into the sunset the second she opened the trailer, but it hadn't happened like that. They'd wandered off to the nearest wooded area, but that's as far as they'd gone. At least the snow was coming down so hard and fast their hoofprints were nearly covered already. But would they find the food set out for the mustangs? They wouldn't last long in this weather.

Go! Run! She urged them silently. Had she been too late? Were they already too habituated to humans? This was the perfect location for them. Perfect!

As his light moved, she could see the gleam of eyes, still watching from the woods. Darn!

"What this looks like," he said, clicking off his light and crossing his arms, "is trespassing. For starters.""Look," she said, eager to draw his attention back. "I'm sure this looks a little…odd—"

She swallowed. "Technically, you might have a point. But I can explain."

"How about we start with your license and registration, please. Ma'am."

And that's when Frankie began to suspect the universe wasn't just having a little fun at her expense, but was in fact a PMSing

hag. She rummaged through the glove box until she found the crumpled insurance papers belonging to Conrad Toole, the man who owned the truck and the dilapidated roadside Christmas display she'd been part of. Until tonight, when she'd liberated the five young elk he'd been parading as reindeer.

She could see how this might appear sketchy.
Curious about my next book, launching November 28? Click the link for your exclusive Look Inside SUNSET BAY SANCTUARY!
"…everything I look for in a novel…intensely likeable characters… personal and emotional healing, a beautiful setting, some loving soul-searching, and… romance." Anne Marie B, NetGalley, 5 Stars

"…a sweet, touching story of loss and redemption…once I started it, I couldn't put it down. Can't wait to see who's next to find love on Sanctuary Ranch…" -Trish S, NetGalley, 5 Stars

"… masterful, empathetic portrayal…Sunset Bay Sanctuary is everything you want in a cozy small-town romance…"- RT Book Reviews, 4 Stars
As many of you already know, our 13-year old miniature poodle Myshkin slipped on the icy steps last week and came up lame. Not just a little lame, but three-legged, no toe-touching, time-won't-heal-this-owie lame. We were pretty sure it was a ruptured cruciate ligament, which for best healing, requires surgery. Especially in an old dog.
Worrisome but okay, we'll do what we have to. He's our boy.
Here's the bit I didn't post about last week. When we did the work-up to make sure Myshkin was healthy enough for surgery, x-rays showed a suspicious mass in his abdomen. My husband, also known as Dr. Ray of Ellwood Park Animal Hospital, naturally errs on the side of caution when it comes to our own pets (wise man that he is) and referred him for ultrasound. We agreed that, if Myshkin's got a malignancy, we wouldn't put him through knee surgery.
But oh, that would have been so awful. Our sweet boy.
I know I have to be prepared.
He's a 13-year old dog, after all. I'm not totally delusional. But still… he's a healthy, fit old dog… active…happy… loved… and turns out I'm not as prepared as I thought…
So yesterday, we went to our fantastic referral center, Boundary Bay Veterinary Specialty Hospital where the lovely, kind and very thorough radiologist Dr. Alex Bratton proclaimed Myshi to be in excellent health, no tumors, just some weird anatomy that warranted investigation but is not what we feared. Thank you Dr. Alex!
Then, with about ten minutes notice, surgeon Dr. Geoff Hutchinson – same doc that put Gemma back together after tangling with the coyote last winter- adjusted his schedule to get Myshi in THE SAME DAY, to fix the knee. Dr. Geoff added an extra procedure to his already fully-booked day, and we're so very grateful for his kindness and generosity!
Then, it turns out that the vet tech assisting Dr. Geoff in surgery that day was a young woman did her practicum and first few months of practice with us! I was very sad to lose Jenna as a staff member because she's excellent at her job… but I couldn't blame her for taking a position at a referral center. I'd have done the same thing at her age. And then she ends up caring for my dog! 🙂 Thank you, Jenna! Boundary Bay overlaps with the Animal Emergency Clinic of the Fraser Valley and we're endlessly grateful to everyone, from reception staff to the technicians and assistants to the doctors. You guys are the best!
The surgery went well – Dr. Geoff found that Myshi had torn his meniscus as well as his cruciate. (If you're gonna wreck it, wreck it good, I suppose.) Myshi's home now, sleeping the sleep of the well-medicated. He'll be confined to crate/closet for the next week at least, and we'll be carrying him up and down stairs, but we expect him to return to full mobility.
Our sweet boy isn't heading for the rainbow bridge yet and we'll be cherishing every day he has left.
On a pragmatic note, may I put in a plug for pet health insurance? You might think that, with a veterinarian as a husband, vet bills are not an issue for us. That's mostly true. However, we carry health insurance on our dogs exactly for situations like this, where complicated conditions require diagnostics, treatments or surgery by board-certified veterinary specialists. These highly trained elite professionals are worth every penny – but those pennies still add up. Insurance means we don't have to make a difficult decision about a beloved family member for financial reasons.
We use PetSecure, "Canada's Pet Insurance" but there are many companies, with many tiers of coverage. Ask your veterinarian for a recommendation. (I get no kick-back for this, in case you were wondering. I just know that it prevents a lot of heartache and stress.)
Please, don't wait until it's too late. Take it from me, these things happen without warning.