Love Note from the Lake: April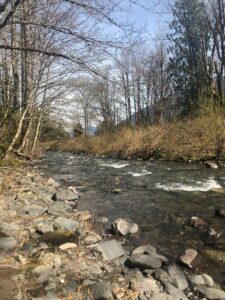 Isn't this lovely?
It's called Frost Creek and runs near enough to our back yard that we can hear it in the evenings. Luna and I walk here pretty much every day. Hopefully by next month's newsletter, everything will be a lot greener!
Sunset Bay Sanctuary $0.99 SALE
"Fans of… Susan Wiggs and Debbie Macomber will find that Sunset Bay hits the spot." –Booklist
~~~~~~~~~~~~~~~~~~~~~~~~~~~~~~~~~~~~~~~~~~~
The spectacular scenery and craggy beaches draw tourists to the small Oregon town of Sunset Bay. But Sanctuary Ranch offers a different kind of experience: a refuge for people—and animals—desperate for a new beginning . . .
~~~~~~~~~~~~~~~~~~~~~~~~~~~~~~~~~~~~~~~~~~~~~
My publisher told me about the sale, but I have no idea how long it will last, so don't delay!
Montana Dawn $0.99 SALE
To turn the embattled family ranch into a mustang sanctuary, Carson needs a miracle. He's got no time for an unexpected renter that sees too much.
Rory senses Carson's pain but she's got her own secrets.
Her unique ability with animals fascinates him. But he won't be distracted. Then she makes an offer he can't refuse…
~~~~~~~~~~~~~~~~~~~~~~~~~~~
"… a tale rich with off the charts sizzling chemistry, intense emotions, and endearing characters…" – Eileen Wells, Amazon
Vivian Award Finalist!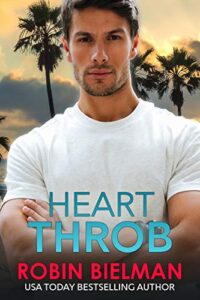 My Love Note for today goes out to Robin Bielman. Many of you already know Robin as the USA Today bestselling and award-winning author of contemporary romance. But did you know she recently finalled in the Vivian, Romance Writers of America's top writing award? Her book HEARTTHROB, (Tule Publishing), is shortlisted in the Contemporary Mid-Length category.
Robin is one of the first friends I made in this industry. We both published our first romance novels in the same imprint of the same publisher, in the same year and connected online through the process. Then we met in person at a publishing retreat in Las Vegas.
Here's us, about to enter the Goretorium, a "horror" show on the Las Vegas strip. We screamed, we laughed, we stumbled through the dark, laughing and screaming…
Robin is up for anything, one of the funnest, sunniest people I've ever met, always with a kind word of encouragement. Her books are wonderful – no surprise, given her talent and work ethic. I'm so happy for her and HEARTTHROB!
Q: What do you get more of, when you give it away?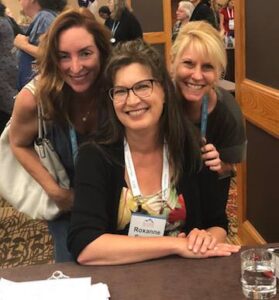 A: Love, of course. Joy. Happiness.
Who's made a difference in your life? It doesn't have to be big. Maybe it's the check-out person at the grocery store who always has a smile for you, even behind the mask, or the friend who only posts flattering pictures of you on Instagram, even though she's got them all and more importantly, she's not afraid to use them.
Next time you see them, tell them. Be specific. I promise, it'll make you both feel like a million bucks. Then, if you want, hop over to my Facebook Group and share the experience. Maybe you'll inspire someone, and then they'll inspire someone… and together we make our world a better place.
Finally, here's Robin and another pal, Samanthe Beck, giving me moral support at my first big signing… when the publisher forgot to order my books. (Don't worry, they made it up to me, and the support I got from other authors was epic. <3)