Love Note from the Lake: March 2021

Happy Spring and welcome to the latest Love Note from the Lake! Although spring is officially here, the temperature in my neck of the woods isn't quite agreeing. But I've got irises and rhubarb peeking through the ground, so that makes it real! What signs are you seeing?
Granny Love
I got to spend time with this little darling recently and oh, my heart! She's going to be two soon – how can that be?? She and I spent some time making stone soup in her little kitchen, then adjusting flavours, and taste-testing inside her princess castle. I've had some great meals lately… but this one was simply the best. 🙂
As some of you know, I've embarked on the Simon Fraser University Editing Certificate Program. Don't worry, I'm NOT quitting writing – I've got lots of stories on my to-do list. But I wanted to add to my skill set and I really enjoy working on stories with other authors. Since I was already doing it, sort of, I decided I might as well learn to do it, properly.
If you want to learn more about Roxanne's World, ask to join my private Facebook reader group. I love our little book loving community!
Today's Love Note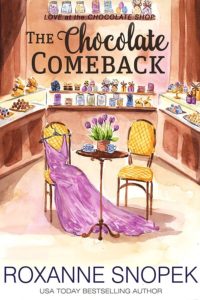 Today's Love Note goes out to William Harris, a reader I've gotten to know since writing for Tule Publishing. Lots of people think that men don't read romance. Well, William proves that smart men absolutely do. He has been an enormous champion for authors, so much so that he now moderates a Facebook Fan group called Main St. Marietta. Readers of my Tule books will recognize Marietta as a lovely, fictitious town that many of us wish we could visit In Real Life.
Since retiring, William has returned to student life, aiming to complete his history degree next year, which impresses the heck out of me. Despite his workload, he still has time to read, review, moderate and send encouraging messages to his favourite authors. I'm SO LUCKY to be one of them. Every author needs their Ideal Reader when they're creating, to counteract that pesky inner critic.  William, you're mine. One day when we meet in person, I've got a big hug for you.
As an example of his kindness, William reminded me that today is World Down syndrome day, which reminded me of Mark, in The Chocolate Comeback, the character with DS who brings the hero and heroine together. Today on the Main St. Marietta page, William is celebrating me and several other Tule authors who include developmentally disabled characters in their books. I simply love that Tule allows us to write these "bigger" stories… and that readers like William appreciate them.
Thank you, William, for being my Ideal Reader. And just an all-round fine person.
Fresh air, wide open skies, new love
The first four full-length books in my Wild Sky series are now all out! Originally titled Three River Ranch, each book in this series has been updated and re-edited, and received a gorgeous new cover. If you've been with me for a while, you might recall these stories.
If you're a newer reader and have missed these, I urge you to give them a try; set in Montana with wild mustangs, service dogs, babies, wounded heroes, these books are dear to my heart. They launched my career, put me on bestseller lists and connected me to many, many wonderful and kind readers – like YOU! I'm glad to see them alive again and hope you'll give them a warm welcome.
Until the next Love Note from the Lake… stay well and happy reading!