Love Note from the Lake: May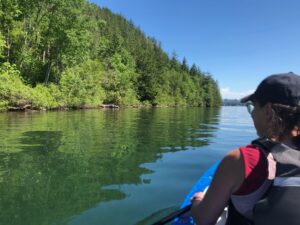 Our first time kayaking this season! It was chilly to start, but ended up being a perfect morning. See how placid the water is?
To our surprise, we weren't even sore afterward. We'll definitely be doing this more often!
Includes all four e-books in the Wild Sky Romance series:
Volume 1: Montana Dawn
Volume 2: Wild Sky Redemption
Volume 3: Wild Sky Treasure
Volume 4: Wild Sky Healing
Wild Sky Redemption: Just released in paperback from Amazon!
"…epic and endearing… pick up this one. You won't regret it." – Cary Morton, Amazon
"…a heart-wrenching but amazing feel-good read that's hard to put down." -The Romance Reviews
"Ranches + Romance = Montanan Approved! Loved it!" -RhiReading
Montana Dawn: Also available in paperback from Amazon!
"… a fresh voice that will appeal to fans of Mallery, Higgins and Gibson…" -BW, NetGalley
"Ms. Snopek's style is wonderful and so easy to read…" -HarlequinJunkie
"…. thoroughly enjoyable… strong, warm characters who come to life on the page." 
-NYT & USA TODAY Bestselling Author RaeAnne Thayne
Today's Love Note:
My Love Note for today goes out to Shari Drehs Bartholomew who I can only call a SUPER-READER. She's one of my earliest fans, and while she has a long career as a Registered Nurse, her real passion is reading.
Shari knows as much or more about this genre as anyone and she's earned that knowledge by not just how much she reads, but by how she connects with authors. Shari participates in on-line author events, she's a thoughtful and consistent reviewer, and here's the kicker: she spends her vacation time traveling to various author and reader events, collecting autographed copies, and even giving gifts to her favourite authors.
I was lucky enough to meet Shari in person at the 2018 Romance Writers of America conference in Denver, Colorado, where she surprised me with coasters laminated with two of my book covers! (I put these in a Safe Place for the move… and haven't unearthed them yet, or I'd show you, <headdesk>)
And it wasn't just me; she made gifts like this for all her favourite authors, carrying them around with her until she had a chance to present them personally.
Thank you, Shari, for being a sister book-lover. I'm so glad I got to share a hug with you in person and can't wait to see you again!
The Covers Shari Chose:
These two books fit into my Montana Home series, as well as the Love at the Chocolate Shop series. You can see why she chose them, right? I think they're the prettiest covers of all my books.
That's it for me, my friend. Until the next Love Note from the Lake… stay well and happy reading!
-Roxanne
roxanne@roxannesnopek.ca