Romancing Rakes Interview
Just in case you missed my interview with Jamie and Kati of Romancing Rakes for the Love of Romance, I'll paste the transcript here. What a great time I had with them!
There's still a few days left to enter to win a Kindle, too, so don't forget to get your name in!
Jamie and Kati: Hi Roxanne! Welcome to Romancing Rakes For The Love of Romance.
Roxanne Snopek: Thanks! I'm happy to be here!
J&K: Share 5 fun facts about yourself.
RS:
I like anchovies and I'm not ashamed to say it.
I got my first tattoo last year, at age 49. Pretty sure there will be more.
I had my appendix removed at age 14. My sister, brother, one daughter and one niece all had their appendices out around age 14. And they say appendicitis isn't inherited. (Of course, my husband had his out last fall, which blows my theory. Hm. Maybe it's me…)
I go a little bat-crap crazy when I see spelling and grammatical mistakes in advertisements or signs. Rabbies vaccines? REALLY? Nature's Pickin's? Nature's PICKIN'S WHAT? (Oops. Time for my crazy pills!)
J&K: Share a little bit about HIS RELUCTANT RANCHER[no copying blurb :)]
RS: It takes place a few months after Rory and Carson's story in Three River Ranch, during a Montana winter, bleak, cold, deadly. Into it bursts Desiree, with her vroom-vroom sports car, va-va-voom body and potty-mouth, and pretty much knocks hero Zachary for a loop. There's grief and longing and pain and a yummy massage scene. There's horses, cows, dogs, cats, and the cutest kitten named Rogan you ever met! That's all I can remember.
J&K: What is it that makes your hero and heroine perfect for each other?
RS: They understand each other. They've got some similarities in their backgrounds and each of them is able to see perfectly the blind spots of the other. And don't we all just love to have our mistaken beliefs pointed out?
J&K: If your book were to have a theme song, what would it be?
RS: The intro to Hockey Night in Canada, or whatever it's called now. I finished this book right around when the hockey strike ended and my husband was in major hockey-withdrawal. Apparently they're now forever linked in my mind.
J&K: Do you have any writing rituals? (blasting music, eating cookies, drinking wine…)
RS: Silence in the bat-cave. Distractions make me crazy.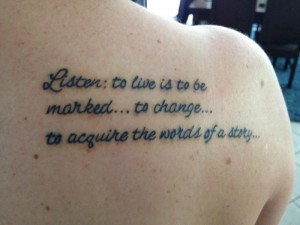 Typical scenario happened just now.
"Hey Mom," called my daughter from the kitchen. "You know what's interesting?"
I yelled back, "WHAT!!!" with such force that she came to check on me. I guess I sounded mad.
J&K: If you were stranded on an island, what 5 books would you take with you?
RS: HAHA! My e-reader! Gotcha! Okay, okay. You're right, there's no power on this island.
The Poisonwood Bible by Barbara Kingsolver. (My tattoo is a quote from the book.)
Women Who Run with the Wolves by Clarissa Pinkola Estes, PhD. (Myths!! Folktales!! Psychology!! Plus if I was a Wise Woman, I'd probably figure out how to get off the island)
Oryx and Crake by Margaret Atwood (So twisted, so disturbing, it would make me grateful for my peaceful pigoon-free island)
The Blue Castle by Lucy Maude Montgomery (because who doesn't dream of a blue castle?)
The Murder of Roger Ackroyd by Agatha Christie (why not? I've got time.)
J&K: What do you have next in store for readers?
RS: I'm working on the third and fourth books right now. One will be the story of Carson Granger's brother Mitchell (the one who looks like Keith Urban!!) and one will be the story of Celia Gamble and Jonah Clarke. Since I haven't figured out a poster-boy for Jonah yet, Mitch's story will probably be up first.
Lightning Round:
1. Alpha or Beta? Alpha, baby. Bring it.
2. Wallflower or Belle of the Ball? I'm a TOTAL wallflower.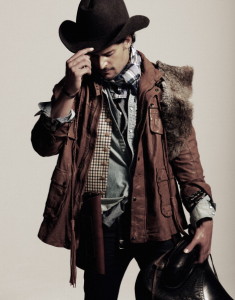 3. Debutante or Spinster? I love spinsters… I love imagining why they never married, who they loved and lost… so many questions! Plus, they often turn into Wise Women.
4. Virgin widow or Secret baby? Secret baby! I've got a series in the works, all riffs on the secret baby trope.
5. Titled peer or Working man? Workin' man. Muscles, you know.
6. Love at first sight or Second chances? Hm, second chances. I'm very indecisive.
7. Naval officer or Swashbuckling pirate? Pirate!
8. Vampires or Shifters? Shifter… Alcide, preferably.
9. Western Historicals or Western Contemporaries? Contemporaries.
10. Writing or Reading? READING! Are you kidding? Writing is HARD.
11. Paperbacks or e-books? 50-50. I told you I was indecisive.
12. Plotter or Pantser? Again, a hybrid mash-up of each. You see? It's a problem.
13. Author's choice: I'm going to poach my favorite question from this interview. If you were stranded alone on a deserted island, what book would you most want to have with you? (Don't say your e-reader, I tried that.) And why?
J&K: Thanks for visiting us Roxanne!
RS: Thank you! It was a pleasure!
Don't forget to visit the site and enter the contest!
Buy His Reluctant Rancher on Barnes & Noble, Kobo, Books on Board, iTunes or Amazon.