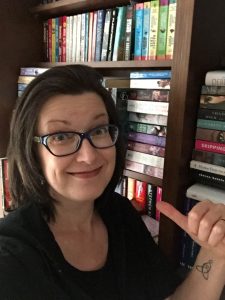 Hello readers! Here are some books I've purchased recently that I think you might like, too. Some are new releases I'm looking forward to reading; others are old favorites. Most are on sale, but because price drops are unpredictable, they may or may not still be discounted at this time. Purchase at your own risk. And check back, I'm adding to this regularly. Because recommending books is one of my Favorite Things!
---
I believe this one is regular price now… BUT! I'm including it here because I just finished reading it and loved it so much! It's a mother-daughter story, which ticks all kinds of boxes for me. There's a brain injury, horses, numerous damaged souls, various kinds of love and mostly, hope. So much hope! I love when a story leaves me feeling like I too could conquer my fears and make the world a better place! Take a look and see what you think:
From USA Today bestselling author Meg Donohue comes a mystery, a love story, and a mother-daughter tale about two women on a precarious journey to uncover their true selves.
Passionate and funny, radio personality Gail Gideon is a true original. Nine years ago when Gail's husband announced that he wanted a divorce, her ensuing on-air rant propelled her local radio show into the national spotlight. Now, "The Gail Gideon Show" is beloved by millions of single women who tune-in for her advice on the power of self-reinvention. But fame comes at a price. After all, what does a woman who has staked her career on being single do when she finds herself falling in love? And is the person who is harassing her in increasingly troubling ways a misguided fan or a true danger to Gail and her daughter, Nic?
Fourteen-year-old Nic has always felt that she pales in comparison to her vibrant, outgoing mother. Plagued by a fear of social situations, she is most comfortable at the stable where she spends her afternoons. But when a riding accident lands Nic in the hospital, she awakens from her coma changed. Suddenly, she has no fear at all and her disconcerting behavior lands her in one risky situation after another. And no one, least of all her mother, can guess what she will do next…
Amazon.com:Every Wild Heart: A Novel

Amazon.ca: Every Wild Heart: A Novel
---
I have this one in hardback and love it. So when I saw it for $1.99 I got it for my Kindle, too, so I can read it again without dropping it on my head at night and giving myself a concussion. My wrists (and brain) thank me!
#1 New York Times bestselling author Nora Roberts weaves together passion and obsession, humor and heart, in a novel of two people opening themselves up to the truth—and to each other.
For more than three hundred years, Bluff House has sat above Whiskey Beach, guarding its shore—and its secrets. But to Eli Landon, it's home.
A Boston lawyer, Eli has weathered an intense year of public scrutiny and police investigations after being accused of—but never arrested for—the murder of his soon-to-be ex-wife.
He finds sanctuary at Bluff House, even though his beloved grandmother is in Boston recuperating from a nasty fall. Abra Walsh is always there, though. Whiskey Beach's resident housekeeper, yoga instructor, jewelry maker and massage therapist, Abra is a woman of many talents—including helping Eli take control of his life and clear his name. But as they become entangled in each other, they find themselves caught in a net that stretches back for centuries—one that has ensnared a man intent on reaping the rewards of destroying Eli Landon once and for all.
Amazon.com: Whiskey Beach

Amazon.ca: Whiskey Beach
---
I just finished reading this one and it's one of the best crime stories I've read this year. Suspense galore, with great characters dealing with the topical and sensitive subject of illegal immigration. Fantastic! Currently $1.99 but don't know for how long, so hurry!
"A tremendous talent."—Lee Child
In this powerful novel from award-winning author Suzanne Chazin, a tense stand-off between a Hispanic police officer and an undocumented immigrant leads to the shooting death of one, the shattered life of the other, and the shocking connection between them. . .
On a clear, moonlit night in December, police detective Jimmy Vega races to the scene of a reported home invasion in an upscale New York community. As Vega arrives, he spots a Hispanic man who fits the description of the armed intruder, running from the victim's estate. Vega chases him into the woods. When the suspect refuses to surrender—and reaches into his pocket—Vega has only seconds to make a life-or-death decision.
What begins as a tragic mistake takes an even darker turn when Vega uncovers disturbing links between the dead man and his own mother's brutal, unsolved murder. Vega's need for answers propels him back to his old Bronx neighborhood, where he is viewed as a disgraced cop, not a homegrown hero. It also puts him at odds with his girlfriend, Adele Figueroa, head of a local immigrant center, who must weigh her own doubts about his behavior.
When a shocking piece of evidence surfaces, it becomes clear that someone doesn't want Vega to put all the pieces together—and is willing to do whatever it takes to bury the truth. Only by risking everything will Vega be able to find justice, redemption, and the most elusive goal of all: the ability to forgive himself.
Amazon.com: No Witness but the Moon (A Jimmy Vega Mystery)

Amazon.ca: No Witness but the Moon (A Jimmy Vega Mystery)
---
Do
you love sexy New Adult romance? Then you've GOT to read this latest by Robin Bielman. Hot, emotional, funny, it's got it all. I finished it this week and I think it's my favorite of all her books. 🙂
I wasn't supposed to see Levi Pierce ever again. A few months ago, he charmed the pants off me and we spent one incredible night together.
End of story.
Only it wasn't. Pretty soon everywhere I turn, I see him. Our best friends are dating. My mother mistakenly—and happily—thinks he's my plus-one to my cousin's wedding. And he's the guy I have to work with on the most important job opportunity of my life.
Here's my problem: I like Levi. I like his killer smile and his dreamboat eyes and definitely the way he makes me feel in bed. But I've sworn off relationships. So when the sexual tension reaches epic proportions and we fall back into bed together, I tell myself it's temporary. When I start to feel more, I tell myself it's over.
Only Levi isn't a forget-it kind of guy. When his lips are close to mine and he swears he's always wanted me, my defenses disappear. But some things in life just aren't meant to be.
Or are they?
Amazon.com: Lips Close to Mine (Wherever You Go)

Amazon.ca: Lips Close to Mine (Wherever You Go)
---
Yes, this is my book. I thought I'd throw it in here for those of you who don't get my newsletter. Since it just came out recently, I'm still pretty excited. And yes, I ordered a copy for my Kindle… plus a paperback online… and yesterday I bought a copy at Coles. Just because I could! And because my author copies haven't come yet and I couldn't wait. 🙂
The spectacular scenery and craggy beaches draw tourists to the small Oregon town of Sunset Bay. But Sanctuary Ranch offers a different kind of experience: a refuge for people—and animals—desperate for a new beginning . . .

Haylee Hansen has made a career out of caring for and training the dogs and horses on her aunt's ranch. Part halfway house, part work camp, it also gives troubled kids and adults the tough love they so desperately need. Haylee should know. She was her aunt's first success story. But now her turbulent past is about to show up on her doorstep . . .

After thirteen years running a level one emergency room in Portland, Aiden McCall arrives in Sunset Bay a broken man. Anger and anxiety have nearly taken over his life—and could sabotage his new job at the local hospital. Until someone proposes an unconventional solution: a therapy dog.

Haylee has seen her share of damaged people, but no one like Aiden. As she tries to match him with the perfect dog, he'll help her to see that no one has a perfect life. And that opening yourself up to love is the only way to heal your soul . . .
Amazon.com:Sunset Bay Sanctuary (A Sunset Bay Novel)

Amazon.ca:Sunset Bay Sanctuary (A Sunset Bay Novel)
---
I'm a Jodi Picoult fan from way back when I read My Sister's Keeper, years ago. So when I saw this e-book on sale, I one-clicked immediately!! It's got family drama, a missing mother, elephants (ELEPHANTS!!) and a whole heap of 5 star reviews. I mean, thousands, people. Which doesn't surprise me. It's Jodi, after all. 🙂
For more than a decade, Jenna Metcalf has never stopped thinking about her mother, Alice, who mysteriously disappeared in the wake of a tragic accident. Refusing to believe she was abandoned, Jenna searches for her mother regularly online and pores over the pages of Alice's old journals. A scientist who studied grief among elephants, Alice wrote mostly of her research among the animals she loved, yet Jenna hopes the entries will provide a clue to her mother's whereabouts.

Desperate to find the truth, Jenna enlists two unlikely allies in her quest: Serenity Jones, a psychic who rose to fame finding missing persons, only to later doubt her gifts, and Virgil Stanhope, the jaded private detective who'd originally investigated Alice's case along with the strange, possibly linked death of one of her colleagues. As the three work together to uncover what happened to Alice, they realize that in asking hard questions, they'll have to face even harder answers.

As Jenna's memories dovetail with the events in her mother's journals, the story races to a mesmerizing finish. A deeply moving, gripping, and intelligent page-turner, Leaving Time is Jodi Picoult at the height of her powers.
Amazon.com: Leaving Time (with bonus novella Larger Than Life): A Novel

Amazon.ca: Leaving Time
---
I just one-clicked this book because I need a little Christmas spirit and I know I'll find it here. Plus, the uber-talented Susan Fox, who also writes from British Columbia and is a friend of mine, has a story in this!
This winter, let four tales of mistletoe magic and the spirit of the season cast a special glow as some of your favorite authors introduce stories of hope, happiness, and holiday hearts.

CHRISTMAS KISSES – Fern Michaels
Starting over in a new town with a new job, Meredith thinks buying Noah's grandmother's house will be a simple business deal. But neighborly Noah is determined to make Meredith feel at home—and as the holiday season works its magic, he's suddenly hoping that she'll find a place for him in her heart.

BLUE MOON HARBOR CHRISTMAS – Susan Fox
Jillian and Michael have nothing in common—except the child two reckless college students created eight years ago. When Michael unexpectedly asks to meet his son, they have the twelve days of Christmas to get to know the adults they've become—adults who just might be ready to fall in love for real.

SECOND CHANCE CHRISTMAS – Jules Bennett
A blind date turns out to be anything but when Ruby finds Knox on her doorstep. A few years ago, she nursed his dying wife. Can two lonely people defeat the shadow of the past and let the spirit of Christmas offer them the most special gift of all?

FINDING COLIN – Leah Marie Brown
When Grace is suspended from work over the Christmas holidays, she does the only sensible thing—she travels to Ireland to find her favorite actor! But while the Colin she finds may not be a star, he's ready to show her that gifts come in all shapes and sizes—and love is the miracle that truly counts.
Amazon.com: Winter Wishes
.
Amazon.ca: Winter Wishes
---
Look! Look! One of the Love at the Chocolate Shops is FREE! You'll definitely want to grab this one. 'Tis the season, after all, right? This one is by the talented Debra Salonen and provides the lead-in to my own story, THE CHOCOLATE CURE. You can read them in any order you like – but then you'll want to read them straight through, in order, to get the overarching story. Love and chocolate… sigh… what could be better?
Ad exec Krista Martin, while feeling more Grinch than elf, still jumps at the chance to co-chair Marietta's Secret Santa Society. Why not? Especially since brilliant, attractive, and innovative tech wunderkind Jonah Andrews has agreed to help. He's well connected and Krista's hoping for some advice on rebooting her career.
Jonah knows Krista has a not-so-hidden agenda, but sparring with her over cocoa at their Secret Santa meetings is the most fun he's had since returning to his old hometown. Krista may come across as all business, but Jonah's positive he's glimpsed a little girl inside her who wants to believe in Santa… and in love.
Amazon.com: Montana Secret Santa (Love at the Chocolate Shop Book 3)

Amazon.ca: Montana Secret Santa (Love at the Chocolate Shop Book 3)
---
This book has popped onto my radar a couple of times. Currently on sale for $2.99, 738 Days: A Novel
by Stacey Kade is a gritty story about a teen kidnap victim who gets away. The first bit is so thrilling I couldn't resist one-clicking. It's next up on my Kindle. Of course, that TBR pile is teetering pretty hard, so who knows what I'll actually read next. SO MANY BOOKS! SO LITTLE EYE ENERGY! My favorite problem in the world. 🙂 Anyway, check this one out. It looks great.
At fifteen, Amanda Grace was abducted on her way home from school. 738 days later, she escaped. Her 20/20 interview is what everyone remembers—Amanda describing the room where she was kept, the torn poster of TV heartthrob Chase Henry on the wall. It reminded her of home and gave her the strength to keep fighting.
Now, years later, Amanda is struggling to live normally. Her friends have gone on to college, while she battles PTSD. She's not getting any better, and she fears that if something doesn't change soon she never will.
Six years ago, Chase Henry defied astronomical odds, won a coveted role on a new TV show, and was elevated to super-stardom. With it, came drugs, alcohol, arrests, and crazy spending sprees. Now he's sober and a Hollywood pariah, washed up at twenty-four.
To revamp his image, Chase's publicist comes up with a plan: surprise Amanda Grace with the chance to meet her hero, followed by a visit to the set of Chase's new movie. The meeting is a disaster, but out of mutual desperation, Amanda and Chase strike a deal. What starts as a simple arrangement, though, rapidly becomes more complicated when they realize they need each other in more ways than one. But when the past resurfaces in a new threat, will they stand together or fall apart?
Amazon.com: 738 Days: A Novel

Amazon.ca: 738 Days: A Novel
---
I loved this book! It's got all my catnip – secrets, family history, confessions, mothers!!! And a crap-ton of 5 star reviews. The e-book is currently $3.99 so see what you think!
Your husband took his own life. Tell the truth and destroy what's left of your family. Or keep a secret that will tear you apart. What would you do?
Olivia and David were the perfect couple with their whole lives in front of them. When beautiful baby daughter Zoe came along, their world seemed complete.
But now David is dead and Olivia's world is in pieces. While she is consumed with grief, her mother-in-law Ivy is also mourning the loss of her son. Both women are hiding secrets about the man they loved. Secrets that have put the family in danger.
Something was very wrong in Olivia and David's marriage. Can Olivia and Ivy break their silence and speak the truth? A mother should protect her child, whatever the cost… shouldn't she?
Amazon.com: A Mother's Confession: A heartbreaking story with a breathtaking twist

Amazon.ca: A Mother's Confession: A heartbreaking story with a breathtaking twist
---
I read this one with my kids, erm, some time ago. And LOVED it! I'm not normally a fantasy fan but this series is great. And of course, this one was made into a movie starring Nicole Kidman.

**** Includes an exciting preview of THE BOOK OF DUST, the long-awaited new book from Philip Pullman set in the world of His Dark Materials, arriving October 2017! *****
The modern fantasy classic that Entertainment Weekly named an "All-Time Greatest Novel" and Newsweek hailed as a "Top 100 Book of All Time." Philip Pullman takes readers to a world where humans have animal familiars and where parallel universes are within reach.
Lyra is rushing to the cold, far North, where witch clans and armored bears rule. North, where the Gobblers take the children they steal–including her friend Roger. North, where her fearsome uncle Asriel is trying to build a bridge to a parallel world.
Can one small girl make a difference in such great and terrible endeavors? This is Lyra: a savage, a schemer, a liar, and as fierce and true a champion as Roger or Asriel could want.
But what Lyra doesn't know is that to help on of them will be to betray the other…
A masterwork of storytelling and suspense, Philip Pullman's award-winning The Golden Compass is the first in the His Dark Materials series, which contintues with The Subtle Knife, and The Amber Spyglass.
A #1 New York Times Bestseller
Amazon.com: The Golden Compass: His Dark Materials

Amazon.ca: The Golden Compass: His Dark Materials
---
This is regular price ($9.99) but I bought it anyway because of the upcoming movie starring Kate Winslet and Idris Elba. The book has fantastic reviews so I'm crossing my fingers.
When a blizzard strands them in Salt Lake City, two strangers agree to charter a plane together, hoping to return home; Ben Payne is a gifted surgeon returning from a conference, and Ashley Knox, a magazine writer, is en route to her wedding. But when unthinkable tragedy strikes, the pair find themselves stranded in Utah's most remote wilderness in the dead of winter, badly injured and miles from civilization. Without food or shelter, and only Ben's mountain climbing gear to protect themselves, Ashley and Ben's chances for survival look bleak, but their reliance on each other sparks an immediate connection, which soon evolves into something more.

Days in the mountains become weeks, as their hope for rescue dwindles. How will they make it out of the wilderness and if they do, how will this experience change them forever? Heart-wrenching and unputdownable, The Mountain Between Us will reaffirm your belief in the power of love to sustain us.
Amazon.com: The Mountain Between Us

Amazon.ca: The Mountain Between Us
---
This is just all kinds of catnip for me so it had to go on my TBR pile!
"Wounded souls of all shapes and sizes, human and animal alike, tug at the heartstrings and evoke the right blend of tears as well as laughter."—RT Book Reviews, 4 1/2 star, TOP PICK!
You can't buy love…but you can rescue it.
With her no-kill animal shelter at risk of losing funding, Megan Anderson is working doggedly to save the animals in her care. She'll do anything for them—even go toe-to-toe with a handsome man who's in way over his head.
Craig Williams has had his share of heartache recently, and he's not in the mood to get the guilt trip from a spirited (and beautiful) animal shelter owner. But the more time they spend together, the more he realizes it's not just animals Megan is adept at saving—she could be the one to rescue his heart.
Soon, Craig and Megan find that the magic of unconditional love can do anything…even lead to their forever home.
Amazon.com: A New Leash on Love (Rescue Me)

Amazon.ca: A New Leash on Love (Rescue Me Book 1)
---
I love Paula Altenburg's books! This is an international escapade, a true romantic adventure. If that's not a subgenre… then it should be!!
The games are about to begin.
Au pair and ex-pat Isabelle Beausejour has been living abroad for most of her twenty-four years, traveling the world with her irresponsible father. When Isabelle finds herself stranded in Bangkok, with no job, no money, and nowhere to turn, she soon becomes desperate.
Intelligence officer Garrett Downing is on the hunt for military goods that have gone missing. Instead, he finds himself coming to the aid of a young woman with more resourcefulness than common sense.
Isabelle has no choice but to accept a stranger's help in getting home. Once there, however, as enemies turn into lovers, it soon becomes a game of keeping secrets. Garrett is more than he seems. Isabelle knows more than she's willing to admit. Will she choose loyalty to her father over the love of a man who tells lies for a living?
Amazon.com: Her Spy to Have (Spy Games) (Volume 1)

Amazon.ca: Her Spy to Have (Spy Games Book 1)
---
Okay, I loved this story even before it got picked up for a Hallmark Christmas 2017 movie! And, ahem, I even got to be on-set one afternoon when it was being filmed – sitting alongside the author, C.J. Carmichael, and the publisher, Jane Porter. HOW COOL IS THAT???
All he wants for Christmas…is an answer
Finn Knightly a.k.a. Finn Conrad wants to know why his recently deceased father left his nurse fifty thousand dollars after knowing her a mere six weeks. So he travels to Bramble House B&B in Marietta, Montana to find answers.
But Willa Fairchild is not the conniving woman he expects to find. Before he knows it, Willa-and her six-year-old son Scout-are stealing his heart. And that's before he finds out Scout's secret and the real reason this Christmas is so important.
Amazon.com: A Bramble House Christmas (Carrigans of the Circle C Book 6)

Amazon.ca: A Bramble House Christmas (Carrigans of the Circle C Book 6)

Barnes and Noble: A Bramble House Christmas
Kobo: A Bramble House Christmas
---
I just re-read this story and it remains one of my all-time favorites. Oh, it's got blood and terror and suspense galore. But it's also one of the most hopeful and romantic stories I've read. Read it. I'm telling you.
A "superior thriller"(Oakland Press) about a man, a dog, and a terrifying threat that could only have come from the imagination of #1 New York Times bestselling author Dean Koontz.
On his thirty-sixth birthday, Travis Cornell hikes into the foothills of the Santa Ana Mountains. But his path is soon blocked by a bedraggled Golden Retriever who will let him go no further into the dark woods.
That morning, Travis had been desperate to find some happiness in his lonely, seemingly cursed life. What he finds is a dog of alarming intelligence that soon leads him into a relentless storm of mankind's darkest creation…
Amazon.com: Watchers

Amazon.ca: Watchers
The Summer of Renovations continues with a house purge to end all house purges. I'm so tired. It's been a long time coming, my friends.
So, my horoscope today was most encouraging: "Find comfort in your work today, Scorpio…. checking things off your list is the most rewarding activity today… Mountains that seem too daunting to climb will continue to grow bigger until you take the first step upward. Your perseverance will inspire others."
Yes, I'm tired, but I'm also energized at all the fresh space that's appearing!
Because we're moving walls in our kitchen, we're replacing and updating all our cabinets and appliances. It's a splurge, no doubt, but I set aside my bred-in-the-bone waste-not-want-not frugality in light of getting a gas cooktop – and a steam oven! Oh, the fun I will have! Plus, all our current cabinets and appliances will be going to new homes, so it's win-win.
But before that can happen, everything has to be emptied. Everything.
We're also replacing all the flooring (five cats, four dogs and three birds took a toll) so all the furniture has to be moved to the basement. Everything.
It's a purge of massive proportions.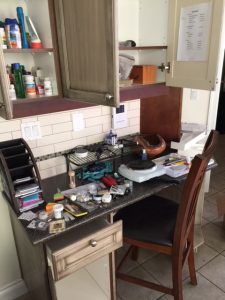 So far I've taken six carloads (I think, maybe more) to Goodwill. The phone desk and junk drawers in the kitchen are empty. The laundry room is empty. Six closets have been purged and reorganized. Today I'm clearing the pantry and china cabinet. The room over the garage is totally empty, ready to become what the builder calls a "nanny suite." One day, for real estate purposes, I'll call it that, I suppose, but for us, it's a guest suite. In this house, for now, the time of children is past.
Which is what gives this process such emotional weight, for me.
The thought of clearing this house has been a dark, shadowy mountain looming over me for the better part of a decade, since my chicks started leaving the nest. Our last one left for good a couple of years ago and letting go of her, of them, of that stage of life, gutted me in a way I did not expect. This is a family house, where we ate meals around the table, played games, cared for all those pets. Those front stairs have seen three prom dresses and one wedding dress. Here is where we finished raising them, for better or worse.
It feels like an ending. But it's also a beginning. This is where we started clumsily building the foundations of adult relationships with our daughters. This is where we started navigating our marriage as a couple now without children.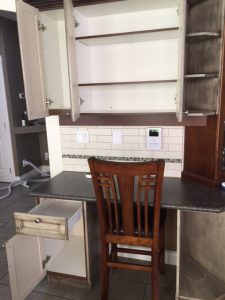 The stuff represents so much…. life. So much love. But there's so much more living and loving in store for us. Clearing away the stuff that no longer serves us now makes room for what lies ahead.
So I continue to climb the mountain, and will take comfort in checking tasks off my list today, lovingly letting go of yesterday to embrace a spacious tomorrow.
There. Does my perseverance inspire you? 🙂