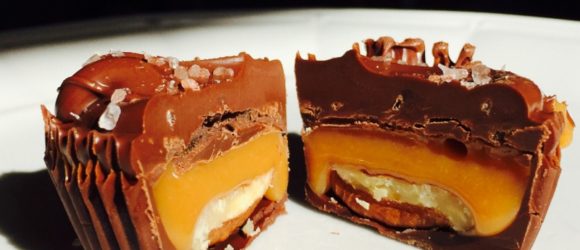 Maddie Cash, the beloved heroine of my latest book, THE CHOCOLATE CURE, adores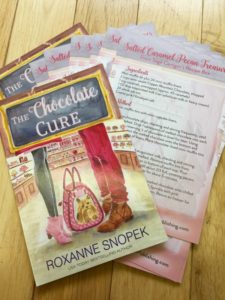 these delicious bite-sized treats. Each book in the Love at the Chocolate Shop series features a special treat, and as a gift to our readers, we've got recipe cards to go along with them! We give them away regularly on our Facebook page, so please visit us there.
In the meantime, here's the recipe for Maddie's irresistible treat. Enjoy!
Salted Caramel Pecan Treasures
You'll need:
Mini-muffin tin plus 24 mini-muffin liners
2 cups semi-sweet chocolate chips
1 cup caramels, unwrapped (approx. 45 caramels)
1.5 tablespoons evaporated milk (can substitute milk or heavy cream)
24 whole pecans
Coarse pink Himalayan salt
Fill mini-muffin tins with mini-cupcake liners.
Microwave chocolate chips, checking and stirring frequently, until smoothly melted
Drop 1 tablespoon of melted chocolate into each cupcake liner, reserving ¼ of chocolate in bowl for later. Using pastry brush, paint the melted chocolate onto the bottom and about 2/3 up sides of liners.
Place chocolate-lined mini-muffin tins in freezer.
Microwave caramels and evaporated milk, checking and stirring frequently, until smoothly melted.
Remove muffin tins from freezer. Place one whole pecan in bottom of each cup.
Pour caramel into chocolate cups until about 2/3 full, covering pecans completely.
Return tins to freezer for about 5 minutes.
Use pastry brush to paint remaining melted chocolate onto chilled cups, completely covering the caramel. Sprinkle with pink Himalayan salt while chocolate is still warm.
Return to freezer for about 30 minutes.
Enjoy!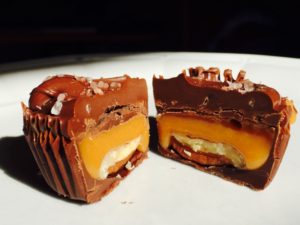 THE CHOCOLATE CURE is now available! And wow, are we celebrating!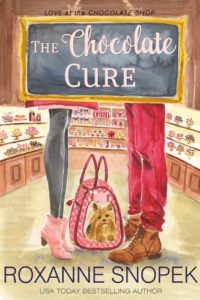 Tomorrow's launch party has tons of awesome prizes… I'm so excited to show you!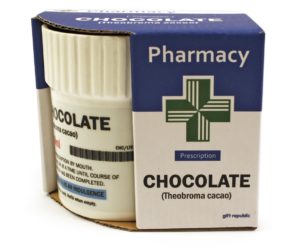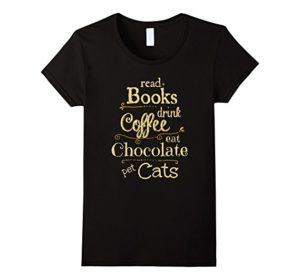 This is a sample of what's up for grabs. You definitely want to join us tomorrow, Thursday January 5, 7-8:30 Eastern (4-5:30 Pacific) Hope to see you there because… this is #WhatLoveTastesLike!!!
There's also a prize package with a Tule Publishing tote bag containing all sorts of goodies. Which one are you hoping to win?
The cat-lover t-shirt?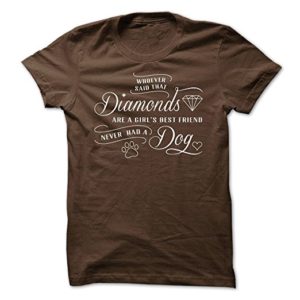 The dog-lover t-shirt?
Or the cool chocolate-pill-vial mug? (That's my favorite!)