Happy Spring and welcome to the latest Love Note from the Lake! Although spring is officially here, the temperature in my neck of the woods isn't quite agreeing. But I've got irises and rhubarb peeking through the ground, so that makes it real! What signs are you seeing?
Granny Love
I got to spend time with this little darling recently and oh, my heart! She's going to be two soon – how can that be?? She and I spent some time making stone soup in her little kitchen, then adjusting flavours, and taste-testing inside her princess castle. I've had some great meals lately… but this one was simply the best. 🙂
As some of you know, I've embarked on the Simon Fraser University Editing Certificate Program. Don't worry, I'm NOT quitting writing – I've got lots of stories on my to-do list. But I wanted to add to my skill set and I really enjoy working on stories with other authors. Since I was already doing it, sort of, I decided I might as well learn to do it, properly.
If you want to learn more about Roxanne's World, ask to join my private Facebook reader group. I love our little book loving community!
Today's Love Note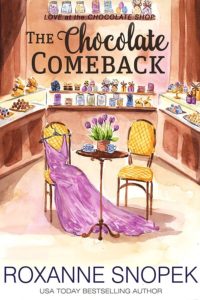 Today's Love Note goes out to William Harris, a reader I've gotten to know since writing for Tule Publishing. Lots of people think that men don't read romance. Well, William proves that smart men absolutely do. He has been an enormous champion for authors, so much so that he now moderates a Facebook Fan group called Main St. Marietta. Readers of my Tule books will recognize Marietta as a lovely, fictitious town that many of us wish we could visit In Real Life.
Since retiring, William has returned to student life, aiming to complete his history degree next year, which impresses the heck out of me. Despite his workload, he still has time to read, review, moderate and send encouraging messages to his favourite authors. I'm SO LUCKY to be one of them. Every author needs their Ideal Reader when they're creating, to counteract that pesky inner critic.  William, you're mine. One day when we meet in person, I've got a big hug for you.
As an example of his kindness, William reminded me that today is World Down syndrome day, which reminded me of Mark, in The Chocolate Comeback, the character with DS who brings the hero and heroine together. Today on the Main St. Marietta page, William is celebrating me and several other Tule authors who include developmentally disabled characters in their books. I simply love that Tule allows us to write these "bigger" stories… and that readers like William appreciate them.
Thank you, William, for being my Ideal Reader. And just an all-round fine person.
Fresh air, wide open skies, new love
The first four full-length books in my Wild Sky series are now all out! Originally titled Three River Ranch, each book in this series has been updated and re-edited, and received a gorgeous new cover. If you've been with me for a while, you might recall these stories.
If you're a newer reader and have missed these, I urge you to give them a try; set in Montana with wild mustangs, service dogs, babies, wounded heroes, these books are dear to my heart. They launched my career, put me on bestseller lists and connected me to many, many wonderful and kind readers – like YOU! I'm glad to see them alive again and hope you'll give them a warm welcome.
Until the next Love Note from the Lake… stay well and happy reading!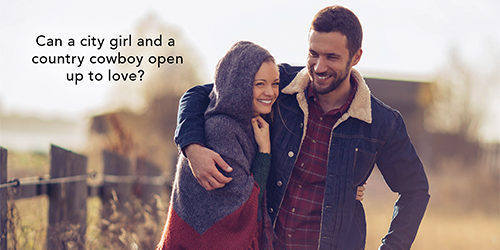 Winter has hit the Pacific Northwest with a vengeance. While I was shoveling the driveway for the third time yesterday, I suddenly thought of a scene from HIS RELUCTANT RANCHER, an earlier book of mine, in which a city girl ends up on a Montana cattle ranch in the depths of winter.
Here she is, riding on a snowmobile for the first time. (And where I create a word used nowhere else in literature. I hope.) Enjoy Throwback Thursday!
*
Damn her and her big mouth.
And her vanity. She shuffled her feet on the running board of the snowmobile, praying she wouldn't fall off, wishing she could get better purchase on the narrow skids.
"How you doing?" Zach yelled, his words whipping away in the wind. Des tried to answer, but she couldn't move her lips. She couldn't feel her cheeks. Or her eyebrows. Or her toes.
She'd begun the trip holding on to the bars at the side by her thighs. But when Zach opened the throttle, the speed had thrown her backward and she'd grabbed his waist instinctively, locking her hands together and burying her face against his back. Once there, she was unable to change position. Now, her arms might as well have been frozen in place. Even if she wanted to say something, she feared her lips would not be able to form the words.
The rumble of the engine beneath her and the nearness and position of Zach's body between her legs created a distracting reminder of the sensuality that sparked between them. It was frustratingly inconsistent; sometimes, she'd swear he was deliberately antagonizing her, but
other times, she saw the same old heat they'd generated the first time they'd met. He was not immune to her, no matter how he tried to hide it.
Zach pointed toward a ridge, shading his eyes against the sun. Des turned her head, blinking, feeling as if her bones had frozen in place. Her nose tingled. She probably had the mother of all danglers hanging off it, but unless she wanted to risk her life for a one-handed swipe, she was stuck with it. God. Zach would die laughing.
She looked where he pointed but saw nothing. Thank goodness she was wearing her sunglasses, or her eyeballs would be iced over, too.
"I'm going to circle around them," he said, yelling over the engine noise. "It's a bit of an angle, so hang on."
When he turned his head, his mouth was disturbingly close to hers. She saw the rough stubble on his chin, the sculpted plane between jaw and cheekbone, lips open with exertion, the way they would be, she thought suddenly, when he made love.
"Okay," Des yelled back. Or tried to. The sound that came out squeezed past lips frozen and sluggish, from a throat thick with phlegm.
Oh yeah, she was quite the seductress.
When he rounded the side of the ridge and began the steep climb, Des felt him shift his weight, to compensate and remain balanced. His hip pressed warm and firm against the inside of her thigh, sliding easily over the leather. She tried to do the same, but her butt didn't slide. She gave herself a push off the rubberized running board, but her foot slipped. Her fingers lost their grip on each other and slipped apart, despite her conscious effort to keep them locked. In slow motion—or so it seemed—she broke away from Zach and the machine.
Before she knew it, there was only cold air under her.
Des saw the horizon do a complete turn before landing on the soft snow, bouncing once and plowing to a stop.
Vaguely, she heard Zach yelling her name. Snow rasped over her skin, filling her mouth and eyes. She gasped for air, coughing and spitting, her teeth aching. Her sinuses were on fire, and between the cold and the shock and the glare, she could barely see. Her sunglasses had gone AWOL.
Zach crashed through the snow and knelt at her side.
"Des? Are you okay? Don't move. Can you talk?"
She struggled to sit up, to make some kind of response, but she might as well have been swimming in syrup. Her limbs were so cold they weren't obeying properly.
She finally managed to sit up and rubbed a glove over her face.
"I'm fine." At least the snot-sicle was gone.
Zach had been right, damn him. And now that he could see she was in one piece, his concern fell away. "Damn, Des, don't scare me like that."
"So sorry," she paused for a sneeze, "if I caused you any discomfort." She managed to get onto all fours, but then one boot slipped out from under her and she went sprawling again.
"Hey, Princess?" He didn't even try to hide his laughter. "You're gonna have to work on your dismount, but I'd still give you a solid five out of ten."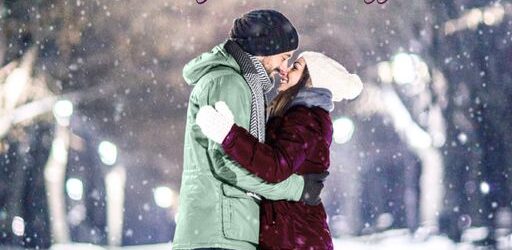 No, it's not the start of a joke. 🙂 It's the very first Christmas story I wrote, a novella titled SAVING THE SHERIFF. The hero, a sheriff, is looking after his friends' ranch during the holidays, when he discovers a woman dressed as an elf and a trailer of "reindeer" stuck in the snow. He's a bit uptight, she's a free spirit but when they get stormed in, they discover they have more in common than they thought.
It includes Mistral, the fan-favorite Labradoodle from 
THREE RIVER RANCH
, plus cameos from Zach and Des (
HIS RELUCTANT RANCHER
) and the ever-hilarious, advice-giving town mother-hen, Bliss (or Blister, as her twin sister calls her). Mangled Christmas carols, howling winds and a crackling fire turn a difficult holiday into something truly miraculous for my characters and I hope it lifts your spirits, too!
Here's a snippet for you:
"Help you?"

Frankie jumped and dropped her flashlight. Bone-deep instinct kicked in, a primal watch out, honey! Not necessarily danger…but maybe.

Two words, and oh, baby. No gruff old-timer, his voice sounded young, strong…and smoky, full of…campfire stories…and marshmallows roasted on fresh-cut branches…

She gave her head a shake. Don't be an idiot, Frankie.

He was a man with a truck.

"I'm stuck." She put on her most innocent grin and faced the headlights. She couldn't see a thing through the snow. "Can you help me out?"

Three River was supposed to be empty over Christmas. At least, the ranch's Facebook page had indicated the family was in Maui. The mustang sanctuary was well-known among animal lovers and Frankie felt certain they'd have helped her cause, if she could have asked them. So she'd taken a chance that they wouldn't mind. That in fact, they'd never know.

Yet here was a man, from what she could hear over the snarl of engines and wind. A man unexpected, in every way.

But what if he was private security? Or worse, a game warden.

Stop it! Think positively, Frankie!

Maybe, despite the little mishap with the ditch, the universe was on her side after all. Maybe this was just a kindhearted local who'd be delighted to help out a damsel in distress.

The man stepped out, leaving the engine running and the driver's door standing open. This time she caught a glimpse of a cowboy hat and beneath it, a stubbled jawline. Broad shoulders. And tall. He held up a much better flashlight than the one she had, shining it high, scanning the truck, the listing trailer. Then scanning her. The beam of light traveled over her body, up and down, leaving no inch untouched. Warmth rose to her cheeks, prickly in the winter air.

"Wanna tell me who you are and what you're doing here?" He cleared his throat and she thought she heard the glimmer of a smile. "Lost on your way to work?"

"Ha-ha." She sighed and stamped her feet, aching with cold now that she was standing still. "Yes, I'm wearing an elf costume. Can you pull me out or what?"

He walked up to the trailer and shone the beam inside. He moved smoothly, deliberately—like a hunter she thought, her breath quickening.

"That option disappeared about six inches ago, I'd say." The man knocked his fist against the side of the truck, the metal echoing hollowly, and then he moved the light off her and aimed it out into the empty field. "Red LeClair, Lutherton sheriff and currently in charge of this icy little slice of heaven. Wanna tell me what's going on out here? Ma'am?"

Sheriff! Universe: home run, Frankie: out.

Frankie followed his light where it dissolved in the darkness, watched it catch on low shrubs and rocks sticking up through the snow. She swept a gloved hand over her cheek and bit her lip. She'd expected the animals to bound off into the sunset the second she opened the trailer, but it hadn't happened like that. They'd wandered off to the nearest wooded area, but that's as far as they'd gone. At least the snow was coming down so hard and fast their hoofprints were nearly covered already. But would they find the food set out for the mustangs? They wouldn't last long in this weather.

Go! Run! She urged them silently. Had she been too late? Were they already too habituated to humans? This was the perfect location for them. Perfect!

As his light moved, she could see the gleam of eyes, still watching from the woods. Darn!

"What this looks like," he said, clicking off his light and crossing his arms, "is trespassing. For starters.""Look," she said, eager to draw his attention back. "I'm sure this looks a little…odd—"

She swallowed. "Technically, you might have a point. But I can explain."

"How about we start with your license and registration, please. Ma'am."

And that's when Frankie began to suspect the universe wasn't just having a little fun at her expense, but was in fact a PMSing

hag. She rummaged through the glove box until she found the crumpled insurance papers belonging to Conrad Toole, the man who owned the truck and the dilapidated roadside Christmas display she'd been part of. Until tonight, when she'd liberated the five young elk he'd been parading as reindeer.

She could see how this might appear sketchy.