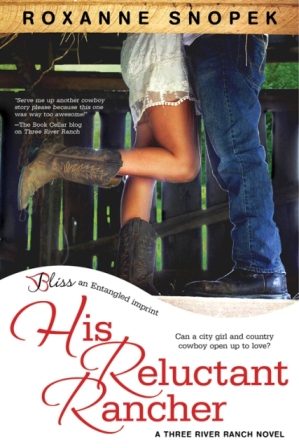 Three River Ranch doesn't look nearly as welcoming as it did last summer, Desiree Burke thought. She drove beneath the rough-hewn sign at the gates to the mustang sanctuary and held tight to the wheel as it bumped and jerked in her hands. Ridges of ice clawed at her tires and threatened to pull her into the ditch that ran beside the long driveway. Leafless trees flanked the guesthouse like silent skeletal sentries, and in the distance, Bear Paw Mountain loomed cold and forbidding.
She shuddered, then mentally slapped herself.
"Mierda!" she muttered. "Next thing, you'll be looking for a guy with a ski mask and a chain saw."
But the shivers wouldn't go away, and she couldn't blame them entirely on the bleak Montana landscape. The last week had left her stunned and even—yes, she could admit it when she was alone—afraid.
But mostly, furious. What was the point of getting a titanium hip if you weren't going to use it? Her protocol was sound and would have been successful if Mama Marquesa Bruno had tried, even a little. Was it painful? Of course! The matriarch wasn't happy to find a therapist who didn't cater to her every whim, the way she'd trained her beleaguered offspring. Mama was a wily rock cloaked in sighs and pathos.
Until she rolled up against the hard place that was Des.
Only now Des was suspended while the American Physical Therapy Association investigated the complaint.
Mama Bruno got the last cackle after all. Des shuddered.
Even now, the memory of that moment made Des feel as if she couldn't get enough air into her lungs. She never dreamed a patient would sabotage her own therapy, out of spite! The Brunos would have crucified her if she hadn't managed to hijack the dramatic opus by catching the old bat before she hit the ground. Old ladies bruised like ripe plums and shattered like glass.
Des had always prided herself on being one step ahead of her patients, modifying her treatment strategy and approach to optimize their response. Yet she'd been outmaneuvered by a sharp-eyed crone who didn't want to be bossed around.
But hadn't Tina Jeffrey grabbed onto that golden opportunity with both meaty mitts? Since her first day, when Des had challenged the clinic's antiquated methodology, the two had been at loggerheads.
Des sighed. Naturally, she'd reacted with her customary tact, which was to say none. The word bitch had come up, as had the phrase when hell freezes over. Plus a few choice tidbits in Spanish that probably drove her boss even further up the wall.
Even if the complaint was withdrawn and Des was reinstated, she could never work under the same roof as  Tina again.
But she had to work somewhere, and word traveled.
The hot rush of injustice rose again. She was good at what she did, damn it. Okay, so she pushed harder than other physiotherapists, so she took risks. She got results. In the end, her patients thanked her. On their feet.
Her throat tightened. She loved her job. She needed her job.
Des pulled her little sports car to a stop in front of the guesthouse and sat quietly for a moment, listening to the tick-tick-tick of the cooling engine before silence descended.
The darkening sky above and the endless expanse of snow-covered hills all around made her feel like a rabbit looking for cover. How did people live out here in all this…space? She needed the reassuring hustle-bustle of the city, the noise, the shopping…the lattes.
Rory had urged Des to get away and spend some time with her at the ranch. Then she'd thrown Des a challenge she knew would be irresistible: their good friend and neighbor was running out of medical coverage, without being anywhere near recovered from the car accident that almost killed him.
She hadn't used the word hopeless, but Des heard it anyway.
A week ago, she'd have been all over a case like this, eager to help a broken man regain his life. Now, the thought of dealing with another frightened, angry patient—and his family—made her break out in a cold sweat. But it wasn't Joe Gamble or even the prospect of failing that scared her. At least, not entirely.
It was the thought of working around Joe Gamble's son Zachary that had her nerves jitterbugging. And not in a bad way.
Which was the problem.
Zach's lazy cowboy grin was irresistible when he aimed it her way, and although Des had given no quarter, she was pretty sure he knew the verbal jousting was merely her opening salvo .
She was there for one reason, and one reason only. Rory. However, if she'd had a little spare time, she might have spent it with Zach. Why not? He was a carefree bachelor, enjoyable company, rumored to treat women well, and—most importantly—not looking for commitment.
Fine qualities in a guy, as far as she was concerned.
She wasn't averse to a bit of fun, and the first time they met, he'd made it clear that he was willing to play, but that's as far as they'd gotten.
And everything was different now.
She tried to imagine Zach's face without the grin, his voice without the banter, his eyes without the spark, and it made the muscles in her chest and throat constrict.
And that right there was what really scared her.
Because, grin or no grin, there was no way Des would end up like Rory, stuck out here with straw in her hair.
"No sense borrowing trouble, chica. You've got enough of your own." She got out of the car, shoving all thoughts of Zach firmly from her head.
"Hola?" she called, pounding on the door. "Rory? Anyone home?"
Silence.
She walked around the porch to the back of the guesthouse, and there stood Rory's mini-SUV. Des breathed a sigh of relief, then went closer and peered in. Lulu's car seat and various toys littered the vehicle that stood tucked under the carport. Farther back, by the original ranch house that was still undergoing renovations, she could see Carson's pickup truck.
As she trudged through the snow toward it, she could hear the muffled sounds of a nail gun. And voices.
Thank God!
Des pushed open the door. A burst of warm air, tangy with the scent of freshly cut wood, rushed against her face.
"Hola? Rory?" she called again. "Can I come in, or have you still got the plague?"
A bang sounded in another room, then footsteps. Her best friend ran out to greet her, grinning widely, baby on her hip, her shaggy dog squeezing ahead of her.
"Hey, Mistral." Des squatted to let the dog get her sloppy greeting out of the way. "Long time no see, my hairy girlfriend." She also used the time to prepare herself for Rory's unerring ability to see behind her defenses.
"Mistral, enough." Rory spoke with authority, and the chocolate-colored dog obeyed immediately, but not without whining.
"Honestly, four years of training and it's ruined the minute she sees you."
"Hardly!" Desiree laughed. "She knows what you want before you want it! But I don't care. I love to be loved." She shooed the dog away and stood up. "Aurora McAllister-Granger, I thought having a baby made women all fat and frazzled. How is it that each time I see you, you look better than ever?"
"You're such a liar! I love that about you." Rory gathered her into a tight one-armed hug. "Nursing melts the weight off. I can barely eat enough to keep up. And you want to see frazzled? Wait until about midnight, when this little piranha flips her switch and starts screaming nonstop."
Desiree kissed the baby's face, then pulled her from her mother's arms. "Not my little Lulu, I don't believe it. Come on, honey, let's get you out of this draft before you catch your death. Auntie Des won't let her only godchild get pneumonia. Your spots aren't even totally gone yet!"
"Please. Winter's barely started. Besides, we rancher girls are tougher than that." Rory paused, and her voice softened. "Des, I'm so glad to see you!"
"Even though you're still living in a construction zone and your baby just got over the chicken pox and the last thing you need is a friend in the grip of a major career crisis?"
"My door is always open to you, Des, you know that." She should have known Rory would recognize the panic that bubbled just below the surface. "Carson! Look who's here!"
Rory led Desiree through the front room to what would soon be a spectacular gourmet kitchen. Rory's cowboy husband straightened up from the sawhorse and slipped off his work gloves, a grin spreading over his face.
He slapped his hands against long, denim-clad legs, sending clouds of sawdust everywhere, then opened his arms for a hug. Des returned the embrace, squishing Lulu between them, happy to admit she'd been 100 percent wrong about Carson. Rory's marriage might have had an unconventional beginning, but Des had never seen her happier.
Even living out here in the freaking wilderness.
"Thank God you're here," he said. Then his voice grew somber. "I mean, I'm sorry for what you're going through right now, don't get me wrong. But the Gambles are really having a rough time."
"I might not be able to help." Panic bubbled again, accelerating her heart rate. "I'll do what I can, but persistent brain injuries are tough. I don't want to disappoint them."
"Des," Carson said, "this family is about as low as one can get right now. The closest rehab is four hours away. Marnie can't get him in and out on her own, and even if Zach could afford the time to drive him there—which he can't—their HMO has given them the boot. You're his last hope."
"Well, he'd have to be desperate, wouldn't he?" She winced at her own pathetic attempt at levity.
"No one who knows you believes Jeanette's story, Des."
"True or false isn't the issue," she said, hating the bitterness she heard in her voice, hating that she cared so much what people would think. What Zach would think.
Carson and Rory exchanged glances and suddenly she understood.
"You haven't told them!" A tiny, traitorous part of her heart leaped, grateful that Zach wasn't privy to her humiliation.
"We gave them the broad strokes. The details don't matter." Rory shrugged. "They need what you have to offer, and you're free to give it. Someone else's lies don't change the facts."
"I hate to say it," Carson added with a grimace, "but she's right. Zach's not exactly thinking straight these days. Let's not give him something more to chew on."
"Besides," Rory said, "once he sees you at work, he won't care about that ridiculous complaint. He'll know the truth."
"If you say so." She'd have to make damn sure she impressed him before he found out, then. No pressure or anything.
"And who knows." Rory patted Desiree's shoulder. "You might find that the country life suits you. Home is where the heart is, as they say."
Des snorted. "Home is where the espresso is. Remind me, where's the closest Starbucks?"
"You won't care after you taste my coffee." Carson dropped a kiss on Rory's cheek, then one on his daughter's fuzzy head. "Go on, ladies. You've got lots of catching up to do. I'll be another hour or so."
"You sure?" Rory lifted one hand to his cheek. The quick, casual exchange held so much intimacy that Des had to look away.
"God. Get a room, will you? Gimme Lulu's bag. We'll meet you in the guesthouse, Rory."
"I'm coming, I'm coming," Rory protested with a laugh. But first she grabbed her handsome husband around the neck and reached up to give him a proper kiss.
Des zipped up Lulu's jacket and held the child close as envy ripped through her. "I'm sorry, preciosa, I had no idea they were torturing you like this. I'd have rescued you earlier."
But as she made her way back over the snow, the sweet-smelling bundle clutched tightly against her, her arms were trembling, and not just from the cold.
***
Zachary Gamble told himself that the rest of his own work could wait until tomorrow, that Carson needed him more right now, that he was only being a good friend.
But as he pulled his pickup around the guesthouse to stop in front of what would soon be the new lodge, he suddenly became aware of muscles in his abdomen and chest letting down their guard, allowing air to rush in. He dropped his head and closed his eyes, relaxing for the first time that day.
Coward.
The real reason he'd fled Twinridge was that if he spent another minute—another second—within earshot of his mother, he was at serious risk of becoming a howling lunatic. The effort of holding them all together was more than he could bear right now. Here, he could be himself. Here, he could breathe.
Liar.
That wasn't the only reason he'd rushed to Three River.
He opened his eyes, got out of the truck, and looked over his shoulder.
Yup.
That was the little white sports car he remembered. Trust Des to drive something impractical like that, out here in the dead of winter. Someone should confiscate her keys before she killed herself.
"Looking for someone?" Carson leaned against the lodge door, arms crossed, an irritating smirk on his face.
"Finished early." Zach elbowed past his friend and surveyed the stacks of hardwood that would soon cover the floor. "I figured you could use me. I was right."
Carson looked at him through narrowed eyes, then tossed him a tape measure. "Here. You can cut the boards for the hallway."
For ten minutes or so, they worked with only the tinny sound of a banged-up transistor radio to break the silence. Finally Carson straightened and rubbed his wrist against his forehead, leaving a streak of sawdust.
"Celia moved back yet?" he asked.
At the mention of his sister, Zach felt the tension return to his chest. Celia was in her final year of veterinary college, the only thing she'd ever wanted to do.
"Yeah."
"She okay with that?"
"She doesn't have much choice, does she?" Now not only could they not afford her tuition or room and board, but they needed her to work. "She'll have to redo the year, anyway."
"Sorry, man."
"Yeah, you and me both."
"You sure you're okay?"
Zach was so sick of sympathy, so sick of people not knowing what to say, so sick of everyone checking up on him and his family, that he bristled. "I'm fine."
Predictably, Carson ignored his tone. "Of course you are. Your truck flipped a half-dozen times, your brother's dead, your dad's in a wheelchair, your business is circling the drain, but you're fine."
"You're an asshole."
"You're an idiot."
Normalcy restored, they resumed working. Carson had been friends with Cale, too. Maybe that's why he could say things to Zach that no one else would dare utter.
Of course, he never knew when to quit.
"I know you're really here for Des." Carson tilted his chin in the direction of the guesthouse. "She's with Rory. Go say hi. And oh, while you're at it, would you please end this crazy self-imposed vow of chastity? If you won't do it as a favor to me, your friend, who has to endure your foul temper, then do it for the pharmacies in the greater Lutherton area, who rely on you relying on them for all your condom needs."
"What are you talking about? I'm getting as much action as ever," Zach lied. "I'll finish this section first. Besides, I'm sure the women want to visit."
But before he could procrastinate any longer, he heard the unmistakable sound of her high-heeled footsteps stomping up to the lodge. She thumped the snow off against the porch railings and then pushed open the door.
Zach froze, the board in his hand poised motionless. The cold air had whipped a blush to her cheeks and the tip of her nose. Those big dark eyes peered out from the mass of even darker curls spilling over the collar of her coat.
Snow White, all grown up and sassy.
"Hey, Zach. I thought that was your truck."
She lifted her hair away from her neck with both hands and attempted to smooth it over one shoulder. The board slipped from his hand and bounced onto the floor with a clatter.
"Des…" As she moved her arms, the opening of her coat gaped, just enough for a glimpse of the curves beneath, and he couldn't remember what else he was going to say.
"I wanted to tell you how sorry I am about your brother, and your dad's injury. I couldn't believe it when Rory told me. You weren't hurt, though?"
There was a rushed, breathless quality to her words that he hadn't expected. She kept fiddling with her hair, too.
"Nah." He cleared his throat. "I was the lucky one, I guess."
Snow White's eyes narrowed at that, and her hands stilled. He felt as if he'd inadvertently exposed himself somehow and she was deciding what to do with the advantage. Her posture softened.
"Yeah," she said finally, her voice unbearably kind. "Super lucky."
Carson tossed his work gloves onto the stack of hardwood and sighed. "Will you look at the time. I promised to give Lulu her bath tonight. I'll see you guys later."
He accidentally-on-purpose nudged Zach in Desiree's direction as he went by, glancing back and forth between them.
Zach felt his neck growing warm.
"That was subtle," Des said after the door closed. She smiled at him, and just like that, the awkwardness was gone. She crossed her arms and cocked a hip. "Let me guess, you were talking about me, weren't you?"
Her voice was normal again, all smoky and confident.
"Absolutely not." He collected his tools. "But if you're done gabbing with Rory, we should head out to Twinridge. Let's get your stuff into the truck."
She frowned. "I've got my own car."
"I've seen it. Pretty, but useless in the snow. You were lucky to make it this far. You for damn sure won't make it to our place." He opened the door and motioned for her to go ahead of him.
"Bet I would," she muttered. But on the last step, she slipped and would have lost her balance if he hadn't been near enough to grab her. It was a brief moment of contact, but it held a world of sensations: the solidness of her body against his own, the silky tickle of her hair, that warm fresh smell. Was that some kind of lotion? Or did she smell like that naturally?
"Right," he teased as she regained her footing. "But if you got stuck, you wouldn't make it a mile in those boots."
"All right, all right, you've made your point." She yanked her elbow out of his hand, but the motion sent one heel wobbling sideways. This time, she was angled away from him as she scrambled, arms windmilling. Before he could reach out, both boots skidded, tipping her into the snowbank beside the path.
She sputtered, then let fly with a string of Spanish words. A Mayan princess with anger management issues.
Zach bit back a laugh and held out his hand. "You okay? What was all that you just said?"
"Oh, I'm just dandy." She lurched to her feet and then sucked in a breath, favoring one ankle. "It's Spanish for…son of a gun."
"Sure it is."
"Close enough." This time, she kept a death grip on his jacket sleeve as she alternately stomped and limped through the snow. "Can you do me a favor, cowboy?"
She was vibrating, he could feel it through the layers between them. Maybe it was embarrassment, maybe it was anger, maybe it was the same strange energy that he suddenly felt zipping through his veins. She was like a life raft triggered inside a closet, forcing the doors open, filling the emptiness with light and air.
"Sure, Princess. What do you need?"
Her expression was murderous. He laughed, not bothering to hide it this time. He couldn't have if he tried. She was so…there. So vital.
So alive.
"I need you," she said sweetly, "to shut the hell up."
.
.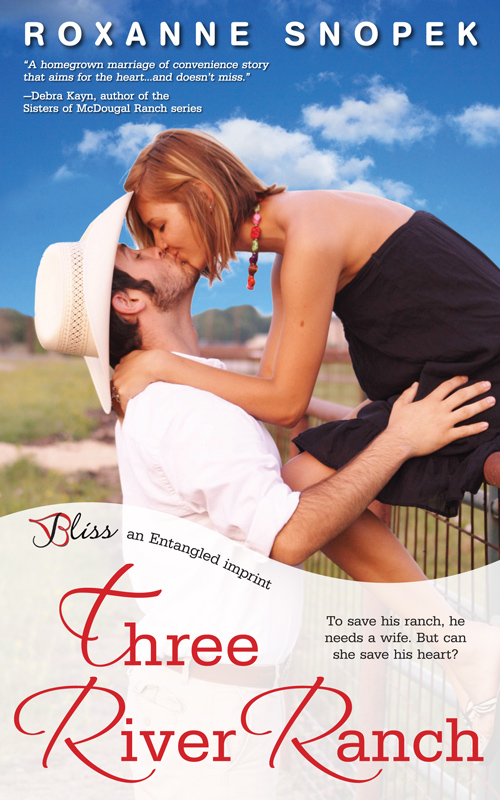 The door slipped off its hinges when she turned the knob, probably a hint that she should have asked a few more questions before signing the lease.
"Stand back, Mistral," she said to the mop-faced dog at her feet. "This is gonna make some noise."
Rory McAllister took a deep breath, placed one hand protectively over her belly, and applied her shoulder to the stubborn door. With a crash, it toppled open.
The dog, her dark eyes peeking out from a mass of shaggy dark-chocolate fur, whined. Rory understood the sentiment. The anxiety building in her ever since leaving Billings for rural Blaine County, Montana, escalated.
"Don't worry, sweetie," she said, reaching down to stroke the dog's ears. Rory had to be strong. She'd wanted to change her life, but she hadn't bargained on this. "Our Realtor, now she should worry. These are not appropriate living accommodations."
That's what leaping without looking got you: the Bates Motel.
"I'm going in," she told the dog. "Cover me, okay?"
Rory pushed back her sleeves, goose-stepped over the door, and promptly tripped on a plank lying across the threshold. Although she grabbed the doorjamb in time to stay upright, she wasn't fast enough to protect her sleeve from a stray nail.
"Damn it!"
Rory examined the tear in her favorite thigh-length peasant blouse: hopeless. And it was one of the few things that still fit. Clearly, this adventure called for more than cotton. Chain mail, perhaps.
Or at least denim. She pulled the sleeve away from her arm, wincing at the smudge of blood that marred the soft fabric. She pulled a tissue from her pocket and blotted the stain, feeling a wave of self-pity wash over her.
No way! Rory gave her head a savage shake, and then remembered that her long hair had been replaced by short, stylish layers. This was her new image, her fresh start. Her new life.
"A flesh wound," she muttered. "That all you got, house?"
Carefully, she stepped over the plank, felt along the wall until she found the light switch, and flicked it. Nothing. She flicked it on and off, just to be certain.
Rory sighed. "Des told me this was a mistake. I should have known."
Her best friend, Desiree, had begged Rory to think things over longer, or at least to take a look at the place. But Rory couldn't get away fast enough, and this was the only town near the birthing center she intended to use. Plus, she needed to be spontaneous, to try something different, to risk change.
Mission accomplished. Granger Lodge looked about as risky as they came.
Panic fluttered in her chest as Rory proceeded gingerly through the hall toward the main room. Enough late afternoon light filtered through the dusty windows to illuminate the interior, and Rory took a good hard look at the location of her new home. It was private, spacious, and the rent was unusually cheap—of course, now she knew why.
Again, her hand pressed against her body, and she willed herself to stay calm. Surely there was some kind of mistake.
Cobwebs hung from the ceiling, dust and debris lay thick on the floor, and on one wall, two-by-fours and laths showed through the plaster. From the center of the ceiling, an ancient wrought-iron light fixture dangled crookedly at the end of a half-unraveled wire. A threadbare couch and two wooden chairs remained in the room, as well as a scarred coffee table and bits of broken crockery that lay scattered on the floor. It felt to Rory as if the occupants had gone to get milk and forgotten to return.
Thirty years ago.
It certainly explained why her Realtor wasn't here to greet her. "It's perfect for you," Mrs. Fulston had gushed over the phone. "Lots of wide open space, fresh air, exactly what you're looking for." A year-round creek full of trout, a clear mountain view, deer and antelope—oh, the woman knew her job.
Apparently, she also knew a mark when she saw one.
Claiming a sudden family emergency, the woman had all but thrown the keys at her, dived into her car, and sped off in a spit of gravel.
"Family emergency my eye," Rory said.
The dog, unconcerned with the mess, scrambled past her, eager to explore new territory.
"Oh, sure." Rory gave the dog a black look. "What do you care? You're not scared of mice."
Mistral ignored her and forged ahead, snuffling into dusty corners, her black tail collecting bits of debris that followed in her wake.
When had everything gone so wrong? It wasn't supposed to be like this. And what was she supposed to do now?
"Way to go, Rory," she whispered, not trusting her voice. Darn those hormones.
She bent over, hands on her knees. Focus. She'd go back to the bed-and-breakfast in Chinook. Call the agency. Get this sorted out.
Breathe. She straightened up, swallowing hard. There must be an explanation. By tomorrow, she'd probably be laughing about the misunderstanding.
But what if there wasn't? What if this mess was it? Really, she had only herself to blame.
Who rents a house without seeing it first?
***
Carson Granger took a deep breath, flexed his fingers on the steering wheel, and hit the dial button for his attorney's number again. He couldn't blame the lawyer for Derek Granger's will. Carson had expected complications from his father; he should have anticipated a nightmare.
"Okay, Jonah," he said, calmer this time. "Tell me the rest of it. But hurry up. I'm almost at the ranch and I've got to unload these mares as soon as I get there."
"You're not going to like it."
"Big surprise. Everything so far has been such a treat."
"Just so you know," Jonah prefaced carefully, "I tried to talk him out of this. These kinds of things are tricky. But Derek was…insistent."
"Yeah. That's one way of putting it. Just tell me."
"As it stands now," Jonah explained, "once the dust settles, you and Mitchell will share equally in the estate, the boundaries of which you are already familiar with and which have remained unchanged."
"And?"
"Your father insisted on providing motivation for you to accept the…remainder of his terms."
"Jonah." Carson lowered his voice. "If there's something you haven't told me yet, spit it out."
The lawyer spoke quickly, as if reading from a script. When he finally finished, Carson had nothing to say. It was unbelievable. Until they found wives, neither he nor his brother could inherit. If his father had pushed his crabbed hand right through the cell phone and grabbed his son by the throat to deliver the news personally, Carson could not have been any more shocked.
"The Granger name must live on, huh? Well, I'm not playing his game," Carson said finally, then punched the button to end the call. "I'll get my mustang sanctuary. And I'll do it without him."
Thanks a lot, Dad, he thought as he maneuvered the battered pickup down the bumpy lane toward the corrals. As he rounded the corner, he saw a mini 4×4 parked sideways in the driveway of Granger Lodge, his childhood home, long since abandoned. Who the hell was here? Everyone knew his father had lived in the guesthouse, in the clearing behind the lodge. The old man had never gotten around to demolishing the original structure, and for once, Carson was grateful. It would be a perfect headquarters for his rescue foundation.
But it needed some serious work. He'd barely begun cleaning up; he didn't have time for interruptions. If it was that damn real estate agent again, he'd throw her out bodily.
He stomped viciously on the brake, remembering, too late, the occupants of his horse trailer. As the truck lurched to a standstill, a series of squeals and metallic crashes erupted behind him.
He scrambled out of the truck.
"Whoa, girls, take it easy."
The horses were near hysteria. He looked in cautiously at the closest one, the one he called Stormy. Her eyes rolled wildly in her dun-colored face and flecks of foam dotted her lip. The trip had been too much for her. He needed to get her quieted. She'd had enough stress.
He looked toward the house with a scowl. More kids, maybe, looking for something new to wreck? Good luck to them; they'd vandalized everything long ago. He couldn't wait until his assistant arrived next week. He hoped the guy was big enough to intimidate trespassers.
He strode up to the front porch, where he found the door hanging off one hinge.
Gritting his teeth, he stepped around it and walked inside. "Who's in here?" he shouted.
A number of things happened in succession: A dark, hairy blur pelted toward him, barking madly. Carson dodged, and then crashed into someone, a woman from the shriek she let out. The stranger stumbled backward, her fall broken by a large, black plastic bag full of the debris Carson had swept up the previous week. The bag burst open and a cloud of plaster dust billowed up around her, coating her skin. The dog was going nuts.
"What the hell? Are you all right?" Carson reached out with one hand and covered his nose and mouth with the other. He had to shout over the barking. "Is that your dog?"
She nodded and the movement set off a storm of fresh coughing and choking.
"Here." His proffered hand was suddenly blocked by a mass of curly fur that quivered between him and the woman.
"Um," he gestured at the dog, eyeing its teeth.
The woman waved her hand wordlessly and the dog ceased the racket and the jumping. It held its ground, though, unhappy but obedient, while Carson pulled the intruder to her feet. As she coughed, she held her belly… Oh, God. She was pregnant. Considerably, definitely pregnant. And she'd wiped out on his property. Just watch, he thought with a sinking heart. She'll sue for injury.
Finally, the woman regained her breath. "Thank you," she croaked, then glanced at the dog. "Mistral, back off."
Instantly, the dog stopped hovering and contented itself with throwing filthy looks and the occasional guttural growl in Carson's direction. It was a guard dog crossed with a dust mop.
He looked at the woman and bit back a laugh. White powder clung to everything. Her hair looked like tufts of meringue. Her eyes and nose were watering freely, tears streaking through the white and mixing with makeup to form muddy drops that puddled on her chin. She blinked at him through eyelashes that looked as if they'd been dipped in flour.
"Sorry." He couldn't help smiling as he wiped plaster dust off her back. "That's what you get for trespassing."
She glared at him, and a chunk of plaster fell off her forehead. "I'm not trespassing."
He gestured vaguely toward her torso.
"You might want to…" He stopped.
But the woman looked down at herself and gasped, a hot flush of red staining her cheeks. A crucial button had blown off when she'd landed and her neckline gaped open, exposing her blue-and-white gingham-checked bra, from which a scrap of newsprint fluttered, proclaiming her to be New and Improv.
She pulled the edges together over her chest and turned away from him to hide the rest. She squeezed her eyes shut and the muscles in her jaw flexed as she gritted her teeth.
Carson cleared his throat and returned to business, forcing the image of her breasts out of his mind. "How many times do I have to tell you people? This place is not for sale."
The woman opened her eyes and pulled her head back a fraction, but when she drew breath to speak, dust choked her again. He watched helplessly as she rummaged through an enormous bag while hacking her lungs out. By the time she'd found a bottle of water and drunk enough to stop coughing, her eyes and nose were streaming again, and her voice had all but disappeared.
She opened a different section of the bag and withdrew a sheet of paper. With a plaster-streaked hand, she slapped it against his chest.
Carson looked at it and immediately felt the blood drain from his face. A rental agreement. Signed, sealed, and delivered.
He had a renter. A pregnant tenant, with a dog. On his ranch! The ranch that his father should have handed over years ago, long before that last stroke.
He opened his mouth but no words came out.
"So," she wheezed, "who's trespassing now?"
.
.
So I was eating my chicken a couple of nights ago, leafing through RT Book Reviews, the magazine for readers of commercial genre fiction.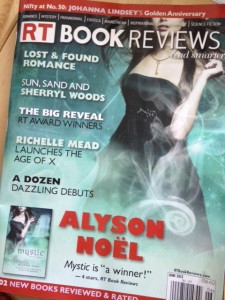 I'd gotten behind on industry reading because, well, I've got a book deadline, but I always get to RT eventually. I love to find out about new authors, new series, behind-the-scenes stuff and, of course, the reviews.
RT Book Reviews – formerly called Romantic Times, because it was the premier go-to place for romance reviews – now covers the gamut of commercial genre fiction: mystery, suspense, thrillers, mainstream fiction, paranormal, urban fantasy, erotica, young adult, inspirational, contemporary romance, historical romance and, of course, category romance – you know, those small series books by Harlequin.
There haven't been a lot of Entangled books reviewed in RT Book Reviews yet – after all, Entangled is only about three years old now. A baby. A fetus, in publishing years. But they've begun popping up, particularly in Urban Fantasy and Paranormal, and I like to keep track of what my "sister" authors are doing.
Anyway.
I glance through the sections where I've seen Entangled authors reviewed. Mainsteam, nothing. Romantic Suspense, nope. Oh, here's one! RT's young adult section, TeenScene gave Cecily White's PROPHECY GIRL four stars! I've heard great things about this Entangled Teen book. (And the editor, too!)
Moving on.
Nothing in Paranormal or Urban Fantasy.
I run my finger down the list in Contemporary Romance.  Oh, two Entangled authors this this month, that's good! Let's see… Gina Gordon's A TASTE OF TROUBLE, from the Entangled Edge imprint. Four stars again! Wow, it sounds like a great book. I'd really like to write for that imprint, too. (Mental note: download Gina's book asap.)
Now… who's the other Entangled author reviewed in RT this month… I run my finger further down the list… 
wait…a…minute…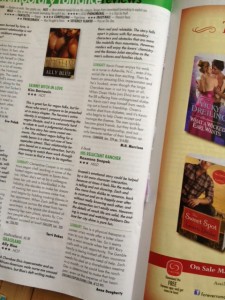 HOLD ON. THAT'S ME!!! That's MY name! The reviewer calls His Reluctant Rancher an
"…emotional story…" and "… pure fun."
I almost choked on my chicken. But let me assure you, I'd have died happy.