Today at Tote Bags 'n Blogs, I'm sharing one fitness tip and one recipe. (Just in case, I'll post it here too.) How great is that, being that it's the first week in January and we're all focused on starting the new year off right, and aren't yet depressed because we ended up eating the last of the Christmas fudge instead of throwing it out, like we told ourselves we would?
Anyway, I've promised myself for the past several years that I'd get more exercise, particularly yoga, which you'd think would be easy, because I love yoga and there are so many ways it's good for us. Unfortunately, going to yoga class involves leaving the house, a barrier many work-at-home-borderline-kleenex-box-slipper-recluses may recognize. Writing works the mind, but it's trash on the body. Yoga keeps me limber enough to create worlds like my latest Sunset Bay Sanctuary series. 🙂
But recently I discovered a great way to bring the yoga class to me, via apps! Whoo-HOO! All you need is a quiet spot with a mat or carpet, and your favorite device. You get the soothing voice of an instructor, pictures of someone in the postures and voila, you just follow the instructions to bliss and great abs. Or so I tell myself.
Here are the three I've found:
Down Dog has options for your level of experience, the kind of music you want and the length of practice. I've done it several times already and really like it. I'm using the free version so far, but there's also a monthly membership I might upgrade to, if I get bored.
I've also downloaded Yoga Studio. Billed as "The #1 yoga app for iPhone" this one has many more options, making it more customizable to your own needs. As it's only $3.99, I downloaded it but haven't tried it yet. Early days.
There's also All-In Yoga. As I love to have options, I downloaded the free version of this one on my phone too, because, why not, it's free. I haven't played around with this yet, to say whether or not I like it.
So far, my "do more yoga this year" resolution is going great, thanks to these apps. (You'll notice I kept my resolution fairly vague. It's the key to success.)
As for the recipe, it's called 5 Minute Magic Green Sauce and it comes from Lindsay of Pinch of Yum, to whom I'm eternally grateful. This stuff is amazing.
It's basically a pistachio-avocado pesto. Lindsay says she could eat it every day for the rest of her life and I GET IT. It's delicious! I've made two batches in less than a week. It's fantastic in salads, or as a dip for crackers or vegetables, or straight from the spoon. I'm eating it on toast for breakfast, right now, in fact. Here's the recipe:
5 MINUTE MAGIC GREEN SAUCE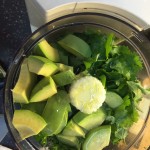 INGREDIENTS:
1 avocado
1 cup packed parsley and cilantro leaves (combined)
1 jalapeno, ribs and seeds removed
2 cloves garlic
Juice of one lime (or two – get lots of limey goodness in there!)

½ cup water
½ cup olive oil
1 teaspoon salt
½ cup shelled pistachios
INSTRUCTIONS:
Pulse all ingredients – except pistachios – in a food processor until incorporated.
Add pistachios and pulse until mostly smooth (depends on what consistency you want.)
Serve as a dip, spread or sauce – or add additional water or oil to thin the sauce for use as a dressing or a
marinade.
Lindsay adds that you can sub walnuts or almonds for the pistachios and it'll work, but she doesn't think the taste is quite as good. I *LOVE* the pistachio version; those babies are expensive but worth it for this stuff. (I suspect pine nuts would also work but I have no data to back this up at the moment.)
I mixed this Magic Green Sauce with cooked farro, spinach and halved cherry tomatoes for a hearty and delicious salad. You could use quinoa or couscous, probably and it would be just as good.
I'm with Lindsay on this: it's AWESOMELY YUMMY!
Anyone else have current favorite recipes or fitness tips to share? I'd love to hear from you!
Bikini season is coming. (That's right Starks of Winterfell, *summer* is coming.) But few of us are as emotionally tough as Brienne of Tarth who, tormented for her Amazonian physique, dons armor and becomes a great warrior.
I'll wager that most women, young or old, svelte or zaftig, tall, short or in-between, have felt insecure about their beach body at some point in their lives. Sadly there are some for whom body image is a constant, crippling influence affecting every area of daily life.
I once suffered body image issues, badly; ironically, I was much younger, thinner and fitter at the time. Now I'm older, wrinklier, saggier and I have the toned musculature of someone who spends much of her time sittin' and thinkin'. Plus, I've had three babies. You know what a balloon looks like when you let out the air? That's my belly.
But the strange thing is, I don't care nearly as much anymore. My body is a road-map of my life and every scar and line and lump tells part of my story. I'm healthy, average and normal (physically, at least. Mostly.) I've made peace with my shell. Mostly. And I'm grateful for what I can do with it. I look after it so hopefully I'll be able to keep on doing things with it for a long time to come.
So if you love summer and dream of soaking up the sun, like I do, don't let popular culture and media images defeat you. Here's a quick guide to finding the best beach wear for your body type:
1) Being able to see the back of your own thigh!
The downside: being able to see the back of your own thigh.