As you may know, it's been the Winter of Bread here in Chez Snopek. About a month ago, I watched a NetFlix documentary series called Cooked, based on the book by Michael Pollan. In the episode called "Air" he talked about bread. Well. If you know me AT ALL, you know I have a deep and abiding love of bread. Baking it, eating it, taking pictures of it, writing about it…
Talk about counter-culture.
With everyone so carb-conscious right now, bread is taking a real beating, so this episode was particularly interesting because it was talking specifically about fermented bread, ie: sourdough.
Which is a whole 'nother story. Fermented breads, it turns out, are very different nutrition-wise. (Keep in mind, I'm talking about fully-fermented, mostly or all whole-grain breads.) The nutrients in the grain are more bio-available, the long fermentation process autolyzes the bran, making it more gut-friendly, and people with diabetes report that sourdough bread doesn't cause the spike in blood sugar that regular bread does.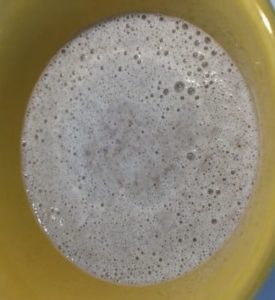 My spidey-senses were way up.
I've experimented with sourdough before. I've done the "friendship bread" thing, but those are loaded with ingredients like instant pudding and sugar, not what I'm interested in.
This, as Michael Pollan describes it, is the real thing. Whole grain flour and water, left out at room temperature to colonize with natural yeasts and bacteria from the air, until it ferments into a culture that can transform a sticky mass of flour, water and salt into those crisp, tangy, crusty, chewy loaves we all love.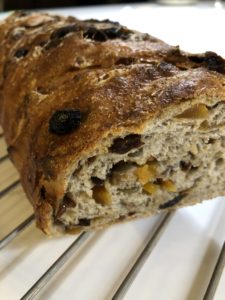 A culture. That sits on the counter.
Until it becomes this: sourdough fruit and nut bread. Yeah, baby. Now that's worth getting up in the morning for.
Then I read more. Oh, there's lots to read about sourdough. It's an Internet rabbit hole that a baker like me could get lost in for day after delicious day, and I have. Stick with me and I'll tell you about it. Or you could give one of these books a try.
I made my starter according to directions from The Il Fornaio Baking Book: Sweet and Savory Recipes from the Italian Kitchen
. The fruit bread recipe came from Artisan Sourdough Made Simple: A Beginner's Guide to Delicious Handcrafted Bread with Minimal Kneading
.
SURVIVING A LIVE-IN HOME RENOVATION PROJECT
It's the Year of Renovations, at Casa Snopek. Phase 1 was creating a small guest suite, complete with bathroom and kitchenette (sink/bar fridge/counter), which is where we're living while the rest gets done.The rest, meaning the kitchen, bathrooms, flooring, carpets, paint… really, it would have been easier to move.
Anyway. It all began in late July and won't be done until early December. Hopefully. Maybe. Don't really know.
That's a long time to be without a kitchen, folks. At first, it was fun eating take-out and fast food and checking out the local restaurants. But that's a) expensive b) dangerous for the waistline and c) tiring.
Now, I just want real food.
So I bought us an Instant Pot DUO60 6 Qt 7-in-1 Multi-Use Programmable Pressure Cooker, Slow Cooker, Rice Cooker, Steamer, Sauté, Yogurt Maker and Warmer
. I'm not exaggerating when I say that it's the best kitchen device I've ever had.
I LOVE this baby! The first day I made chicken soup – awesome – and rice pudding – the best I've ever made. This, my friends, is the way to survive a live-in home renovation project. Do you have yours yet?
Here's the .com link and the .ca link, for my Canadian friends.
!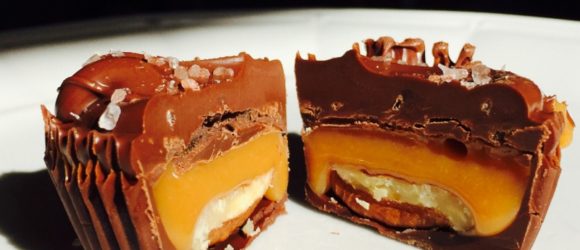 Maddie Cash, the beloved heroine of my latest book, THE CHOCOLATE CURE, adores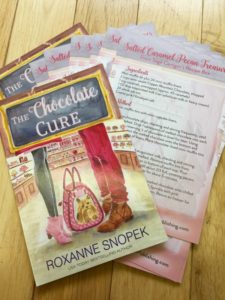 these delicious bite-sized treats. Each book in the Love at the Chocolate Shop series features a special treat, and as a gift to our readers, we've got recipe cards to go along with them! We give them away regularly on our Facebook page, so please visit us there.
In the meantime, here's the recipe for Maddie's irresistible treat. Enjoy!
Salted Caramel Pecan Treasures
You'll need:
Mini-muffin tin plus 24 mini-muffin liners
2 cups semi-sweet chocolate chips
1 cup caramels, unwrapped (approx. 45 caramels)
1.5 tablespoons evaporated milk (can substitute milk or heavy cream)
24 whole pecans
Coarse pink Himalayan salt
Fill mini-muffin tins with mini-cupcake liners.
Microwave chocolate chips, checking and stirring frequently, until smoothly melted
Drop 1 tablespoon of melted chocolate into each cupcake liner, reserving ¼ of chocolate in bowl for later. Using pastry brush, paint the melted chocolate onto the bottom and about 2/3 up sides of liners.
Place chocolate-lined mini-muffin tins in freezer.
Microwave caramels and evaporated milk, checking and stirring frequently, until smoothly melted.
Remove muffin tins from freezer. Place one whole pecan in bottom of each cup.
Pour caramel into chocolate cups until about 2/3 full, covering pecans completely.
Return tins to freezer for about 5 minutes.
Use pastry brush to paint remaining melted chocolate onto chilled cups, completely covering the caramel. Sprinkle with pink Himalayan salt while chocolate is still warm.
Return to freezer for about 30 minutes.
Enjoy!