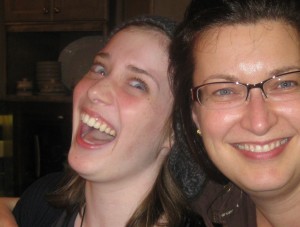 Our youngest, referred to herein as Potsticker, or Pik for brevity, shared the following joke with me this morning. (Her life is a barrel of bloody razor-blades. Just ask her.)
It's not original, so if you're the one who told it first, well, sucks to be you.
First-born child: "Mommy, why am I named Petal?"
Mommy: "Because when you were born, a petal landed on your head."
Second-born child: "Mommy, why am I named Rose?"
Mommy: "Because when you were born, a rose landed on your head."
Last-born child: "My favorite color is potato."
Mommy: "Shut the hell up, Brick!"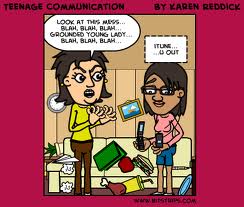 "I'm off to Lindsay's now," Pik says, on her way out the door. Nothing like a sweet summer day, and a friend with a pool.
"Keep your phone with you today, okay?" I tell her. She didn't respond to any of my texts yesterday, but she was at the lake and I figured they'd spent the day in the water.
"I will, Mom," she says with the careful deliberation one uses with the mentally disabled. "But my phone doesn't let me open your texts."
Okay, now I'm not the most tech-savvy, but even I know this doesn't make sense.
"What are you talking about?"
"I can see your texts, but my phone doesn't let me open them."
"Why not?"
"There's too many texts, I guess." It appears she's inherited her tech-savvy from me.
"Okay, your whatever-box is full. So you need to clear it out then."
"Yeah. But there's like, two-thousand of them. I don't have time."
"You still have to do it."
"I will."
"When?"
"I don't know!"
"But you'll answer me if I text you this afternoon?"
"I told you, I can't!"
"Well then why bother even taking your phone if you can't use it?"
"I can use it. I just. Can't. Open. Texts."
"So you could call me then, if you see a message from me."
"I guess."
"Awesome. Do that, then."
"Fine."
"Fine."
In a whoosh of hair and skirt, she flung open the door. "Bye," she snapped. Then, almost against her will, she added, "love you."
You have to smile. What else can you do?
I know I like cowboys. Always have. I love horses, too, even owned one for a short time. About 14 years ago, as a surprise birthday gift, my Mr. (Always)Right had some photos taken for me. Now understand, horseback riding isn't really his thing. He's what you might call a reluctant cowboy, but he knows my weakness, so he duded himself up with chaps, boots and hat, and found a friend with a cooperative horse.
For a touch of "bad boy" he even attempted to add a cigarette! (Of course, since he doesn't smoke, all the pictures are of him either coughing or laughing.)
Why am I talking about cowboys today? Well, (drum-roll please!) in August, Entangled Publishing will release my first book featuring, wait for it: a reluctant cowboy.
This book will be available in digital format only, at least initially, so if you don't have a Kindle or Kobo or iPad or Android… well, get into the twenty-first century buckaroo. It fits way better in a saddlebag than 43 paperbacks.