Some of you know we recently traveled to China. It was an amazing trip, but I'll spare you the blow-by-blow because we've all lived through slide shows of Uncle Morris's trip to Wisconsin as a kid.
But I will relate one story.
If you're… delicate… you may want to give this one a miss. Otherwise, here goes:
Everyone, it seems, is curious about the bathroom situation in China. So yes, we saw squat toilets. Yes, we used squat toilets, yes, we remembered to bring our own TP and yes we managed just fine. I'm also pleased to report that Western "potty" toilets were available in many places. Not the smaller tourist spots, mind you, so, ahem, scheduling is important.
Ah yes, scheduling. You'll understand me when I say that sitting in an airplane, traveling across time zones, eating different foods at different times, being sleep deprived and experiencing bathroom anxiety can all play havoc with a person's system. Schedules get disrupted. Sometimes schedules come to a complete halt. You getting me?
Now, we'd brought with us a small arsenal of pharmaceuticals, prepared for pain, sprains, coughs, congestion, motion sickness, dry eye, crowd anxiety, what have you. We assumed the worst-case scenario would be an explosive case of food poisoning.
Wrong. In fact, after several days of progressive… sluggishness… I would have welcomed a little salmonella. I finally admitted my distress to one of our travel companions. He's a doctor. I'll call him Dave.
"Dave," I said. "I have one goal today. It's the same goal I had yesterday and the day before and the day before that. Can you help me?"
"Sure." He handed me a packet. "Take this."
"What is it?" I asked.
"It's the stuff you take before a colonoscopy. Drink it before bed. It'll put you right."
Those of you who've had colonoscopies know where this is going.
"Dave," I said. "It's bad enough in the privacy of your own home. But while traveling? IN THE LAND OF SQUAT TOILETS?"
"Just take a little," he said.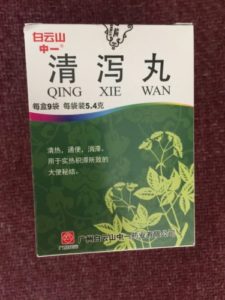 Which reminded me of when I went for pregnancy ultrasounds and they were running late and I'd drunk eighteen gallons of water that morning and the nurse, upon seeing my distress, gave me a little medicine cup and said, "Pee out a few tablespoons."
Except so very much worse.
Declining medical advice, my husband and I took to the streets of Beijing, looking for a convenience store. Surely there'd be some good old Ex-Lax out there somewhere, we thought.
Nope. We ended up in an herbal pharmacy, staffed by people who spoke zero English. We typed the word "constipation" into our English-Chinese translation app and the clerk understood immediately. She sold us a package that looked like this:
With instructions that look like this:
I was using a fabulous little app called Pleca, which works thusly: you hold your phone over the words you need translated and BOOM, you get the English version.
Decoding the translation requires a little effort, because the characters have meanings that depend upon the characters before and after them, so they could mean many things. Here's a partial snapshot of the box, as translated by Pleca:
My favorite part is the description, in small letters that you probably can't see:
"… for real hot product delay due to consumer lag…"
It's a lyrical language, isn't it?
The box contained eight packets filled with tiny red beads.
"Do I eat them?" I asked my husband. "Do I smoke them? Make tea from them?"
"I don't care," he said. "We have a two-hour drive to the Great Wall in the morning. This ends now."
So, I dumped them into a glass of water, shot it back like wormy mezcal, then lay down on the floor next to the bathroom and waited for them to work.
They did not.
But two hours later, as I was imagining the Chinese herbalists enjoying my method acting, and rethinking the colonoscopy prep idea, my dear husband, who'd happened onto a fresh fruit stand, saved the day by plying me with fructose and fiber. Consumer lag ended shortly thereafter and life returned to normal.
Life isn't a box of chocolates, my friend. It's a very large bag of cherries.
♥
For bonus material, including giveaways, sign up for my newsletter.
As many of you already know, our 13-year old miniature poodle Myshkin slipped on the icy steps last week and came up lame. Not just a little lame, but three-legged, no toe-touching, time-won't-heal-this-owie lame. We were pretty sure it was a ruptured cruciate ligament, which for best healing, requires surgery. Especially in an old dog.
Worrisome but okay, we'll do what we have to. He's our boy.
Here's the bit I didn't post about last week. When we did the work-up to make sure Myshkin was healthy enough for surgery, x-rays showed a suspicious mass in his abdomen. My husband, also known as Dr. Ray of Ellwood Park Animal Hospital, naturally errs on the side of caution when it comes to our own pets (wise man that he is) and referred him for ultrasound. We agreed that, if Myshkin's got a malignancy, we wouldn't put him through knee surgery.
But oh, that would have been so awful. Our sweet boy.
I know I have to be prepared.
He's a 13-year old dog, after all. I'm not totally delusional. But still… he's a healthy, fit old dog… active…happy… loved… and turns out I'm not as prepared as I thought…
So yesterday, we went to our fantastic referral center, Boundary Bay Veterinary Specialty Hospital where the lovely, kind and very thorough radiologist Dr. Alex Bratton proclaimed Myshi to be in excellent health, no tumors, just some weird anatomy that warranted investigation but is not what we feared. Thank you Dr. Alex!
Then, with about ten minutes notice, surgeon Dr. Geoff Hutchinson – same doc that put Gemma back together after tangling with the coyote last winter- adjusted his schedule to get Myshi in THE SAME DAY, to fix the knee. Dr. Geoff added an extra procedure to his already fully-booked day, and we're so very grateful for his kindness and generosity!
Then, it turns out that the vet tech assisting Dr. Geoff in surgery that day was a young woman did her practicum and first few months of practice with us! I was very sad to lose Jenna as a staff member because she's excellent at her job… but I couldn't blame her for taking a position at a referral center. I'd have done the same thing at her age. And then she ends up caring for my dog! 🙂 Thank you, Jenna! Boundary Bay overlaps with the Animal Emergency Clinic of the Fraser Valley and we're endlessly grateful to everyone, from reception staff to the technicians and assistants to the doctors. You guys are the best!
The surgery went well – Dr. Geoff found that Myshi had torn his meniscus as well as his cruciate. (If you're gonna wreck it, wreck it good, I suppose.) Myshi's home now, sleeping the sleep of the well-medicated. He'll be confined to crate/closet for the next week at least, and we'll be carrying him up and down stairs, but we expect him to return to full mobility.
Our sweet boy isn't heading for the rainbow bridge yet and we'll be cherishing every day he has left.
On a pragmatic note, may I put in a plug for pet health insurance? You might think that, with a veterinarian as a husband, vet bills are not an issue for us. That's mostly true. However, we carry health insurance on our dogs exactly for situations like this, where complicated conditions require diagnostics, treatments or surgery by board-certified veterinary specialists. These highly trained elite professionals are worth every penny – but those pennies still add up. Insurance means we don't have to make a difficult decision about a beloved family member for financial reasons.
We use PetSecure, "Canada's Pet Insurance" but there are many companies, with many tiers of coverage. Ask your veterinarian for a recommendation. (I get no kick-back for this, in case you were wondering. I just know that it prevents a lot of heartache and stress.)
Please, don't wait until it's too late. Take it from me, these things happen without warning.
So you know how you go to the mall for shoes sometimes and end up buying a couch? Well that happened to us recently. To be fair, we'd been toying with the idea for a long time. A long time. Because you know, there's always a better use for the money, right? Anyway, it all started in the Bay, when hubby went to the bathroom.
I'm in line to buy a housecoat to replace the one that got amniotic fluid on it when I was in labor with baby #3. (She's in second year university now. Don't worry, I washed the housecoat.) Hubby texts me. Meet me in furniture. Ah yes. You have to go through the furniture department to get to the washrooms.
Be right there I respond. Shouldn't be long; there are only two women in front of me. The first one has three bras from three different tables and one second AFTER the cashier completes the sale, exclaims, "Hey. They're supposed to be on sale."
"Sorry," says the cashier. "The ones ending in .98 are excluded."
"That can't be right," says the woman and proceeds to usher the cashier to the various tables, arguing with her about it. This goes back and forth for awhile.
You coming? texts hubby. I want to show you something.
Seen it I respond.
No, not that. It's a couch.
The woman with the bras is considering whether or not the $2.50 is going to make or break the deal. She goes with break and stalks off, affronted.
"Wait!" calls the cashier. "I need your credit card to void the purchase!"
A chase ensues.
A few minutes I text.
Hurry he responds.
They get rid of the bra-less wonder, finally, and what do you know. The next one is using a gift card that may or may not have expired.
On my way I tell him. The tide turns. The gift card works. My housecoat is on sale. All is well in my world.
We cross paths on the escalator, he coming down to find me, me going up to meet him. He leaps the divide and drags me over to this enormous Natuzzi sectional.
"Sit," he says. "Isn't it comfortable?"
"You win the lottery?" I ask, running my hands over the buttery-soft leather.
It's solid, big and gorgeous, just the kind we've been drooling over forever – and way, waaayyy more than I want to spend. Ever. For that money, it should have wheels.
"Look," he tells me, pointing to the tag. "Half price."
Okay, I'm impressed. But it's still more than I want to spend. But he has a triumphant, hopeful expression on his face. He takes me over to another sectional. It's disassembled, so it looks a bit sad, but it's exactly the same as the one I just sat on.
"What?" I said. "It's the same one. Still too expensive."
He points to a teeny, tiny scuff mark. "See that? Twenty percent off the sale price. The sale price!"
Whoa.
We go home, take some measurements, think about how to rejig the room. And yup, two days later, it came home. We spent the day moving stuff, reorganizing and cleaning. My back hurt but you know what? I got to alternate hot and cold packs while sitting on an awesome new couch!
What do you think?