The brilliant author Nancy Robards Thompson​ recently issued a #100DaysofHappiness challenge and I'm taking her up on it. If you've been following me for a while, you might recall my 100 Days of Bikram Yoga challenge, where I not only did 100 straight days of Bikram yoga, but I blogged about it most days as well. 100 day challenges apparently work for me.
So here's my entry for Day 1.
As some of you know, our youngest daughter left for university this past weekend, leaving me a little… forlorn. Motherhood has been my primary identity for well, most of my adult life. Natural childbirth, breastfeeding, homeschooling, the works. Attachment, baby. All the way. Plus, I'm a Scorpio. We grab on. Tight. (Mama Doesn't Share Food!!)
Which was all great. Until now when my primary task IS to let go.
Some things were easier when our girls were smaller. For instance, we could tuck them into bed, set the alarm and know they were safe. Some things were almost unbearably sweet: the fresh-from-the-bath smell when tucking them into bed. The full-belly laughter. The innocent, wide-open trust in their eyes. The hand-holding.
But there was lots to counteract that easy sweetness: screaming fits, hours-long bedtime rituals where I just wanted to spray them with Nap-Time (come on, you've thought about it too!) not to mention the power-struggle between 30 pounds of arched-back fury and a non-negotiable car-seat. In the dreaded mommy-van.
As our daughters have grown into independence, I've morphed as well. But this milestone, last chick launched, is forcing me to evaluate my life and goals. The Next Stage of my life is here. How do I want to play it? (And for the last time, Honey. Naked Wednesday is NOT a thing.)
So this is my Day 1 of Happiness: I've got a wide-open world ahead of me, with three fantastic adult children and a husband who loves me even when I get broody and existential. I've got a career I love, with readers who remind me that exploring the landscape of relationships through fiction is important. I've got excellent friends who also love me, despite my neuroses, or what I call The Adventures of Roxanne's Brain.
Change can be hard. But life is very, very good.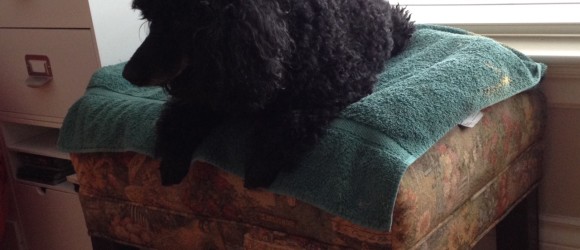 I'm happy to report that my poor doggy is feeling better. He's trying to hide it, though. He's deeply conflicted and seems to want to pretend he's not here, as any attention from us ends up (in his mind) with a needle, a pill being shoved down his throat or a finger poking his behind. He seems to forget about those eggs I scrambled for him yesterday.
He's not entirely rational.
However, since he's now going up and downstairs at his usual pace (I had to carry him for awhile. Yes, it was pathetic.) and willing to snooze in his usual post by the window (I've got the bedroom door closed, so he can't get to his Crate of Denial), I believe things are on the up-and-up. Now, if only we can get him eating actual dog food again.
I've had to start facing the difficult fact that, at age 11, Myshkin is well into his senior years. A Miniature Poodle, he's sturdy and strong, a great example of the breed. He's also super masculine, nothing frou-frou about him. (Except the neuroses, but I'm not one to judge.) I always told Dear Hubby that it was his job to make sure Myshi lives forever, or at least until 20. Toothless, blind, wheelchair, diapers, I don't care.
It's not so funny anymore. And I don't want him to be toothless, blind, in a wheelchair and wearing diapers. No one wants that. I won't let him live in misery. I don't even want to think about that. Not yet.
Three years ago, we lost three of our four cats within a four-month span. It was horrible. I haven't written about it because, well, it was horrible. Mylos, our 14-year old orange tabby male shorthair, had been diabetic for several years, though we managed to get him into remission twice. He was a wonderful, cooperative old boy, but once he developed painful complications, we had to make the decision.
Tabitha, our oldest daughter's 16-year old silver-grey tabby female shorthair, lived with kidney failure for a long time, despite being difficult to treat. Graceful, with an incredibly luxurious coat, she was a dignified, rail-thin old lady, who would have simply faded away. We tortured ourselves about her; she wasn't in pain, exactly, but eventually we had to make the humane choice.
Sophie, my favorite (Not really. But sort of.) was our middle daughter's bombshell calico/tortoiseshell longhair. Healthy, perky, sociable, her death was the worst. One day, with no warning, she became unable to walk. X-rays revealed an enormous abdominal mass, impossible to remove surgically. As the youngest (we think, she came to us as a young adult) we were completely unprepared, and the loss hit hard.
Now we have Bryan (he came with the name), our youngest daughter's big, tough orange tabby who doesn't miss the rest of them at all, and is pleased to have us all to himself. At 14, his health is pretty good, but still. He's 14.
It's a fact of my personality that I tend to hold onto things. You know, old magazines, children, grudges, stuff like that. It's not easy for me to let go, even when it would be better for all if I did. I blame my Scorpioness. Also, my brain.
And I hate that in this stage of my life, loss could strike at any time. And not just my pets. I'm thinking of putting my mother in bubble-wrap and giving my dad an "I'm Fine is Probably a Lie" forehead tattoo. I'm just glad they're near enough for me to intervene when they decide to fall off sidewalks and explode their organs. I'll refrain from including photos. But I've got them, parents. Remember that.
Love is sharpened by the awareness of loss. I hate that, but I must accept it.
Now it's time to check my dog's bum. Thank you for your time.
The Best Things About Sweet Romance
You've caught that bug. The Virus. You know the one. It's been going around, the "common cold" germ that sets up shop inside your body like rats in a condemned building, leaving you to spend your nights hacking up your lungs, trying to breathe through the pin-hole that is your "good" nostril, swigging the four-years-past-due-date cough medicine you found at 2 am, wondering how long it would take for your family to notice your dead body on the bathroom floor.
The virus your doctor tells you with a gentle smile is "just a cold," inciting a deep desire to French-kiss his eyeball and see how he feels about it then.
You know, of course, that there are a gazillion people with "real" illnesses and problems far worse than yours. And after seven-to-ten days, once you've more than a sliver of mucus-free brain to work with, you'll be ready to take on the world again.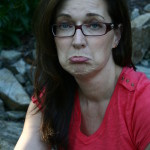 For now, though, you need happy, healing thoughts.
And would it kill someone to bring you a cup of tea, maybe a hug? Care? Just a little?
Whether it's a bad cold or a bad day, a break-up, or a break-down, a flood, a fire, a flat tire, we all go through times when we're running on fumes and what we need most is to surround ourselves with happy, healing thoughts and feel cared for, just a little.
For me, the answer is full-on immersion in a fictional world that's bright, pretty, kind and most of all, hopeful, ie: sweet romances. Such stories don't pretend the world is some magical place of utopian, possibly narcotic-induced hysterical perfection. But the focus is on the light, not the dark. On overcoming, not suffering. A fresh breath at dawn, not the midnight congestion.
Tender romances gently remind me that I too, can get through hard, lonely times, that I too, can overcome my flaws and be a better person, that a smile, a hug, an embrace, can make a world of difference, for the giver and the receiver.
That I too, can survive this virus and go on to lead a full, normal life.
Sweet love stories: a literary cup of happy, healing tea.
I'm feeling better. How about you?