Or Why I Hate Technology.
So last week, I started having some trouble getting online with my desktop computer. This is my main brain, and the fact that I'm so dependent on something I understand so poorly makes me very uncomfortable. Paranoid, even. Technology bothers me, like a splinter in my mind.
Then the new printer quit.
Then none of the networked laptops could get online.
It was horrible. Like being dropped back into the seventies, onto a big black dial phone that won't stop ringing. I couldn't Tweet or Like or Share. I couldn't even send an email to explain that I Couldn't SEND AN EMAIL. So now that I can again, I thought I'd explain to those of you who follow me (yes, both of you!) why I disappeared temporarily.
I did all the usual things to fix it: restart computer, unplug and replug router, push buttons on modem, bang hands on desk. Nothing worked. So I sent an urgent Hail Mary SOS to Morpheus, our computer technician. After two hours – and this guy is good – he shook his head and said Something Very Bad and Unusual Occurred and you may be Totally Technologically Screwed. Apologies for the jargon.
Yay. Did I mention that our old cordless phones have 3 seconds of charge, making them useful only for screening our vacation winnings, and that I communicate almost entirely by email? (Of course I use Pinkie, my iPhone 4, but she lives a fairly sheltered life. I don't want to stress her out.)
So the next morning, I put Pinkie on speaker and called my internet service provider. After about an hour of clicking and pointing and whatnot, they told me "everything's JUST FINE on our end. It's your router." So I followed the White Rabbit…
…to the router customer service number. I attempted to interpret the polite instructions of our call-center representative. I have to say, she pulled out all the stops. But after another hour of various machinations, including standing in the closet, plugging a five-pound laptop into the too-high router, with a too-short cable, then balancing it on my shoulder, while my daughter typed in commands above her head, all she could tell us is that "it's not us. It must be them."
So I called my provider back. I think they could hear my eyes spinning over the phone because they hastily agreed to send a technician out first thing in the morning.
Long story short, after replacing the modem, the router, a bunch of cords and plugs and whatnot, it was discovered (not by me) that a cable doohickey from 12 years ago had cracked or something.
So everything's just fine.
Well. Something won't stop twitching in my forehead. But at least I'm online again.
We see deer in our neighbourhood often. But it's always a lovely surprise to see them close-up. Mama Deer is actually watching them from our patio, but I don't know this yet.
Oh wait! There she is!
It really sucks taking photos through a window. But if I draw attention to them by a) saying "Look! Deer!" or b) Opening the door for a better look, I'll tip off the dogs, who will promptly lose their teeny-tiny minds. And the deer disappear. Disdainfully, after a few moments of teasing them. "You?!? Want to chase us?! Good luck."  So I quietly take photos through the window with my iPhone.
Mama? Wait up!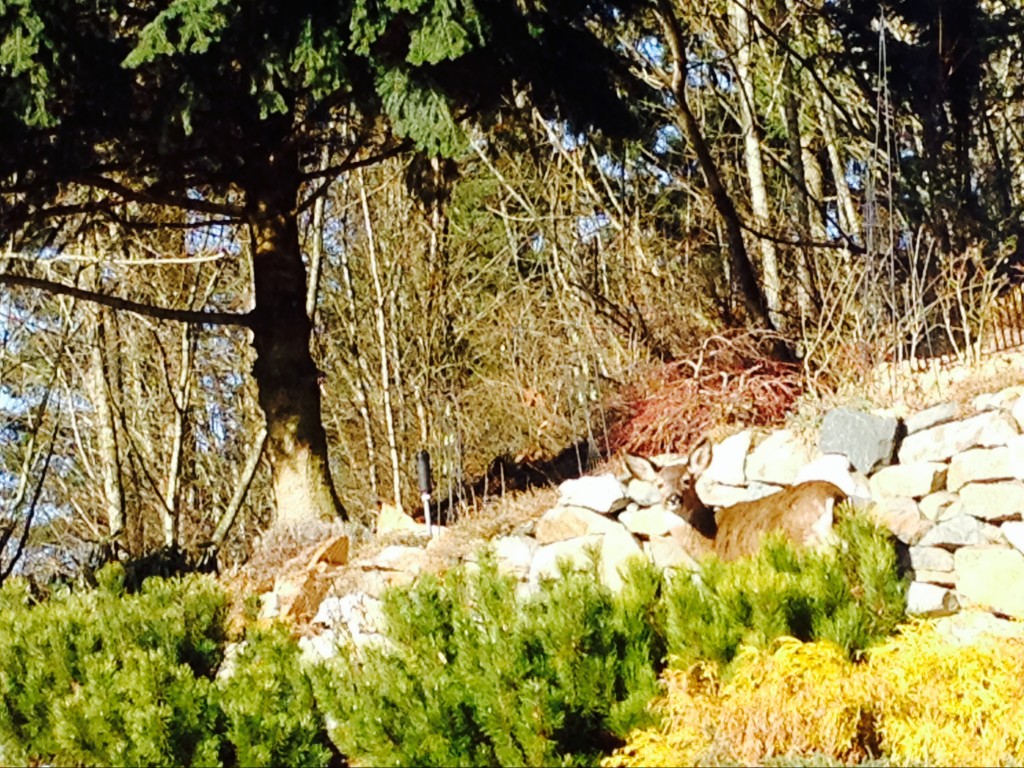 Who's there??
Never mind. I have an itchy bum.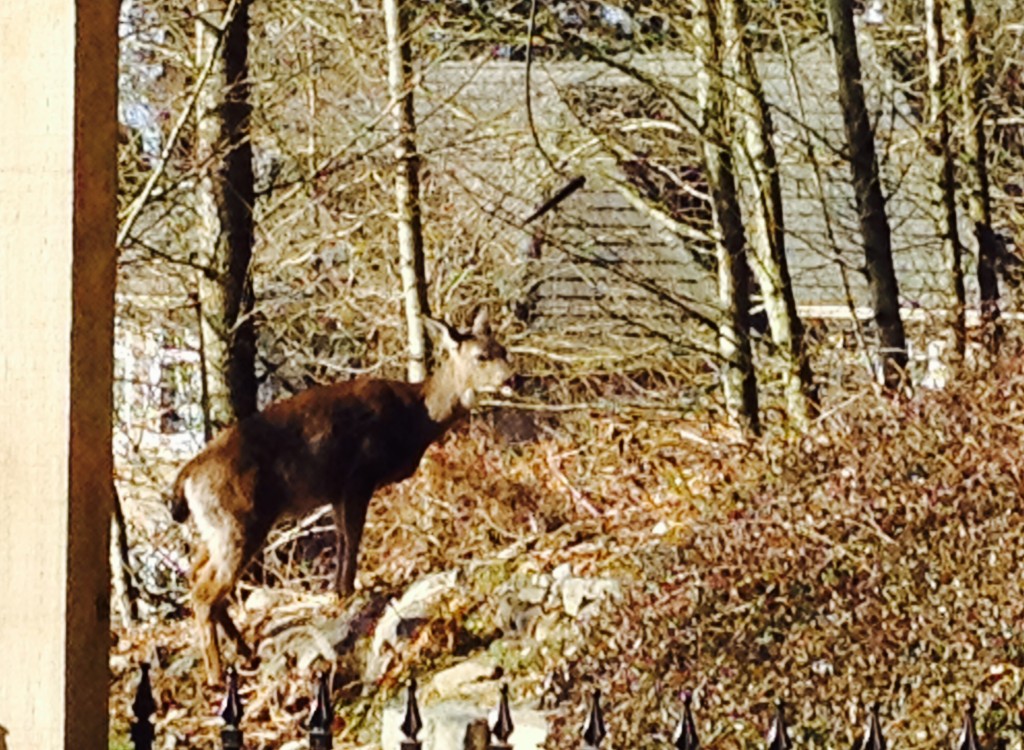 Kids. Let's go. Bye. I'm leaving now. Seriously, I'll go without you. I will.
And enough with the bum already! You have a tapeworm. Deal with it.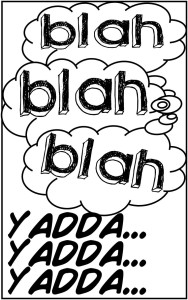 Tomorrow is the start of another NaNoWriMo. During National Novel Writing Month people from around the globe commit to writing 50,000 words in a brand-new project, in 30 days.
They don't have to be 50,000 good words. The idea is to just pull the cork and see what spills out.
I wasn't going to participate this year. I've been burnt out, exhausted and very near the dreaded writer's block that I've always claimed doesn't exist. However, this year's NaNoWriMo event falls during a Mercury retrograde – in Scorpio. Which means that this year, there might be some pretty powerful stuff pouring onto the page.
Here are a few tidbits from Maria Desimone. Read the full essay here.
What are we hiding from our own consciousness? What are we afraid to admit to ourselves? This Mercury retrograde phase promises to ferret it out of us and deliver a chance to reconcile with darkness in our lives that we either truly don't see or have tried desperately to sweep under the rug.
I'm a classic rug-sweeper, a deny-er, a smoother-over-of-conflict. And dang it all, there's no great, nail-biting, stay-up-all-night books without it. You see my problem.
So, what if I use the next few weeks to explore that pulsating darkness within, lance that poisonous mass in a dramatic Alien meets One Flew Over the Cuckoo's Nest gesture of literary defiance? (FYI: we in the biz call that previous sentence Purple Prose. Don't do it.)
Karmically, the universe is screaming at us to open wide and swallow the nasty medicine that will give us a new perspective. The nasty medicine is the uglier part of your life … the part that you might take great pains to hide from others. From yourself.
To up the ante, I'm also at that stage of life where my developmental tasks include taking stock, reviewing and adjusting goals, facing the fact that even coconut oil and psyllium husks can't turn back time and that yes, that is my ass now. Naturally, I've been avoiding this inventory-taking.
 Once you call yourself out on it something powerful will happen. You will be unrestricted from the grip that this darkness holds over you in your life.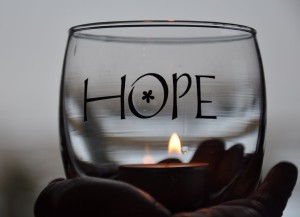 Best case, I emerge better, stronger, faster. Worse case, I've got another lavender-hued pile of schlock on my hard drive.
What the hay. Where do I sign?