So, some of you know that I've been struggling with issues with my shoulder-back area. It's a chronic sitting thing. The disease of our age, I suppose. Who hasn't had trouble of this kind, I ask you? First-world problems.
Nevertheless, imagine a cramp in your calf (is that what they call a charley-horse? I've never known for sure.) but instead of your calf, it's under your shoulder-blade somewhere, deep inside. And it doesn't stop. A knife in the back would be a kindness but where's an enemy when you need one?
After one bad episode in fall that abated – more or less – with prescription meds and time, I got another one about a month ago. What freaked me out this time was that exercise, ie: yoga MADE IT WORSE! Went to my clinic again, with very low expectations, I might add.
But to my surprise, the doctor I got this time not only took me seriously but sent me for a battery of tests to rule out, among other things, cardiac problems. (Post-menopausal woman with a panicky look in her eye and radiating back/chest pain… hm.) Then, he sent me for something called Intra-Muscular Stimulation, aka Dry Needle Therapy.
That knife in the back I was looking for?
Found it.
Gotta go. Limiting the time I spend at my desk is part of my therapy. Come back soon, I'll tell you more then. In the meantime, is there a therapy that's worked for you to counter chronic back pain? Please, share!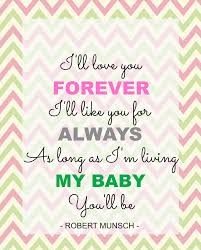 Yesterday, while picking up a few things for our daughter's garden wedding next month, I happened to come across the Robert Munsch book Love You Forever. I stopped in my tracks in the Wal-Mart stationery section, scrambling to hang onto my tub of Miracle-Gro, fresh bottle of Advil, Miracle Revitalist face cream and Hello Kitty pajama pants.
There it was, the book that made me cry when I read it to our babies, staring at me the month before our first baby's wedding. Yup, that's me, bawling in Wal-Mart.
If you have children and a heart in your chest, read this book. You could read it to your dog, too. But bring tissues. (And buy the hard copy. This is not an e-reader kind of book.)
1) Being able to see the back of your own thigh!
The downside: being able to see the back of your own thigh.