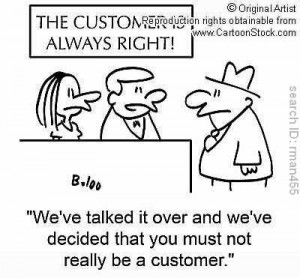 So, I was in the pharmacy line-up the other day. I wasn't picking up a prescription, and it wasn't urgent, so I could have gone through the regular check-out, but after a few moments, my curiosity was piqued. The woman ahead of me sounded like she might give me some material and boy, was I ever right.
Just think: pharmacists go to school for this…
WOMAN: (middle-aged, matronly) Hello? (banging on bell)
PHARMACIST: (young, earnest, harried) Yes, how can I help you?
WOMAN: That girl told me she'd get my pills, and then she disappeared.
PHARMACIST: Let me take a look. Hm. (Picks up the bag on the counter.) These?
WOMAN: No, not those! I've already paid for those. A different one.
PHARMACIST: I don't see them here. When did you drop it off?
WOMAN: I didn't drop it off, I called it in.
PHARMACIST: Oh. Did you tell her that?
WOMAN: I don't know! Are they here?
PHARMACIST: When did you call it in?
WOMAN: Earlier today. Or maybe yesterday. Is that important?
PHARMACIST: Here we go. Thyroid medication, correct?
WOMAN: Yes! Good, I need my pills. Here, I forgot some other things, too.
PHARMACIST: Certainly. Do you need a bag for five cents?
WOMAN: No. I'll pay debit.
PHARMACIST: That's a credit card, Ma'am.
WOMAN: Oh. (switches cards, fumbles with machine)
PHARMACIST: It's a chip card, Ma'am. You'll have to insert it at the bottom. (ahem) The other way. (pause) Let's try again. It looks like a PIN error.
WOMAN: This isn't working! I'll pay cash. (exchange of bills and change)
PHARMACIST: Here you go, have a nice day. (reaches for the ringing phone)
WOMAN: Wait. You forgot my shampoo. (removes it from behind her other purchases)
PHARMACIST: Of course.
WOMAN: I'll pay debit again.
PHARMACIST: That's a credit card, Ma'am. And you'll have to turn it around so you can insert the chip – the little shiny square – into the machine. The other way, Ma'am.
WOMAN: So complicated. There we go. Oh. (Looking down at her prescription while pharmacist prints receipt). Wait. What's this? It says here that I have to take this twice a day.
PHARMACIST: Yes?
WOMAN: I can't remember that! How am I supposed to remember that?
PHARMACIST: One in the morning and one at night.
WOMAN: But I only take my pills in the morning! And, oh, what's this little label? "Do not take within four hours of eating." I've never seen this before. How am I supposed to do that? I can't skip breakfast!
PHARMACIST: Well, maybe you could take your pill a little earlier? Or eat breakfast later?
WOMAN: I get up at 7:20 and I eat breakfast at 8.
PHARMACIST: If you could hold off eating until 9 am, that would probably be enough.
WOMAN: But it says four hours! That's not four hours. I don't understand.
PHARMACIST: It works best on an empty stomach, so the closer you can get to four hours, the better.
WOMAN: And look! "Do not take with dairy products." I eat yogurt for breakfast! When did this happen? Why can't I have dairy products? Does this mean my thyroid pills aren't working?
PHARMACIST: (looking anxiously at the ringing phone) It's a matter of optimal absorption, ma'am. It's a standard precaution. Milk products, vitamin and mineral supplements, they should all be taken separately from prescription medications.
WOMAN: Wait. VITAMINS TOO? I always take my vitamin pill at the same time as my thyroid pill! At breakfast! With my yogurt!
PHARMACIST: Perhaps you could take your vitamin pill at night, ma'am.
WOMAN: How am I supposed to remember that? How do I even know my pills are working? Maybe I'm wasting my money?
PHARMACIST: Your doctor will check your thyroid levels and change your dose if necessary. She'll probably want you to be on it for a few weeks, first, though. When did you start the medication?
WOMAN: 1996.
PHARMACIST: (pause) You should be fine, in that case.
WOMAN: So I can take it with my breakfast, then?
PHARMACIST: (gathers her patience) The longer you can wait, the better it'll be absorbed into your system. If you can avoid dairy products and supplements, it'll be absorbed better into your system. You'll have the most consistent results if you take it twice daily, twelve hours apart.
WOMAN: Twelve hours? What? I've never heard this before. Do I have to set an alarm?
PHARMACIST: (eyeing the line-up nervously) Morning and night, ma'am. Before breakfast, and before bed.
WOMAN: Oh. But you said not within four hours of eating. (counting on fingers) Am I supposed to get up at 3 am in the morning to take my pill?
PHARMACIST: Ma'am, if you took your pill the moment you woke up, and then waited as long as possible to eat, that would probably be fine.
WOMAN: So I can still have yogurt?
PHARMACIST: (helplessly) Ma'am? Perhaps you should talk to your doctor.
WOMAN: Oh, I'm not worried. (laughs) I've been doing it this way since I started, after all.
PHARMACIST: If there's nothing else then…
WOMAN: Oh, actually, I need toothpaste, too.
PHARMACIST: (facilitates transaction silently, but with extraordinary speed) Have a nice day then.
WOMAN: You know what? I think I need a bag, after all.
PHARMACIST: Of course you do.
WOMAN: Let me see if I can find a nickel.
PHARMACIST: Don't worry about it. Here's a bag. On the house. Good-bye ma'am. Can I help the next person in line? PLEASE?
Alright, strictly speaking, I shouldn't have eavesdropped on the conversation, but, really, would YOU have walked away?