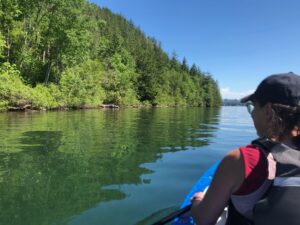 Our first time kayaking this season! It was chilly to start, but ended up being a perfect morning. See how placid the water is?
To our surprise, we weren't even sore afterward. We'll definitely be doing this more often!
Includes all four e-books in the Wild Sky Romance series:
Volume 1: Montana Dawn
Volume 2: Wild Sky Redemption
Volume 3: Wild Sky Treasure
Volume 4: Wild Sky Healing
Wild Sky Redemption: Just released in paperback from Amazon!
"…epic and endearing… pick up this one. You won't regret it." – Cary Morton, Amazon
"…a heart-wrenching but amazing feel-good read that's hard to put down." -The Romance Reviews
"Ranches + Romance = Montanan Approved! Loved it!" -RhiReading
Montana Dawn: Also available in paperback from Amazon!
"… a fresh voice that will appeal to fans of Mallery, Higgins and Gibson…" -BW, NetGalley
"Ms. Snopek's style is wonderful and so easy to read…" -HarlequinJunkie
"…. thoroughly enjoyable… strong, warm characters who come to life on the page." 
-NYT & USA TODAY Bestselling Author RaeAnne Thayne
Today's Love Note:
My Love Note for today goes out to Shari Drehs Bartholomew who I can only call a SUPER-READER. She's one of my earliest fans, and while she has a long career as a Registered Nurse, her real passion is reading.
Shari knows as much or more about this genre as anyone and she's earned that knowledge by not just how much she reads, but by how she connects with authors. Shari participates in on-line author events, she's a thoughtful and consistent reviewer, and here's the kicker: she spends her vacation time traveling to various author and reader events, collecting autographed copies, and even giving gifts to her favourite authors.
I was lucky enough to meet Shari in person at the 2018 Romance Writers of America conference in Denver, Colorado, where she surprised me with coasters laminated with two of my book covers! (I put these in a Safe Place for the move… and haven't unearthed them yet, or I'd show you, <headdesk>)
And it wasn't just me; she made gifts like this for all her favourite authors, carrying them around with her until she had a chance to present them personally.
Thank you, Shari, for being a sister book-lover. I'm so glad I got to share a hug with you in person and can't wait to see you again!
The Covers Shari Chose:
These two books fit into my Montana Home series, as well as the Love at the Chocolate Shop series. You can see why she chose them, right? I think they're the prettiest covers of all my books.
That's it for me, my friend. Until the next Love Note from the Lake… stay well and happy reading!
-Roxanne
roxanne@roxannesnopek.ca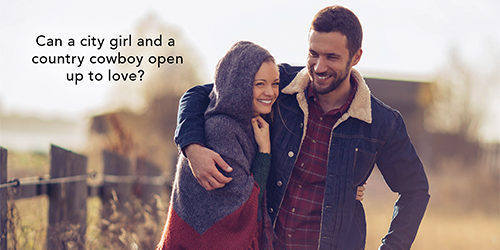 Winter has hit the Pacific Northwest with a vengeance. While I was shoveling the driveway for the third time yesterday, I suddenly thought of a scene from HIS RELUCTANT RANCHER, an earlier book of mine, in which a city girl ends up on a Montana cattle ranch in the depths of winter.
Here she is, riding on a snowmobile for the first time. (And where I create a word used nowhere else in literature. I hope.) Enjoy Throwback Thursday!
*
Damn her and her big mouth.
And her vanity. She shuffled her feet on the running board of the snowmobile, praying she wouldn't fall off, wishing she could get better purchase on the narrow skids.
"How you doing?" Zach yelled, his words whipping away in the wind. Des tried to answer, but she couldn't move her lips. She couldn't feel her cheeks. Or her eyebrows. Or her toes.
She'd begun the trip holding on to the bars at the side by her thighs. But when Zach opened the throttle, the speed had thrown her backward and she'd grabbed his waist instinctively, locking her hands together and burying her face against his back. Once there, she was unable to change position. Now, her arms might as well have been frozen in place. Even if she wanted to say something, she feared her lips would not be able to form the words.
The rumble of the engine beneath her and the nearness and position of Zach's body between her legs created a distracting reminder of the sensuality that sparked between them. It was frustratingly inconsistent; sometimes, she'd swear he was deliberately antagonizing her, but
other times, she saw the same old heat they'd generated the first time they'd met. He was not immune to her, no matter how he tried to hide it.
Zach pointed toward a ridge, shading his eyes against the sun. Des turned her head, blinking, feeling as if her bones had frozen in place. Her nose tingled. She probably had the mother of all danglers hanging off it, but unless she wanted to risk her life for a one-handed swipe, she was stuck with it. God. Zach would die laughing.
She looked where he pointed but saw nothing. Thank goodness she was wearing her sunglasses, or her eyeballs would be iced over, too.
"I'm going to circle around them," he said, yelling over the engine noise. "It's a bit of an angle, so hang on."
When he turned his head, his mouth was disturbingly close to hers. She saw the rough stubble on his chin, the sculpted plane between jaw and cheekbone, lips open with exertion, the way they would be, she thought suddenly, when he made love.
"Okay," Des yelled back. Or tried to. The sound that came out squeezed past lips frozen and sluggish, from a throat thick with phlegm.
Oh yeah, she was quite the seductress.
When he rounded the side of the ridge and began the steep climb, Des felt him shift his weight, to compensate and remain balanced. His hip pressed warm and firm against the inside of her thigh, sliding easily over the leather. She tried to do the same, but her butt didn't slide. She gave herself a push off the rubberized running board, but her foot slipped. Her fingers lost their grip on each other and slipped apart, despite her conscious effort to keep them locked. In slow motion—or so it seemed—she broke away from Zach and the machine.
Before she knew it, there was only cold air under her.
Des saw the horizon do a complete turn before landing on the soft snow, bouncing once and plowing to a stop.
Vaguely, she heard Zach yelling her name. Snow rasped over her skin, filling her mouth and eyes. She gasped for air, coughing and spitting, her teeth aching. Her sinuses were on fire, and between the cold and the shock and the glare, she could barely see. Her sunglasses had gone AWOL.
Zach crashed through the snow and knelt at her side.
"Des? Are you okay? Don't move. Can you talk?"
She struggled to sit up, to make some kind of response, but she might as well have been swimming in syrup. Her limbs were so cold they weren't obeying properly.
She finally managed to sit up and rubbed a glove over her face.
"I'm fine." At least the snot-sicle was gone.
Zach had been right, damn him. And now that he could see she was in one piece, his concern fell away. "Damn, Des, don't scare me like that."
"So sorry," she paused for a sneeze, "if I caused you any discomfort." She managed to get onto all fours, but then one boot slipped out from under her and she went sprawling again.
"Hey, Princess?" He didn't even try to hide his laughter. "You're gonna have to work on your dismount, but I'd still give you a solid five out of ten."
The dog lay in the back of the chain-link run, his head on his paws, his eyes deep and soulful. And hopeless. He was bigger than she expected. Dirtier. Stinkier. Sadder.
"Oh, my," Lily said. "What's his name?"
"Valentine," Ariel replied. "He was a flea-market puppy, purchased last year as a Valentine's Day gift by a guy for his girlfriend. She
dumped them both by spring, and Valentine's been bouncing around since then."
Lily raised her eyebrows. "He looks a bit like Marley, from the movie. Can't we call him that instead?"
"Sorry," Ariel said, not sounding sorry at all. "Every new owner has tried to change his name. It's the only one he knows. I think everyone expects him to be like the movie dog. Then they get him home and find out how energetic he is. He doesn't listen, they say. He destroys their furniture. They can't walk him. He runs away. He jumps on the kids."
Lily's heart ached. "And with each new home, he gets worse."
"Underneath that dirty, matted coat is an adorable personality just waiting to be released by the right person."
Lily and the dog surveyed each other. The tilt of his head and his half-cocked ears suggested that Ariel was right. It's just that there was so much of him. And so much mud.
Lily bit the inside of her cheek. He needed so much. Would she be equal to the task? "Keep in mind, I'm no Cesar Millan. I'm more… See Spot Run."
"You'll be fine," Ariel assured her. "A little basic obedience. You know, sit, down, off, heel, maybe a couple of tricks. Oh, and get him used to grooming. He enjoys rolling in stuff. A bath and a good brushing and he'll be gorgeous."
Not likely. But he had that heart-tugging quality in spades. "You haven't had much luck, have you, boy?" she murmured. "No one's ever even gotten to know you."
She knew what it was like to strike out, over and over again. And be overlooked.
Copyright c 2019 by Roxanne Snopek