My latest book will hit the digital world on August 12, 2013 and this time, I'm able to share some pre-release teasers! The links aren't alive for pre-orders yet, but rest assured, I will let you know when they are!
"Real-estate tycoon Mitchell Granger has a problem. In order to secure a lucrative deal with an eccentric client, he told the teeny white lie that he was engaged…and now he needs to prove it. Even worse? The only name that came to mind was Sabrina Becker, the girl he was never good enough for growing up, and who still lives near his family ranch.
Sabrina doesn't mind posing as Mitch's fake fiancée—no, she doesn't mind at all. One, she'll make him pay with new construction for her business. And two, Sabrina's got a plan to exact revenge on her first love, the boy who left her and Three River Ranch behind. She'll pretend so well, he'll fall in love with her…and then he'll get a taste of what true heartbreak feels like.
But as Mitch sheds his corporate skin and picks up his dusty jeans and cowboy hat, will both his and Sabrina's grand plans get derailed by love?"
So I was eating my chicken a couple of nights ago, leafing through RT Book Reviews, the magazine for readers of commercial genre fiction.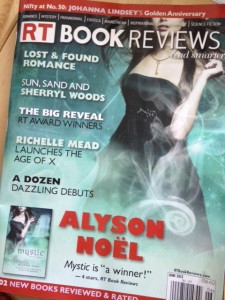 I'd gotten behind on industry reading because, well, I've got a book deadline, but I always get to RT eventually. I love to find out about new authors, new series, behind-the-scenes stuff and, of course, the reviews.
RT Book Reviews – formerly called Romantic Times, because it was the premier go-to place for romance reviews – now covers the gamut of commercial genre fiction: mystery, suspense, thrillers, mainstream fiction, paranormal, urban fantasy, erotica, young adult, inspirational, contemporary romance, historical romance and, of course, category romance – you know, those small series books by Harlequin.
There haven't been a lot of Entangled books reviewed in RT Book Reviews yet – after all, Entangled is only about three years old now. A baby. A fetus, in publishing years. But they've begun popping up, particularly in Urban Fantasy and Paranormal, and I like to keep track of what my "sister" authors are doing.
Anyway.
I glance through the sections where I've seen Entangled authors reviewed. Mainsteam, nothing. Romantic Suspense, nope. Oh, here's one! RT's young adult section, TeenScene gave Cecily White's PROPHECY GIRL four stars! I've heard great things about this Entangled Teen book. (And the editor, too!)
Moving on.
Nothing in Paranormal or Urban Fantasy.
I run my finger down the list in Contemporary Romance.  Oh, two Entangled authors this this month, that's good! Let's see… Gina Gordon's A TASTE OF TROUBLE, from the Entangled Edge imprint. Four stars again! Wow, it sounds like a great book. I'd really like to write for that imprint, too. (Mental note: download Gina's book asap.)
Now… who's the other Entangled author reviewed in RT this month… I run my finger further down the list… 
wait…a…minute…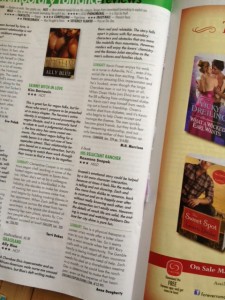 HOLD ON. THAT'S ME!!! That's MY name! The reviewer calls His Reluctant Rancher an
"…emotional story…" and "… pure fun."
I almost choked on my chicken. But let me assure you, I'd have died happy.
Here on the mountain behind us, all sorts of wildlife have been popping up. Fawns and bunnies, of course. Robins, towhees, Stellar's jays, finches and my favorite: hummingbirds! Last year we had a bear so we're all keeping an eye out for that one again. Recently we had a bobcat hanging around. Our dogs think this is pretty cool, but what do they know? By the time they find out otherwise, it'll be too late.
I love being surrounded by nature. But nature doesn't always benefit from us butting in. In fact, nature almost always loses. That's where the dedicated people involved in wildlife rehabilitation come in. Committed and knowledgeable, these people are on the frontlines, mending the damage caused by habitat loss, inappropriate human-wildlife contact, injuries by vehicles or pets. This is the time of year when wildlife rehabbers spring into high gear (ha, did you see what I did there? huh?) and need your help. Several years ago, when I wrote a book on wildlife rehab, I learned so much about how we can help wildlife recover from our human ignorance – and why we all need to do our part.
It was my favorite book of the series.
Then it went out of print.
Now, thanks to the dedicated and talented team at Heritage House Publishing in Victoria, BC, my little wildlife book is alive again! New title, new cover, updated content… didn't they do a lovely job?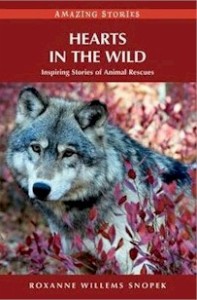 So… (drum-roll please) I'm thrilled to announce that the repackaged version of my book, formerly titled Wildlife in the Kitchen, is now available for purchase, in both paperback and digital format. For any of you who support wildlife rehabilitation in all its entities, you'll be happy to know that Elizabeth Melnick of Elizabeth's Wildlife Centre, in Abbotsford, BC, is featured prominently in this book. And as soon as print copies are available, I'll be donating her a box of 50 to use in fund-raising, volunteer appreciation or whatever best serves her needs. I'm so proud to have been able to include her story in this book – and to call Elizabeth my friend!
PS: one of the cool things about being a writer is that you never now when one idea might spark another, or where this trail of sparks will lead. This book contains a chapter on wild mustangs, the free-roaming horses that continue to run wild across parts of North America. Researching these amazing creatures fascinated me – and continues to do so. So, I started writing a novel about a guy who makes this his purpose in life – but is the son of a Montana cattle rancher. Oooh, conflict. That little spark turned into Three River Ranch, the first of what is now a four-book series of digital romance novels with Entangled Publishing.