Silicon Sisters Interactive's founders, Brenda Bailey-Gershkovitch and Kirsten Forbes, were nominated for the 2012  YWCA Women of Distinction award in the Science, Research and Innovation category. Since Brenda was out lollygagging in Sweden, Kirsten represented the company alone, and promised to name us all in her acceptance speech, should they win. Alas, the award went to another worthy over-achiever.
I am so proud to be part of this team! Here's why I love writing for SSI:
Kirsten says: "Though it's easy to pillory videogames as being responsible for some ill effects on today's youth, at Silicon Sisters we've seen otherwise. Games can be a safe world in which to practice and rehearse skills that might otherwise be too stressful – from making friends to challenging the status quo to allowing yourself to fail and see the consequences. Silicon Sisters supports healthy choices for youth."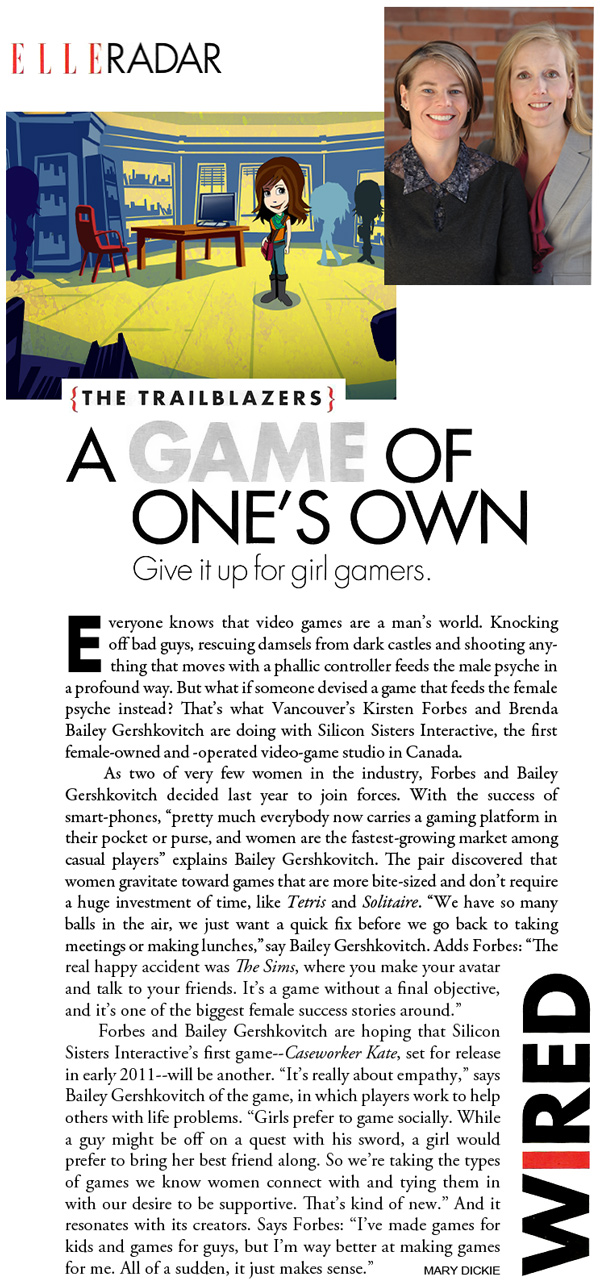 I think I first learned the word "synchronicity" from the book The Artist's Way by Julia Cameron. The Artist's Way is a kind of self-help program for blocked creatives, you know, the socially-challenged introverts who slouch around moaning "I don't know what to do with my life!"
The gist of synchronicity is this: the magic is already in you, and when you are willing to do the work to find it, the universe will support you. Kind of a Dumbo's-magic-feather thing. (Or as Morpheus  taught Neo, "Free your mind!") It's a particularly good book for would-be writers, and god knows there's no group more prone to slouching and moaning.
Anyway, the first time I did the program, my freelance income in one year went from about 10K to 30K. Pretty good when you consider that the overall average income for writers hovers below the poverty line. Sad, I know. Why do we do it? (Cue the s and m.)
The second time I did it, I sold my first non-fiction book, which was quickly followed by six more, plus a novel. Needless to say, I'm a pretty big fan of Julia Cameron and The Artist's Way, and many of the lessons I learned wove themselves into the fabric of my creative life. When the student is ready, the teacher arrives! Leap, and the net will appear!
Then the economy tanked, and took a lot of publishing houses with it. I, like millions of ordinary working stiffs, entered a dark period of fiscal and existential uncertainty. Lucky me, I went peri-menopausal right then, too. Hormonal chaos. Oh, my kids started leaving the nest then, too. Maternal clutching and tuition bills. Oh, my husband started graduate school then too. More tuition bills. But no clutching.
A dark period indeed.
I was ready to learn, but there was no teacher. I leaped, but there was no net. In fact, I fell on my face, to the tune of tens of thousands of dollars in lost royalties when my publisher went belly-up. (And just when my laser hair removal bills were ramping up, too!)
However, I kept writing. (Really, what else am I going to do? I'm virtually unemployable. I have the attention span of a gnat. Plus, I tend to go off on tangents…) I went to writers' conferences I couldn't afford, but had a great time at. I attended writing retreats that had no apparent consequence, but at which I met great people. I pitched ideas that had minimal traction in the industry – but kept my name out there. I finally hired a professional web designer to give me a proper web presence, even though it pretty much broke my writing piggy-bank.
My tank was on Empty, out of hope, purpose, direction, meaning… yup, s and m all over the place. After all, if nobody's buying what I'm selling, well, What Am I Going to Do With My Life? I needed something with Epic Meaning, on par with raising exceptional young women, a task at which I excel, but which utilizes skills that translate poorly on a curriculum vitae. Also, I demand compensation commensurate with my experience. You heard me. Pay the writer, man.
And then one day an email popped into my in-box.Well, really it was a Facebook message, which routed to my inbox. Which I accessed by my iPhone because I was on vacation at the time. (Tangents. Gnats.  See what I mean?)
Anyway…. a woman I'd met a year or two ago at that writers' retreat I couldn't afford – a woman I'd have bet wouldn't have remembered my name! – had recommended me, via my new website, to someone she knew who knew someone else who was looking for … you guessed it, a writer. And not just any writer, but one with a very specific combination of interests, combined with – get this – an ability to go off on creative tangents. TANGENTS? I am so there. And then, around the same time, my agent and I found some potential homes for the numerous manuscripts I've got collecting dust on my hard drive.
Slouch and moan? Who has the time?
All of which is to say that after a very long dry spell, synchronicity has struck again, reminding me that the first rule for success in any creative endeavour is to just hang in there.
Eventually the competition will give up. Or die.
Then they'll have to publish me.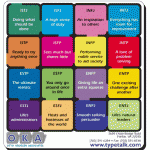 What do William Shakespeare, Neil Diamond, Annie Dillard, Tom Brokaw, Lisa Kudrow and Jacqueline Kennedy Onasis have in common? They fall into the same Myers-Briggs personality category as ME! It's true. We're all Introverted-iNtuitive-Feeling-Perceiving kinds of people. (Although I have to wonder exactly how they got Will to take the test.)
If you've never done this test, or haven't done it for some time, try this version here. It's called the Jung Typology test. 72 yes/no questions, it doesn't take much time, and it's free.
At the end, you'll get an assessment of your personality that includes:
Your type formula according to Carl Jung and Isabel Briggs Myers typology along with the strengths of the preferences.
The description of your personality type.
The list of occupations most suitable for your personality type.
These kind of things amaze and fascinate me – which isn't surprising, given my score. But it's so consistent! There are always questions in these type of surveys that are easy to answer, such as:
a) Do you prefer to act immediately rather than speculate about various options?…. NO. I want to speculate. For as long as possible. Back and forth. There are many things to consider, you know.
b) Do you prefer meeting in small groups to interaction with lots of people?….. YES. The smaller the better. In fact, do dogs count?
c) Is your desk, workbench etc. usually neat and orderly?…. NO. Have you seen my desk? (Seriously. I know it's here somewhere.)
Then again, there are always questions that I have to read over several times before I even understand them. And then, I'm not sure which way to answer, possibly because of a) above. Like these:
d) Do you easily perceive various ways in which events could develop?… um, I might perceive a few ways, depending on the situation.
e) When considering a situation, do you pay more attention to the current situation and less to a possible sequence of events?… as in what, can I tell the future? Well duh. Can't everyone?
f) Do you like to keep a check on how things are progressing?… what things? A watched pot? That line that fills in on the download screen? Do I look for grey hairs? Weigh myself repeatedly? What does this mean??
But here's the thing. I'm as honest as I can be with the easy ones. And with the others, I try. Then I go back and do it over, several times, changing some of the answers I feel uncertain of. And no matter how I changed things, and how many times I did it, how many combinations and permutations, it always comes out the same. The percentages in each category changed somewhat, but I still landed in the INFP camp. I guess, like Popeye, I yam what I yam. (I wonder what category he's in?)
Less than 10% of the population falls into the Introverted-iNtuitive  categories. (Be kind to us. We're lonely.)
What category are you?