Bikini season is coming. (That's right Starks of Winterfell, *summer* is coming.) But few of us are as emotionally tough as Brienne of Tarth who, tormented for her Amazonian physique, dons armor and becomes a great warrior.
I'll wager that most women, young or old, svelte or zaftig, tall, short or in-between, have felt insecure about their beach body at some point in their lives. Sadly there are some for whom body image is a constant, crippling influence affecting every area of daily life.
I once suffered body image issues, badly; ironically, I was much younger, thinner and fitter at the time. Now I'm older, wrinklier, saggier and I have the toned musculature of someone who spends much of her time sittin' and thinkin'. Plus, I've had three babies. You know what a balloon looks like when you let out the air? That's my belly.
But the strange thing is, I don't care nearly as much anymore. My body is a road-map of my life and every scar and line and lump tells part of my story. I'm healthy, average and normal (physically, at least. Mostly.) I've made peace with my shell. Mostly. And I'm grateful for what I can do with it. I look after it so hopefully I'll be able to keep on doing things with it for a long time to come.
So if you love summer and dream of soaking up the sun, like I do, don't let popular culture and media images defeat you. Here's a quick guide to finding the best beach wear for your body type:
We see deer in our neighbourhood often. But it's always a lovely surprise to see them close-up. Mama Deer is actually watching them from our patio, but I don't know this yet.
Oh wait! There she is!
It really sucks taking photos through a window. But if I draw attention to them by a) saying "Look! Deer!" or b) Opening the door for a better look, I'll tip off the dogs, who will promptly lose their teeny-tiny minds. And the deer disappear. Disdainfully, after a few moments of teasing them. "You?!? Want to chase us?! Good luck."  So I quietly take photos through the window with my iPhone.
Mama? Wait up!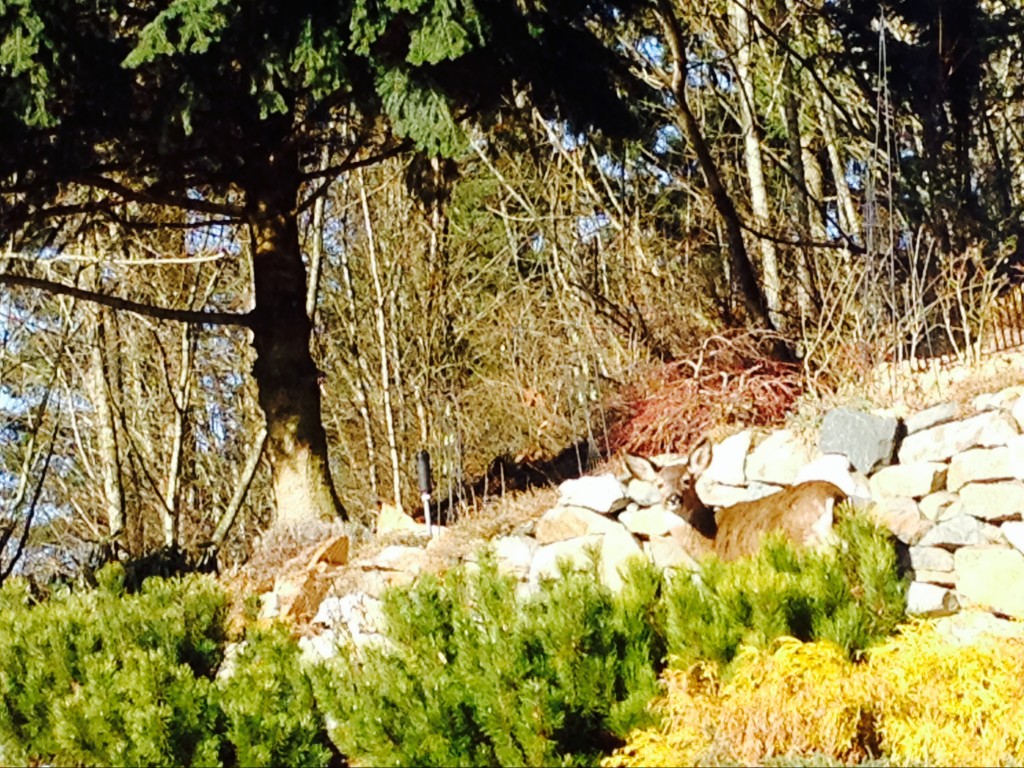 Who's there??
Never mind. I have an itchy bum.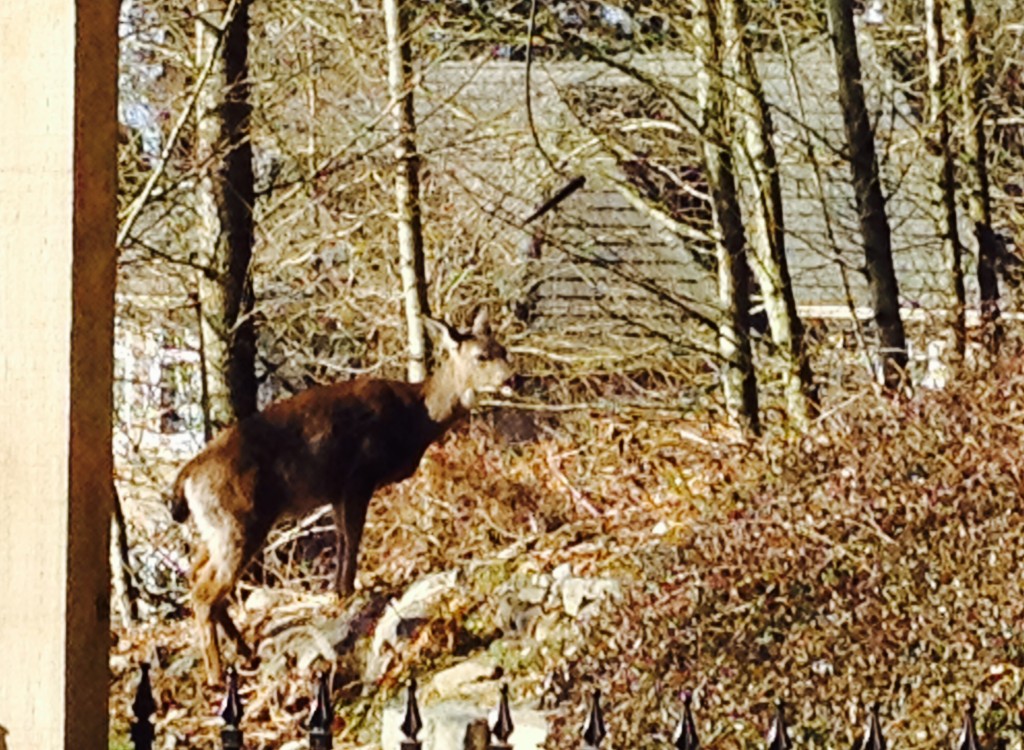 Kids. Let's go. Bye. I'm leaving now. Seriously, I'll go without you. I will.
And enough with the bum already! You have a tapeworm. Deal with it.
Post-game interviews crack me up. They are All. The. Same. Phrases fed to players by coaches, with the sole purpose of saying as little as possible while still appearing to answer the questions. Miss one lately? Let me catch you up:
Host: So, (Ilya/Sergei/Mikhail, etc) what were you thinking when you felt the puck on your stick in those last few seconds?

Player: Well, (James/Scott/Kevin, ctc) I am thinking I must to keep it away from their players, get it down ice and into net, fast as possible. I'm not sure even what I was thinking!

Host: Tell us what your team did today to achieve this stunning victory.

Player: Why you heff to esk? We give one-hundred-ten percent, we play as team, we push envelope right out of comfort zone, and at end of day that make difference. No need for to reinvent tire.

Host: What do you think is your secret to success?

Player: We go out strong and focus energy on puck, to be getting it in net. We keep simple and manage game. We play good road game. We take one game at time. Like I say, at end of day, game is what game is.

Host: Well there you have it folks, the secret to success! Congratulations again.

Player: Spasiba. Also, keep feet moving. Very important in hockey.
Put the Cat in the Bag. That's All.